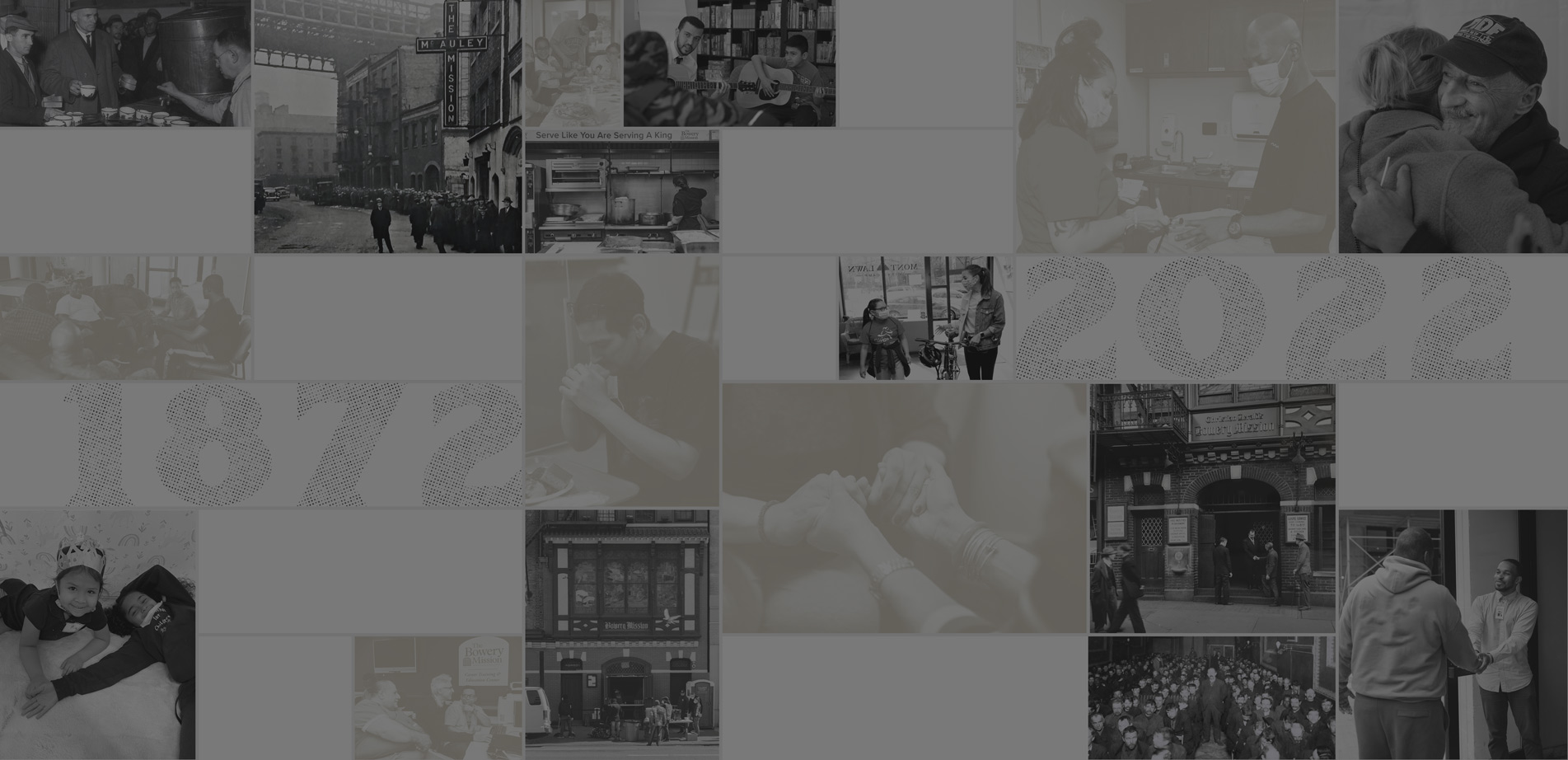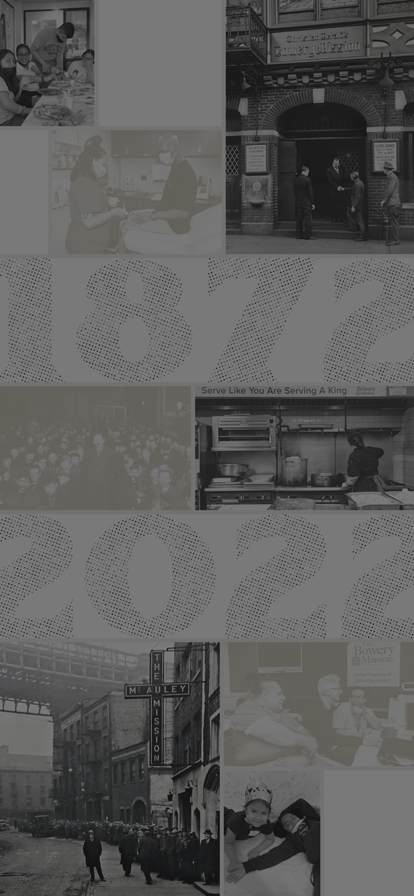 A Legacy of Transformation
Exactly 150 years ago, Jerry and Maria McAuley had a visionary idea: to open a mission for anyone in need of hospitality, comfort and the promise of a new life. The McAuley story is our story — a testament to the ability of one transformed life to impact countless others from one generation to the next.
To our Community,
We are so proud to launch A Legacy of Transformation, a celebration commemorating 150 years since Jerry and Maria McAuley opened America's first rescue mission in the Fourth Ward of Lower Manhattan.
READ MORE FROM CEO, JAMES WINANS
The McAuley story has become the stuff of legend. It begins in the slums of New York City's Water Street — a district notorious for its "river thieves, drunkards, gamblers and women of the streets." On October 8, 1872, with the help of a generous friend, Jerry and Maria took possession of a simple wooden building and put up a sign that read: "Helping Hand for Men."
After leaving behind a life of crime for a new life of Christian faith, the McAuleys had a visionary idea: to open a mission for anyone in need of hospitality, comfort and the promise of a new life. They would have cots to sleep on, endless food and coffee and prayer meetings in the evenings. No longer would any New Yorker who was poor or marginalized be rejected by society. Instead, they would be welcomed into a community of hope, healing and restoration.
The McAuleys' mission would become known as America's first rescue mission — a model for numerous such missions that followed across the country. In the late nineteenth century, word of its life-transforming work spread rapidly across the nation and launched dozens of agencies committed to sharing the love of God while meeting human needs. In fact, between 1872 and 1892, more than one hundred missions opened in the United States as a direct result of the McAuleys' influence.
From Darkness to Light
Yet while Jerry and Maria McAuley changed the world, they did not become inspirational leaders overnight, nor did they wake up one morning and decide to start a movement. Instead, their personal transformation began with great personal suffering.
Both were Irish immigrants who grew up in abject poverty in New York City's Lower East Side: a place of hunger, inhumane living conditions and neighborhood crime. Both drank heavily from an early age. By the time he was a teenager, Jerry had joined a gang of river thieves in stealing at night and selling loot during the day. At only 19, he was accused of robbery and sentenced to more than 15 years in prison.
It was only through hearing others' stories of life change, and experiencing unconditional love themselves, that the work of transformation began to take hold in their lives.
For Jerry, the seed of transformation was planted when he heard the faith-filled testimony of his fellow prisoner and former partner-in-crime, Orville Gardner. It grew when, years later, a Christian missionary on the Lower East Side generously pawned his own coat to keep Jerry from stealing to pay his bills. And it grew further still when, sometime later, a wealthy banker entrusted Jerry to watch over his yacht, having full knowledge of Jerry's criminal record as a river thief.
In other words, The McAuleys' vision for a place of welcome and healing was born out of their own story of redemption — out of being served when they had nothing to give back, out of being loved when there was little reason for anyone to care. And over the years, as more and more lives were transformed, men and women left the McAuley Mission to become mission workers themselves, carrying forth the good news of the change they had experienced.
The Legacy Continues
Fifteen decades later, the McAuleys' vision lives on through the work of The Bowery Mission and hundreds of other missions across the nation. This collection of stories, beginning with the McAuley story itself, is a testament to the ability of one transformed life to impact countless others from one generation to the next.
You will see how each story begins with great pain, sometimes nearly insurmountable setbacks. But you will also see how, when just one person is welcomed into a community of love and grace, the ripple effect can be enormous. You will see what can happen when just one person begins to live a full and flourishing life in the world — the impact they can have on their family, their parents, their kids, their neighborhoods and their workplaces as they carry that legacy forward.
Through the lives of Jerry and Maria McAuley, we see that nobody is lost to God and that a life can be completely transformed. And now, through the lives of so many others, we see that this message is no less true today than it was 150 years ago.
Blessings,




James Winans
President & CEO, The Bowery Mission

The Legacy
Learn the impact of the McAuley legacy from 1872 to today.

Our Stories
See inspiring accounts of lives transformed through the Mission.

Get Involved
Join the movement of compassion — give today and partner with us to carry this legacy of transformation forward.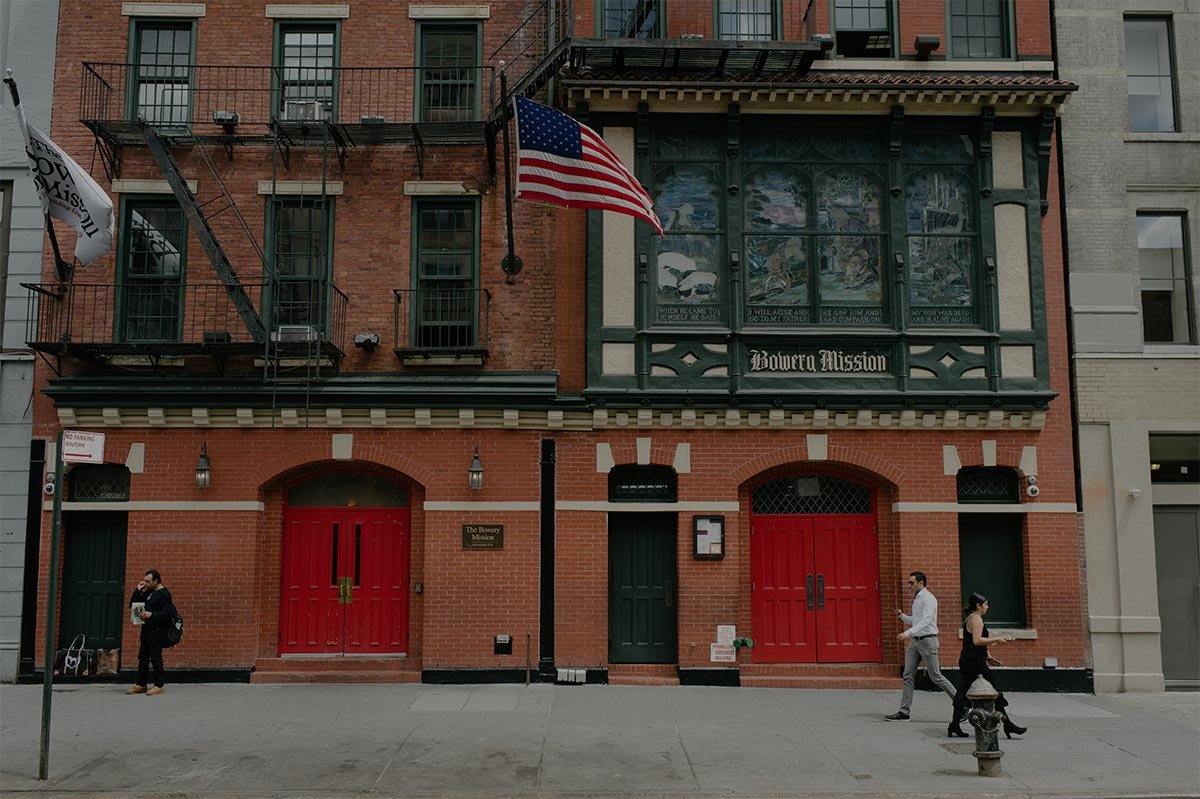 Share our Stories
Support the life-transforming work of The Bowery Mission by sharing our stories with your community.