Spencer Gaynes
1960-Present
Graduate ('10) and Delivery Driver
---
"Tears started coming down my eyes. My whole life was flashing before me. I was mesmerized."
---
As a teenager growing up in Brooklyn, Spencer Gaynes fell in with a crowd that began experimenting with stronger and stronger substances. First it was beer and cigarettes, then marijuana. By the time he reached his thirties, he was sniffing cocaine and smoking crack. "I didn't realize it was a problem," he says. "I just thought I was getting high and having fun."
For decades, Spencer lived the life of a high-functioning addict. He got a job in the printing industry and remained stably employed for 25 years, working his way from cleaning presses to overseeing equipment.
Behind the scenes, though, his life was falling apart. His entire paycheck went to drugs, leaving nothing for food or rent. "It took me a whole week to make that check, but only a couple of hours to spend everything. And I did it over and over again."
For a time, he was able to sneak into his workplace to sleep and cook food at night — "Oh boy was I living large," he recalls. But pretty soon a new lock system was installed and he again found himself with no place to go.
He began sleeping nights in Penn Station, where he was woken up by police every few hours and asked to relocate. He bounced from food pantry to food pantry, often visiting The Bowery Mission at night for dinner.
By September 2009, Spencer's life had reached a breaking point. One day while on his lunch break at work, he felt that something or someone was telling him to turn on the radio. He did – and was immediately struck by song lyrics about "being lost without a cause."
"It was like the Lord stopped me in my tracks," he recalls. "Tears started coming down my eyes. My whole life was flashing before me."
He took an honest look inward and saw his deep sense of emptiness and lack of direction in life. "It just got to me. That's when I realized my life wasn't going anywhere."
When the song ended, Spencer knew it was time to leave. He asked his boss for his last paycheck, walked out the door, and cashed it.
For the next two hours, Spencer walked around Manhattan in a daze — confused about what to do or where to go. Eventually a thought occurred to him: what if he went to The Bowery Mission? "I said, wait a minute — maybe they could help me."
Spencer walked straight through the doors of the Mission where he was invited to attend chapel and enjoy a hot meal. That very night, he enrolled in the Mission's onsite Residential Program for men.
Spencer spent the next nine months at the Mission, where he was surrounded by counselors and other men committed to helping him make good choices. He submitted his life to God and experienced the healing that came with taking personal responsibility for his life.
"I left my old friends, old places and old ways behind. I started going to church and surrounding myself with positive influences."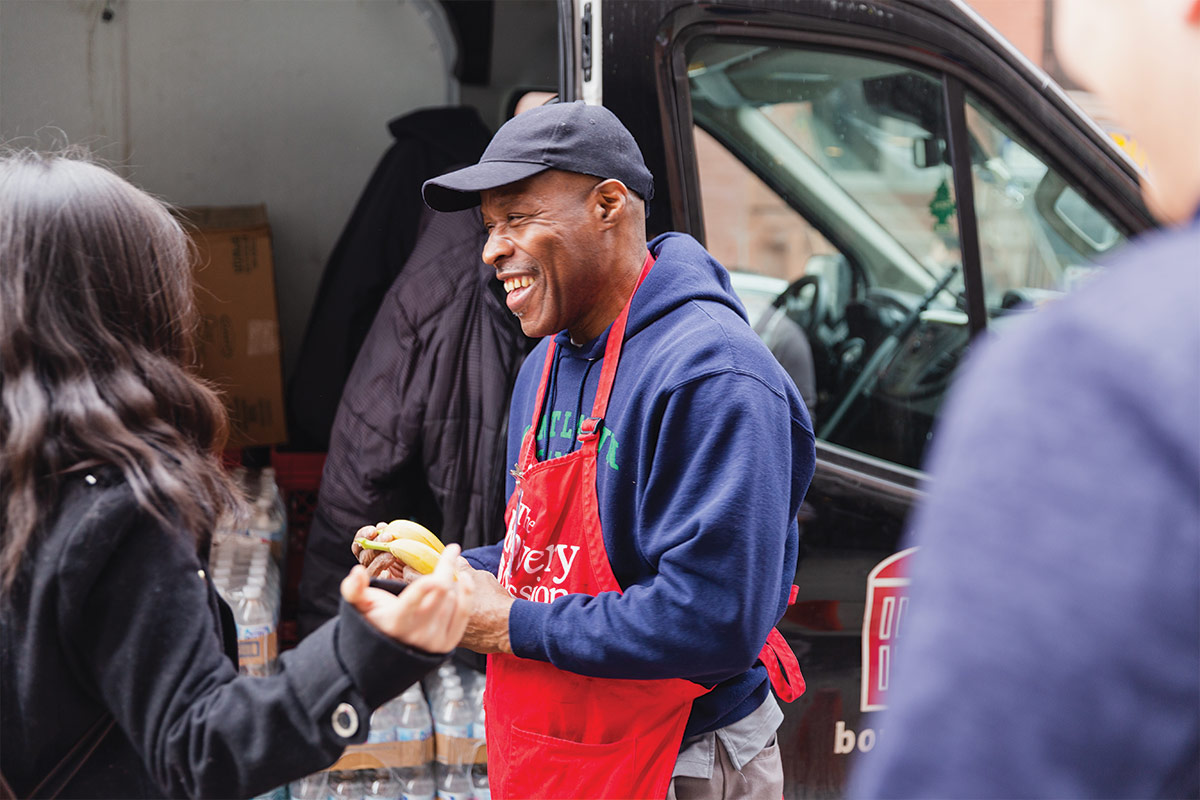 After graduating from the program, Spencer was hired by The Bowery Mission to drive vehicles and oversee a park outreach to our community. Four days a week, he led efforts to distribute hot soup and grocery bags to anyone in need.
"Winter, spring, summer, fall, rain, snow, sleet, I was out there. I didn't miss a day," he says.
Today, Spencer continues to serve on the Mission's logistics team, transporting critically needed food and goods for the meal program. He goes above and beyond every day to help meet the needs of New Yorkers experiencing homelessness and hunger.
"I never thought I'd be doing this type of work, but I'm glad I am," he says. "I love doing what I'm doing. Four o'clock in the morning I'm in the shower, at 5 o'clock I'm out the door, pulling off for my first stop."
He continues: "And the credit for this? All the glory be to God. He brought me here."
SOURCES: Gaynes, Spencer. Interview by The Bowery Mission, 13 May 2014.; Morse, Andrew. Bowery Mission at Hillcrest Baptist - June 11, 2017. 14 June 2017, youtu.be/6FaOhiKpEj0.; The Bowery Mission. "Spencer Serves Others, Because You Served Him." Hope Stories, July 2014, www.bowery.org/hope-stories/2014-07-spencer/.
---
Read More Stories
See inspiring accounts of lives transformed through the Mission.
Get Involved
Learn more about how you can support the life-transforming work of The Bowery Mission.