Publications
The Bowery Mission is pleased to offer the following publications free of charge, as long as supplies last. To request a copy, please email us. To make a small voluntary donation to cover some of the production and/or mailing cost, please click here.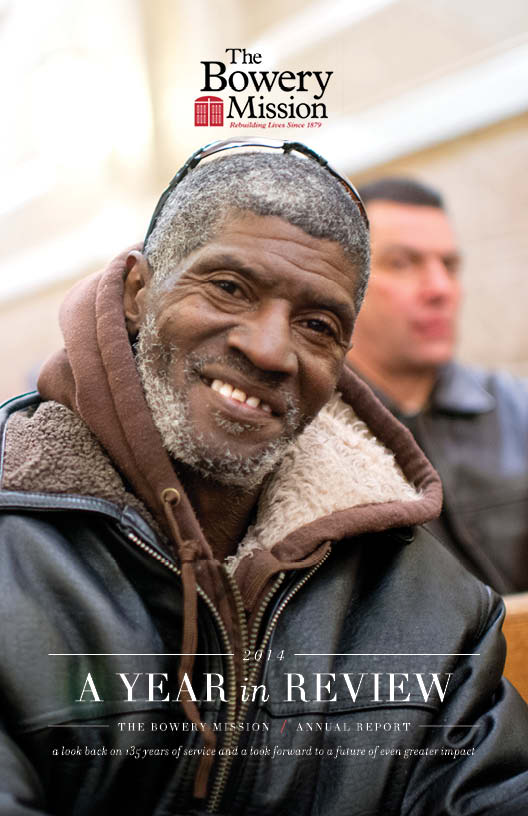 2014 Annual Report
The 2014 Annual Report described how The Bowery Mission:
Hosted over 98,100 nights of shelter.
Provided 392,160 hot, nutritious meals to the homeless.
Provided more than 1,000 at-risk youth with summer camp, scholarships, mentoring, tutoring, retreats, peer group programming, and family support.
Graduated 95 formerly homeless men and women to transformed lives of spiritual growth, sobriety, employment and independent living.
Download a PDF version of the 2014 Annual Report.
Click here to send an email to request your free copy of the 2014 Annual Report.
The Chapel: The Great Heart of The Bowery Mission (2009)
What do the following people have in common: Presidents William Howard Taft and Franklin Delano Roosevelt, hymnwriter Fanny Crosby, Governor Al Smith, retailer JC Penney, reformer Eleanor Roosevelt, evangelists Billy Sunday and Billy Graham, and beat writer Jack Kerouac?  They all are a part of the history of The Bowery Mission Chapel.  Written on the occasion of the Chapel's 100th Anniversary in 2009, The Chapel is a fascinating history written by Christianity Today senior writer Tony Carnes.
Click here to send an email to request your free copy of The Chapel.
Spiritual Lessons from the Men of the Bowery (2002)
Ed Morgan, former President of The Bowery Mission, writes, "I have worked with high government officials and quite a few of America's best business leaders.  None have influenced me as much as the men of The Bowery Mission."  In Spiritual Lessons, Morgan has chosen five insights that he learned from men at The Bowery Mission and offers them "to people of mature faith, to those currently searching, and especially to those still running" from life.
Click here to send an email to request your free copy of Spiritual Lessons.
---