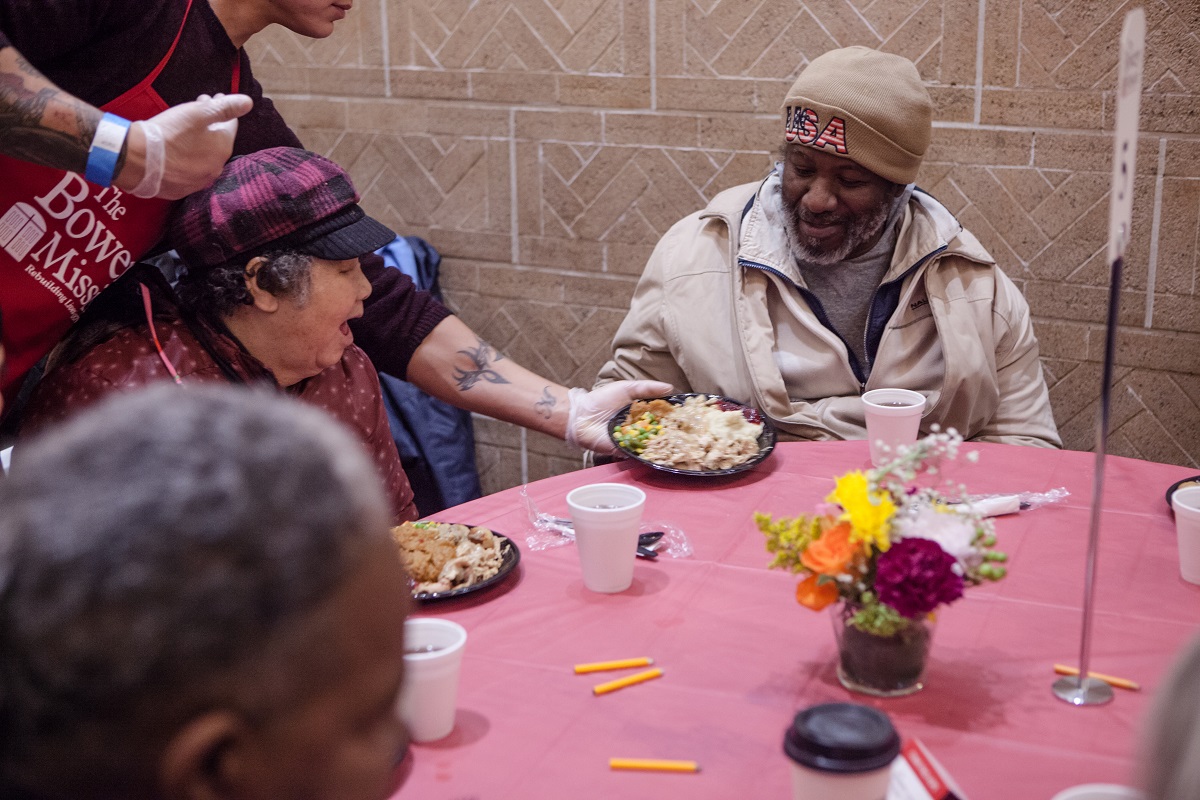 Stay Tuned for Thanksgiving 2019 Volunteer Registration
Thanks for your interest in volunteering this Thanksgiving! Please bookmark this page and stay tuned.
Volunteer registration will open at bowery.org/thanksgivingvolunteer on Friday, November 1 at 7:00am! We advise signing on as close to 7am as possible in order to ensure a spot — the shifts go quickly!
Unfortunately, because of the extremely high demand to volunteer on Thanksgiving Day, and the relatively small size of our facility, we regret that we cannot accommodate everyone who wants to volunteer that day. This is to protect the experience of our community and the safety of all people on-site. Volunteers MUST sign up through our online Thanksgiving registration to be allowed on-site that day.
Thanksgiving is the biggest volunteer day of the year at The Bowery Mission. We are grateful and fortunate to have so many enthusiastic volunteers from all over the city and the world!
Donate towards meals and care all year-round
DONATE TODAY
Our work to serve neighbors experiencing homelessness and poverty continues every day of the year. It is only possible because of friends like you.
More ways to support The Bowery Mission this Thanksgiving season...
Set the Tables
Join our Set the Table fundraising campaign and help supply the thousands of meals served during Thanksgiving.
Neighborhood Partners
Our #NewYorkNeighbors support Thanksgiving at
The Bowery Mission.
Stay tuned for details and the full list of participants in our annual #NewYorkNeighbors campaign! Participating retailers and restaurants in the Bowery neighborhood support The Bowery Mission in serving the community experiencing homelessness and poverty this holiday season. Thank you to our neighborhood partners for fundraising and spreading the word about The Bowery Mission and the growing need in our city.