Fanny Crosby
1820-1915
Champion and Song Leader for 30+ Years
---
"During twenty-five years in mission work, I have seen those of whom you would say, 'Why, we cannot do anything.' You don't know what you can do until you try. I have sat down by people who had no hope, and yet that Divine Principle of Love was brought to them, and they have wept tears."
---
Blind from six weeks of age, Fanny Crosby is known as one of the most prolific hymn writers in U.S. history. By the time of her death, she had written between 5,500 to 9,000 hymns.
In her younger years, Crosby had achieved celebrity status as a poetess, songwriter and advocate for the blind. But her life was not without great hardship. By age 60, her marriage was failing. In 1880, she and her husband Alexander van Alstyne were separated — and would remain apart from then on.
It was around this time that Crosby decided to join the ranks of missionaries serving New York's most impoverished neighborhoods. She moved into a rundown flat at 9 Frankfort Street on the Lower East Side, just a few blocks from Manhattan's worst slums.
Crosby had heard of Jerry McAuley and wrote that she was "deeply interested in him because of the work of grace wrought at his conversion." She visited the McAuley Water Street Mission and was deeply moved by the testimony of Jerry McAuley.
For the next thirty years, Crosby became an active worker among the missions of New York, devoting her life to outreach to people in poverty and need.
Her commitment became such that she considered mission work her chief occupation, though she never served in any official capacity or received compensation for her efforts. She lived at various locations across Brooklyn and Manhattan on the edge of poverty herself, being paid poorly by publishers for her hymn texts.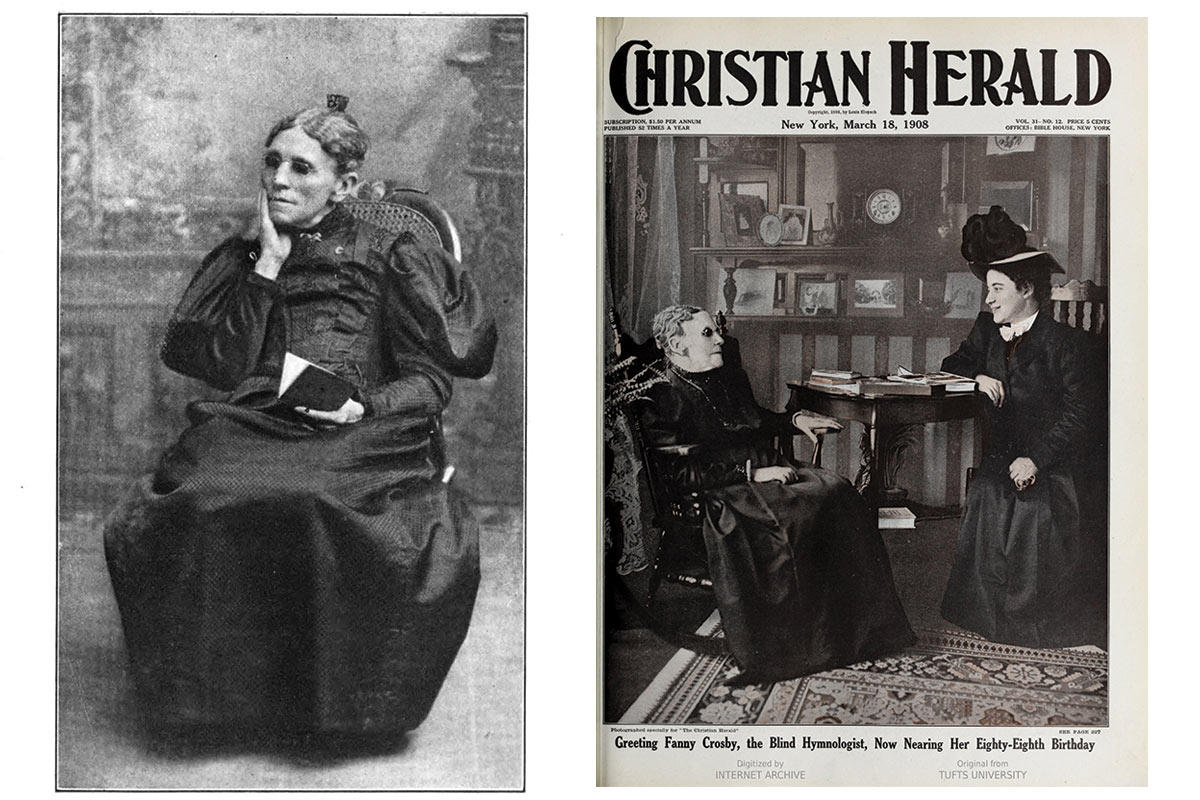 "Aunt Fanny," as she was lovingly called, was a favorite guest at both The Bowery Mission and the McAuley Water Street Mission.
She was frequently asked to give an address, at which point she would boldly proclaim the "joy it gives to walk in the light" — a message made even more powerful by her blindness.
More often, though, she would sit in the audience and mingle with the other guests. She was a fierce proponent of kindness and love. She famously said: "You can't save a man by telling him of his sins. He knows them already. Tell him there is pardon and love waiting for him. Win his confidence and make him understand that you believe in him, and never give him up!"
Fanny Crosby's piano still resides at The Bowery Mission today.
SOURCES: Blumhofer, Edith Waldvogel. Her Heart Can See: The Life and Hymns of Fanny J. Crosby. Wm. B. Eerdmans Publishing Company, 2005.; Britannica, The Editors of Encyclopedia. "Fanny Crosby". Encyclopedia Britannica, 9 May. 2022, https://www.britannica.com/biography/Fanny-Crosby.; Crosby, Fanny J. Memories of Eighty Years. James H. Earle & Company, 1906.; Derusha, Michelle. 50 Women Every Christian Should Know: Learning from Heroines of the Faith. Baker Publishing Group, 2014.; Hearn, Chester, and S. Ann Hearn. Fanny Crosby: Safe in the Arms of Jesus. CLC Publications, 2011.; Lindley, Susan Hill, and Eleanor J. Stebner. The Westminster Handbook to Women in American Religious History. Westminster John Knox Press, 2008.; New York Times. "Fanny Crosby, Blind Hymn Writer, Dies." New York Times, 13 Feb. 1915.; Ruffin, Bernard. Fanny Crosby. Barbour And Co., 1976.
---
Read More Stories
See inspiring accounts of lives transformed through the Mission.
Get Involved
Learn more about how you can support the life-transforming work of The Bowery Mission.