Frank Grande
1937-2021
Graduate ('73) and Life-long Family Man
---
"It was hard to let go. The only way I can explain it is to picture a big battleship going full steam ahead and all of a sudden it stops. I was released."
---
Frank Grande was an alcoholic even before he graduated from high school in Miami Beach in the 1950s. At age 15, his father caught him in bed with a jug of vodka and ran him out of the house.
He was arrested numerous times for drunkenness and joined the Army, only to be discharged. He was caught in a continuous cycle and couldn't break free.
In 1964, when Frank was 27, his family gave up on him and bought him a one-way plane ticket to New York. For the remainder of the '60s and into the early '70s, Grande lived the life of a "Bowery bum." "I stayed in all these flophouses up and down the Bowery," he said. "I was thrown out of every one of them — every one of them!"
Confronted with the desolation of the streets, Grande became violent. He learned about The Bowery Mission and tried to overcome his addiction in the men's discipleship program over a dozen times. But every time, the blinking liquor store sign across the street from the Mission would call and he succumbed, again and again, to its neon promises.
All that changed when Frank had a near-death encounter on the streets of New York. After being stabbed in a park one night, he could only think of one place to go for help: The Bowery Mission. He came to The Bowery Mission's doors holding his gut, blood squishing into his shoes. "I knocked on those doors, desperate," he recalled.
That pivotal moment on the steps of the Mission marked the end of Grande's violent days.
At the age of 36, Grande began a new life in Christ. He let God into his life and learned to turn to prayer and hard work instead of alcohol.
He completed the Mission's discipleship program and was subsequently given a job onsite. In 1973 he met his wife, Edna, while attending a church service. They were married and Grande adopted her two teenage children as his own. Shortly after, he took a steady job at Power Cooling, an air conditioning company that would become his family until his retirement 37 years later.
Frank and Edna shared 39 years together before Edna passed away in 2013. In his later life Frank was known as a humble and gentle man, who could hardly contain his emotions upon mention of The Bowery Mission. He enjoyed family time with grandchildren and great-grandchildren, riding rollercoasters, cheering for Alabama football games and eating raw oysters.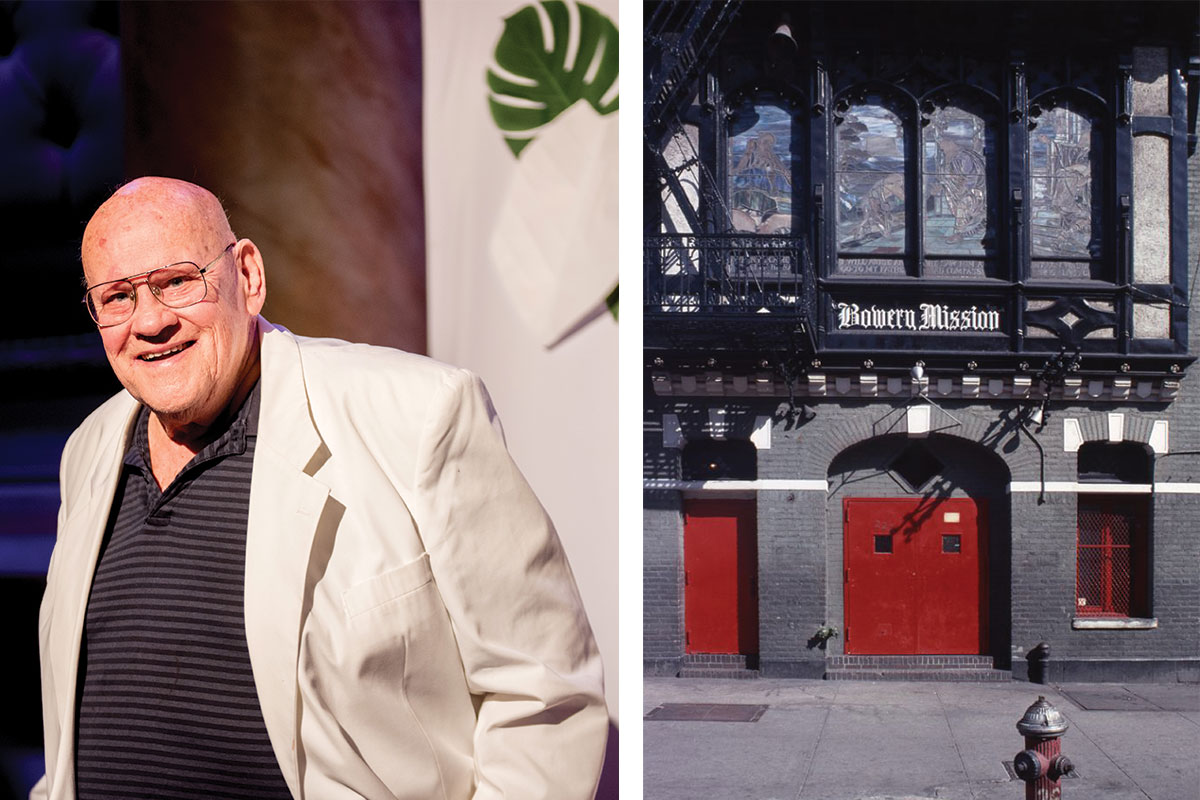 Grande is known as the man responsible for painting The Bowery Mission's doors red.
He was inspired, he said, by his experience of coming to the doors bleeding as well as Jesus Christ's sacrifice for our redemption.
For years after, he enthusiastically shared his testimony with anyone who would listen: "I wouldn't be alive without The Bowery Mission, guaranteed. God kept me around to tell my story, so others can receive the help I did."
SOURCES: Clavin Funeral Home. "Obituary for Frank W. Grande." www.clavinfuneralhome.com, 10 Dec. 2021, www.clavinfuneralhome.com/obituary/frank-w-grande.; Frank Grande. Interview by The Bowery Mission, 10 Jan. 2014.; Goodwillie, David. The End of the Road. 7 Dec. 2007.; Isay, David, and Stacy Abramson. Flophouse: Life on the Bowery. Random House, 2002.; Lii, Jane H. "Graduating with Honor after Rebuilding Their Lives." The New York Times, 28 Sept. 1997.; The Bowery Mission. 40 Years Later, His Life Is Still Full of Joy. Mar. 2014, www.bowery.org/hope-stories/2014-03-frank/.; The Bowery Mission. "How the Bowery Mission Changed Frank's Life over 40 Years Ago." Red Door Newsletter, 11 Mar. 2018, pp. 2–3.
---
Read More Stories
See inspiring accounts of lives transformed through the Mission.
Get Involved
Learn more about how you can support the life-transforming work of The Bowery Mission.