James Macklin
1939-Present
Graduate ('88) and 30+ Year Spokesperson
---
"Never look down on another human being — whether man, woman or child — unless you're trying to pick them up."
---
Born in Virginia and adopted as a child, James Macklin suffered a great loss when his adoptive mother died when he was only nine years old. He bounced from one foster home to the next, landing on his own at age 13.
Amidst this instability the only constant in James's life was music. At age five, James learned to express his feelings through song. In his teens, he tried to earn a living as a blues musician on the "Chitlin' Circuit" in the South — venues where black entertainers were able to perform during the Jim Crow era — but when he couldn't make ends meet, he joined seasonal workers harvesting cotton and tobacco.
It was a hard existence, and James got swept up in the fast life. He experimented with gambling, alcohol and marijuana and eventually got hooked on cocaine. After years of hustling to feed his habit, he decided to get clean: he opened his own cleaning business and began saving money. "I believed I had conquered my addictions," he remembers.
But temptations abounded and James relapsed into using crack. His business toppled, and by the late 1980s he was adrift on the streets of New York — homeless and addicted.
In December of 1987, James was sleeping on New York's A-train when a chance encounter forever changed the course of his life.
Drowsy with sleep, he heard a woman's voice say: "What's a man like you doing sleeping on a train?"
He opened his eyes and saw a white-haired woman holding a card with directions to The Bowery Mission. He took the card, followed its directions, and stumbled in through the doors of The Bowery Mission that night. "That was the beginning of a new life," James says. "I've been there ever since."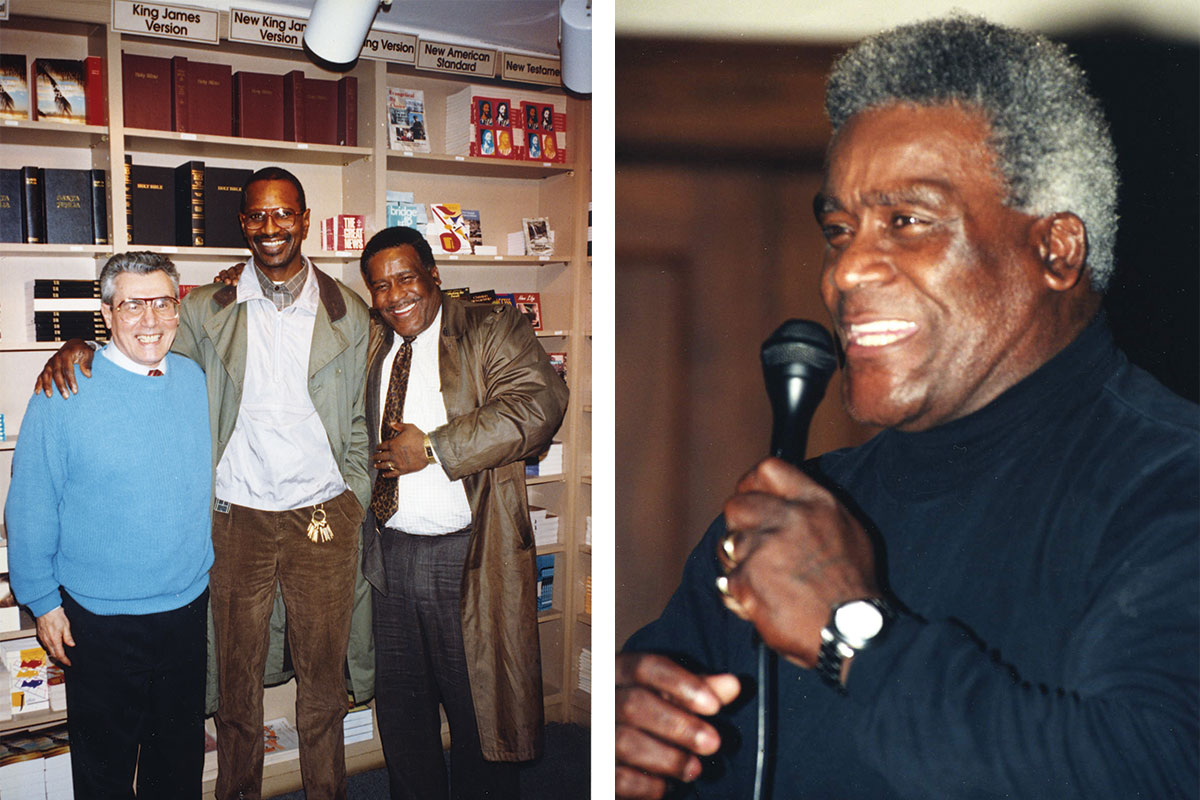 In the following months, he entered The Bowery Mission's discipleship program for men, during which he found new hope and saw his life completely transformed. He was subsequently hired by the Mission as a Security Supervisor. Three years later, he was promoted to Operations Manager, and eventually to Assistant Director. He started a gospel singing group, Resurrected Beyond Belief, with other Mission graduates and began to tour the country.
In the 1990s, James met his wife, Debra, while attending a Sunday service at the Mission. In 1995, the two were married in the Mission's chapel, and Debra became a critical partner in ministry.
Today, James serves as the Mission's Outreach Director. He has been with The Bowery Mission now for more than 30 years.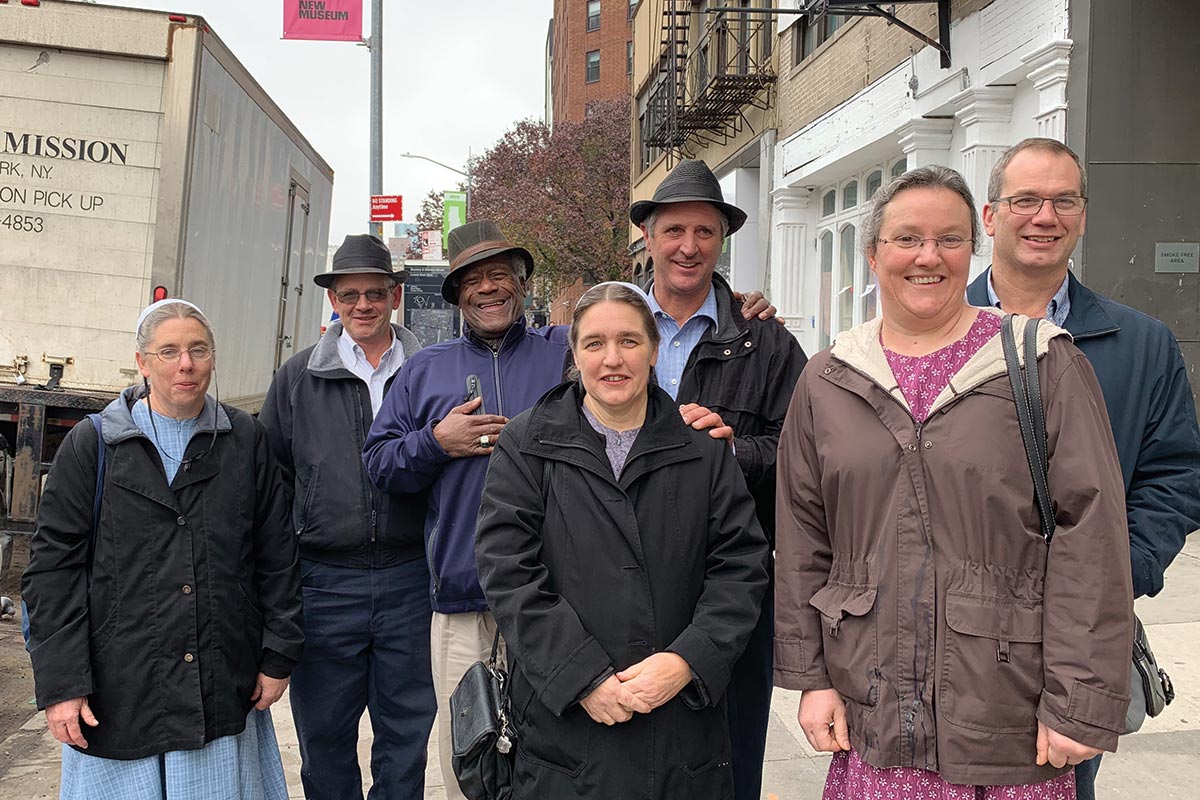 Over the past three decades, James has shared the hope he found with countless New Yorkers and visitors — homeless and housed, rich and poor, children and adults — from every walk of life.
He frequently visits churches and leads worship through singing and testimony. James has also served as the face of The Bowery Mission for major news outlets such as CBS, NBC, NY1, and more. In 1995, NBC named James Macklin an African-American Unsung Hero. Resurrection Beyond Belief was featured on news shows with Paula Zahn and Bryant Gumble. The Bowery Mission honored James at its 18th Annual Valentine Gala on February 14, 2017 for his long-standing and faithful service.
Through all of this, James says the most rewarding aspect of his time with The Bowery Mission has been his relationship with members of the Mennonite community in Pennsylvania. He has been blessed personally by their faithful giving to the Mission's work.
Today, James uses his dynamic personality and life experiences to connect disparate communities — the poor and the rich — building relationships with each to benefit the other. The fruit of his work is evident in his father-figure status with people from all walks of life in New York City. For each person, James has one central message: "Never look down on another human being — whether man, woman or child — unless you're trying to pick them up."
SOURCES: Bell, Charles W. "They Rise to Sing Gospel." Daily News, 4 July 1998.; "Helping the Least, the Lost, and the Lonely." American Bible Society News, 4 May 2010, news.americanbible.org/article/helping-the-least-the-lost-and-the-lonely.; "James Macklin." Five and Two, 11 Mar. 2022, www.fiveandtwoproject.com/stories/blog-post-title-one-mn8h8.; Macklin, James. Interview by The Bowery Mission, 11 Apr. 2011.; Macklin, James. "Serving Kings the Bowery Mission in Manhattan at 140 Years." Plough Quarterly, 12 Feb. 2020, www.plough.com/en/topics/community/service/serving-kings.; The Bowery Mission. James Macklin 30th Anniversary Story. 2017.; The Bowery Mission. "James Macklin: 30 Years of Life Transforming Impact." YouTube, 15 Feb. 2017, www.youtube.com/watch?v=kS4HGih5P84.; The Bowery Mission. "James' Restoration: A Story You Made Possible." Hope Stories, May 2011, www.bowery.org/hope-stories/2011-05-james/.; Walker, Dalton. "At the Bowery Mission, Songs of Faith and Redemption." The New York Times, 26 June 2007.
---
Read More Stories
See inspiring accounts of lives transformed through the Mission.
Get Involved
Learn more about how you can support the life-transforming work of The Bowery Mission.