Jerry McAuley
1839-1884
Co-Founder of Nation's First Rescue Mission
---
"I fell again once after that, but God restored me."
---
Born in Ireland, Jerry McAuley immigrated to the U.S. at age 13 and took up residence in the Water Street slums. There he joined gangs of river thieves in stealing at night and selling loot during the day. At age 19, Jerry was falsely accused of highway robbery and sentenced to more than 15 years in Sing Sing prison. For seven years, he was confined to a single, windowless cell.
While in prison Jerry heard the testimony of Orville Gardner, a notorious prize fighter and thief who had renounced his former lifestyle. Inspired, Jerry began reading the Scriptures day and night and eventually fell on his knees in surrender to God. His active, contagious conversion to Christianity persuaded others of his reform, and in March of 1864, Jerry was pardoned and set free from prison at age 25.
Despite earning his freedom, Jerry had left prison with no friends and no prospects. He again fell victim to drinking and a fast lifestyle. For years, he battled to live a new life and even sank back into river thievery.
Meanwhile, a revival had broken out in the Water Street district leading missionaries to travel through the district inviting people to prayer meetings. One of these missionaries, Henry Little, befriended Jerry and eagerly encouraged him to return to a life of faith.
One night, Little invited Jerry to go for a walk. Jerry declined, explaining he was broke and needed to steal. In reply, Little said: "Jerry, before you do that, I'll take this coat off my back and pawn it and give you the money." He left and returned with fifty cents. Later, McAuley would reflect on this as a second turning point in his transformation.
Through Little, Jerry came to know Alfrederic Hatch, a wealthy investment banker who would become Jerry's confidant and mentor. From 1870 to 1872, Hatch helped Jerry obtain a variety of jobs. At one point Hatch even entrusted Jerry with keeping watch over his small yacht. Jerry was astonished:
"When I found I was trusted like that by a man who knew all about my past life I began to respect myself and think, 'Jerry McAuley, there is a chance for you after all!'"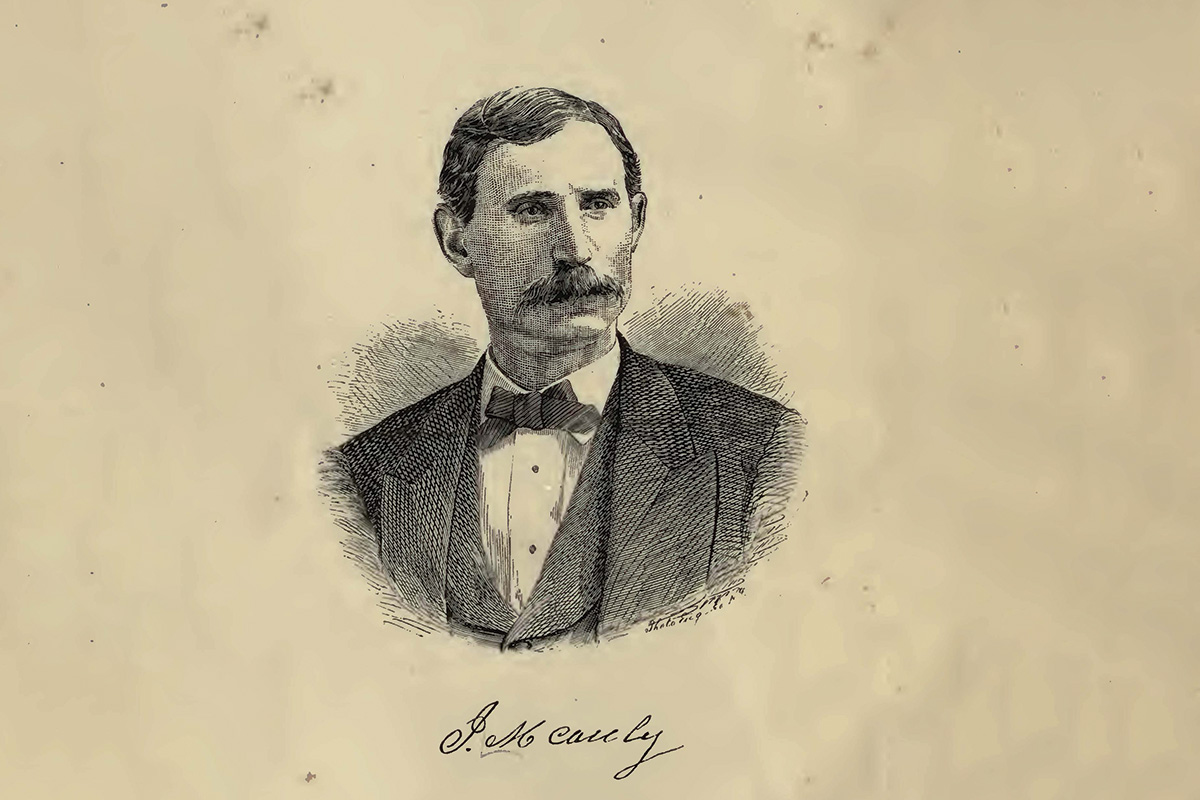 In 1872, while working as a porter, Jerry had a vision: he wanted to open a mission for all those newly out of prison. He would have cots to sleep on, endless bread and coffee, and prayer meetings in the evenings. In the summer of 1872, Jerry and his wife Maria went on a tour of camp meetings and raised $450 to launch the mission. Upon the tour's end Jerry consulted with Hatch, who agreed to donate a building at 316 Water Street.
On October 8, 1872, Jerry and his wife Maria opened the new mission. They used the $450 for cleaning and repairs, and put up a sign that read: "Helping Hand for Men." The mission — which would later be known as McAuley Water Street Mission (1879), and New York City Rescue Mission (2000) — became legendary for its provisions and prayer meetings. Every person in need was given a sandwich, a cup of coffee and a helping hand.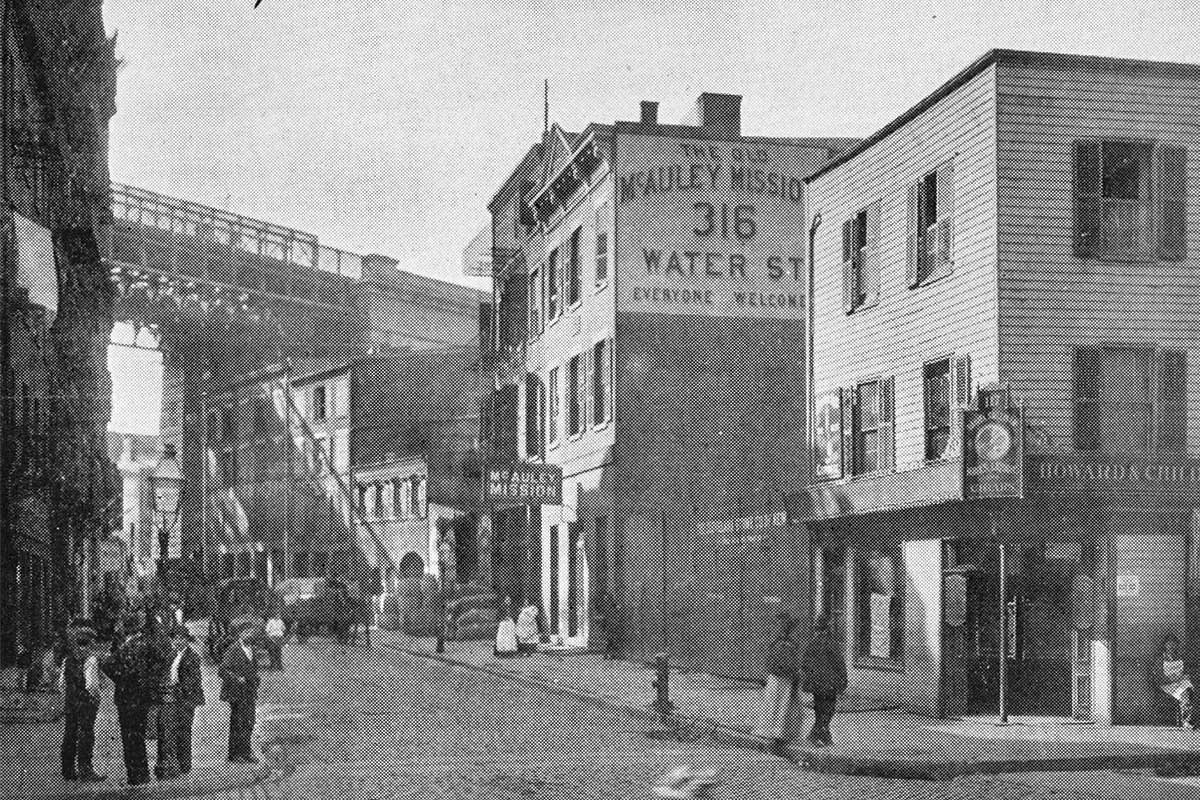 McAuley Street Mission in 1899. Credit: Image scanned from Annual Report of the McAuley Water Street Mission. Courtesy of The Burke Library at Union Theological Seminary.
To all who came to the mission, Jerry's own life was a testimony to the possibility of redemption — no matter how hopeless the situation at hand. He addressed his audience with simplicity, tenderness and wit, using the vernacular slang of his audience.
He frequently drew from Scriptures about God's love for the hungry, the sick and the poor, and was known for his remarkable ability to make friends.
The success of the mission led the McAuleys to open a second one like it, the Cremorne Mission, in 1882 on West 33rd Street in the heart of the Tenderloin District. But by 1883, it had become clear that Jerry McAuley's days were numbered. The tuberculosis he had contracted at Sing Sing was eating away at his lungs.
Yet night after night, Jerry was back on the mission platform, seemingly full of health and vigor. "My life is going from me," he said, "but living is dying, it's the Lord's. All these years He has held me and I don't know how but I'd have fallen again if I hadn't been so busy holding on to others."
Jerry died in the fall of 1884, his funeral drawing large crowds of the rich and poor alike. Today he continues to be widely credited as the father of the rescue mission movement in the United States.
SOURCES: Bonner, Arthur. Jerry McAuley and His Mission. Loizeaux Bros, 1990.; Campbell, Helen. Darkness and Daylight: A Woman's Narrative of Mission Work in Tough Places. A.D. Worthington & Co., 1891.; Hadley, Samuel Hopkins. Down in Water Street: A Story of Sixteen Years Life and Work in Water Street Mission. F.H. Revell, 1902.; "In Honor of Jerry McAuley: Twenty-First Anniversary of the Beginning of His Mission Work." New York Times, 27 Nov. 1893.; Magnuson, Norris A. Salvation in the Slums: Evangelical Social Work, 1865-1920. Wipf & Stock, 2004.; McAuley, Jeremiah. Transformed: Or, the History of a River Thief, Briefly Told. 1876.; Offord, R. M., and Jerry McAuley. Jerry McAuley: An Apostle to the Lost. Oliphant & Co.: Edinburgh & London; U.S.A. Printed, 1908.; Offord, R. M. Jerry McAuley: His Life and Work. New York Observer, 1885.; The Life and Ministry of Jerry McAuley. Citygate Network, 15 Aug. 2018, www.citygatenetwork.org/agrm/Jerry_McAuley.asp.
---
Read More Stories
See inspiring accounts of lives transformed through the Mission.
Get Involved
Learn more about how you can support the life-transforming work of The Bowery Mission.