Maria Fahy McAuley
1847-1919
Co-Founder of Nation's First Rescue Mission
---
"Oh friends, I cannot tell what God has done for me. I expect to tell my testimony while life shall last. I had no God and no hope, no home and no friends. I cried unto God and He heard my prayer. He put hope in my life."
---
A native of Ireland, Maria Fahy McAuley immigrated to the United States with her parents when she was a young child. Not long after the family settled in Massachusetts, Maria's father disappeared and her mother died, leaving her orphaned. Though her family had been Catholic, she continued to be raised and educated in New England where she attended Protestant Sunday schools.
When Maria came of age, she had no financial support and consequently moved to New York City to earn her own living. She began working as a waitress and entertainer in Manhattan's notorious Fourth Ward and was said to live with a few girls in one of the area's "terrible cellars."
Maria met Jerry McAuley after he was pardoned and released from Sing Sing prison. The two formed a romantic attachment, and for a time, shared a tenement at 17 Cherry Street with another couple who joined them in a lifestyle of heavy drinking and spending.
After Jerry experienced his second renewal of faith, Maria left Cherry Street to live at a mission for women. She attended prayer meetings, but only to accompany Jerry and not out of personal conviction. Later, she recalled that the gospel messages reminded her of her childhood Sunday schools, but also sounded "like an unknown tongue."
Maria was eventually persuaded to leave the city, which she did, promising to give up drinking and seek a life of faith. For a time she lived with a Christian family in the country, and then with her sister in New England.
In 1871, Maria was praying in a little Methodist church when she heard God speak to her. The words she had read and heard so often were all at once full of life and power and took hold of her heart and conscience. It was at that moment, she said, that her eyes were opened and she believed in the love and grace found in Jesus Christ.
Like Jerry before her, Maria longed to tell others about the hope she had found. She came back to the city and began missionary work as a Bible reader in the Fourth Ward.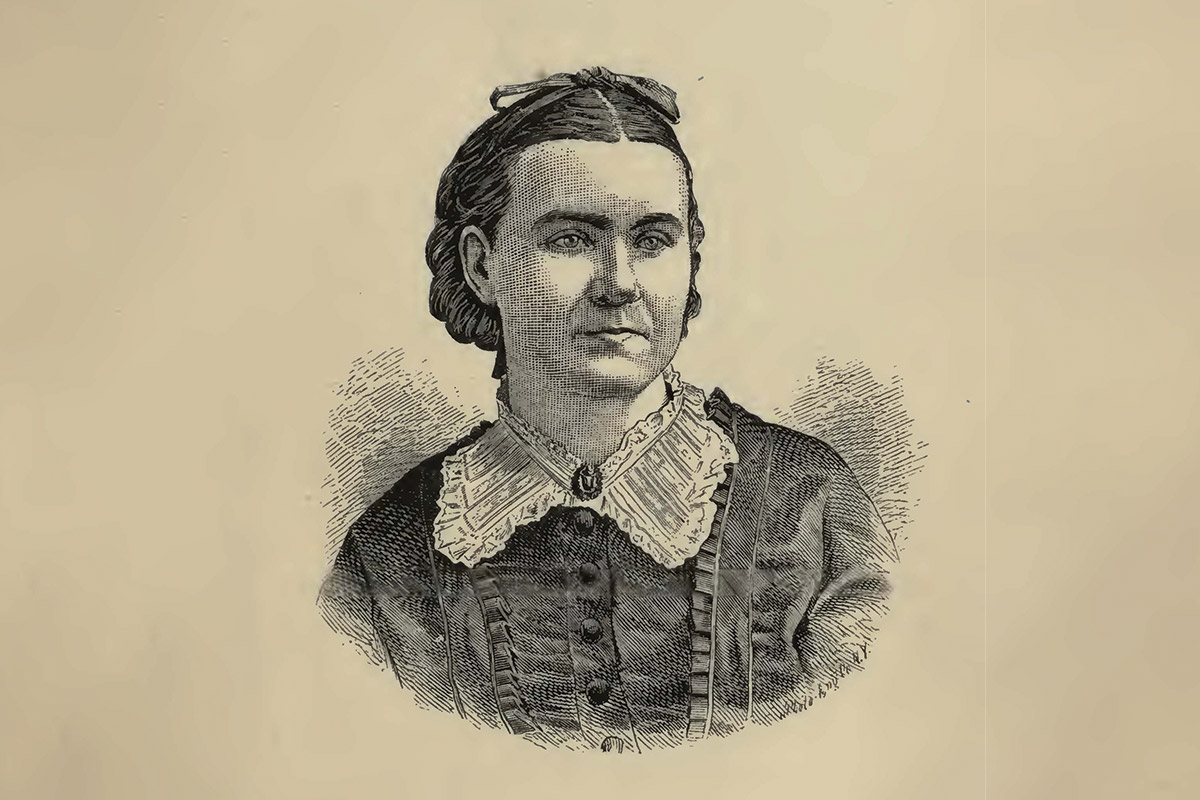 Her rounds took her to saloons, dance halls and tenement houses — and in each one, she offered to pray, read the Bible and provide practical care for anyone in need. It was said that "there was no den in the city too riotous for Maria to enter."
In early 1872, Maria married Jerry McAuley and the couple began a dynamic ministry partnership that would continue until the day of Jerry's death. When the McAuleys founded their groundbreaking Mission, some of its earliest attendees were families Maria had ministered to in her rounds.
Maria partnered with Jerry to grow the mission work begun on Water Street. At prayer meetings, Maria played the organ — a skill she had likely acquired during her New England childhood — while Jerry led the singing. After the service, she would shake hands and offer kind words of greeting or encouragement to all who had attended.
Maria was known to courageously share her own testimony of life transformation, sometimes even with tears in her eyes.
"I've been through it all and in my very worst drunken fits — and I drank all the time — there was a power that could save me even then," she would share. "I was so lost and degraded I don't want to think of it. I couldn't speak of it if I didn't want you to know that this dear, tender Savior goes seeking that which is lost. He found me and today all I want in the world is to make everyone know His power and have the peace and comfort I have, every hour of my life."
After the couple founded their second mission, the Cremorne Mission, in 1882, Maria took charge of it while Jerry stayed on Water Street. Upon Jerry's death two years later, she was determined to carry on the work alone and took charge of both missions for eight more years.
By 1892, Maria had begun to suffer from ill health. She resigned from her role as superintendent and married Bradley Lee Gilbert, a well-known architect who had been one of Jerry's friends at the Water Street Mission and was a trustee of the Cremorne Mission.
After her second marriage, Maria continued to take an active interest in the work of both missions. She frequently visited to see how the work was progressing or to give an address at the prayer meetings. She died in her home in 1919. A simple funeral service was held for her at the Water Street Mission.
SOURCES: Bonner, Arthur. Jerry McAuley and His Mission. Loizeaux Bros, 1990.; Campbell, Helen. Darkness and Daylight: A Woman's Narrative of Mission Work in Tough Places. A.D. Worthington & Co., 1891.; Hadley, Samuel Hopkins. Down in Water Street: A Story of Sixteen Years Life and Work in Water Street Mission. F.H. Revell, 1902.; Magnuson, Norris A. Salvation in the Slums: Evangelical Social Work, 1865-1920. Wipf & Stock, 2004.; "Maria Fahy Gilbert, Mission Worker, Dead." The Standard Union, 20 Sept. 1919.; "Maria Gilbert Dies; Widow of McAuley." The Brooklyn Daily Eagle, 20 Sept. 1919.; "Mrs. Maria F. Gilbert Dies." New York Times, 20 Sept. 1919.; McAuley, Jeremiah. Transformed: Or, the History of a River Thief, Briefly Told. 1876.; Offord, R. M., and Jerry McAuley. Jerry McAuley: An Apostle to the Lost. Oliphant & Co.: Edinburgh & London; U.S.A. Printed, 1908.; "Widow of M'Auley, Missionary, Is Dead." The Sun, 20 Sept. 1919.
---
Read More Stories
See inspiring accounts of lives transformed through the Mission.
Get Involved
Learn more about how you can support the life-transforming work of The Bowery Mission.