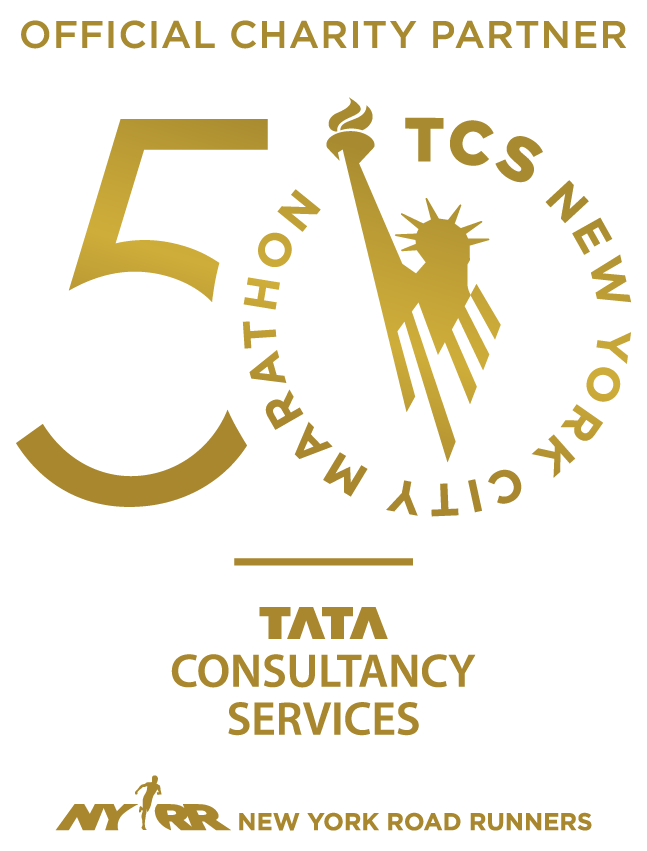 Support The Bowery Mission at the 2021 TCS New York City Marathon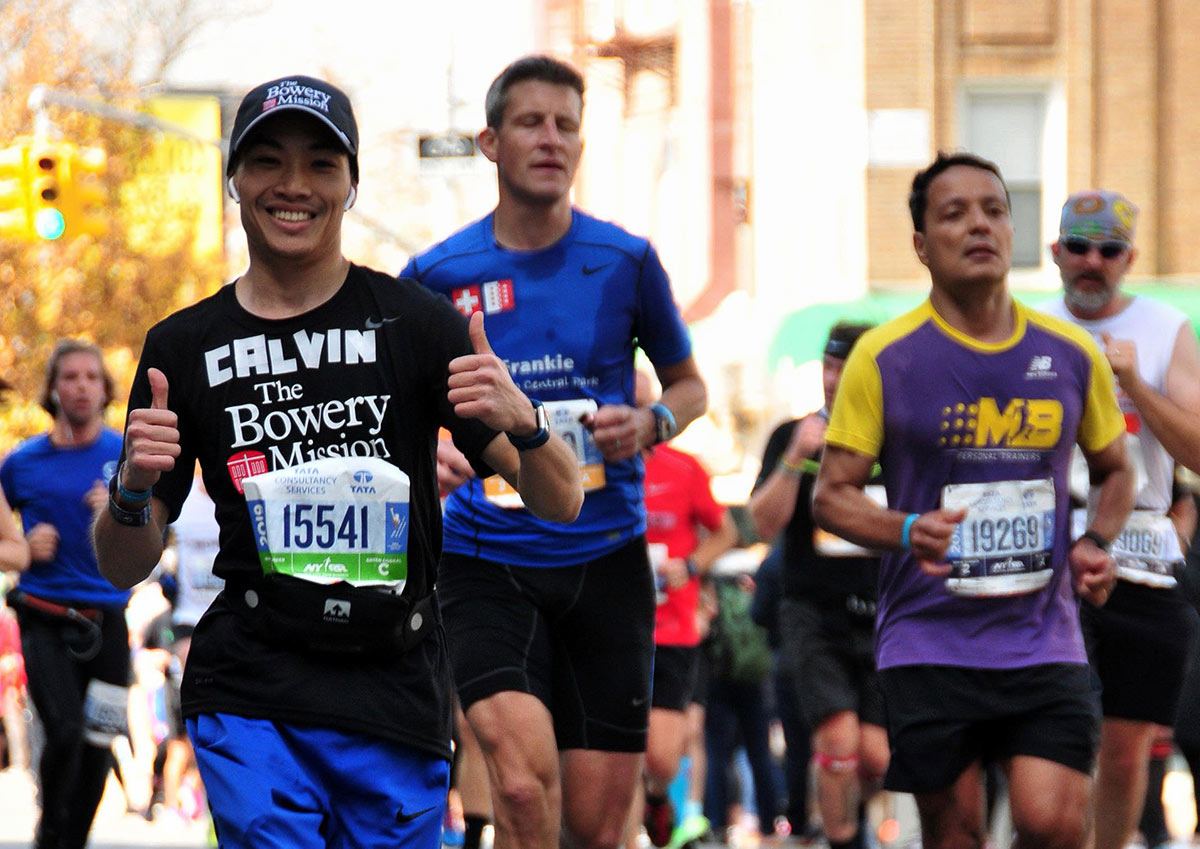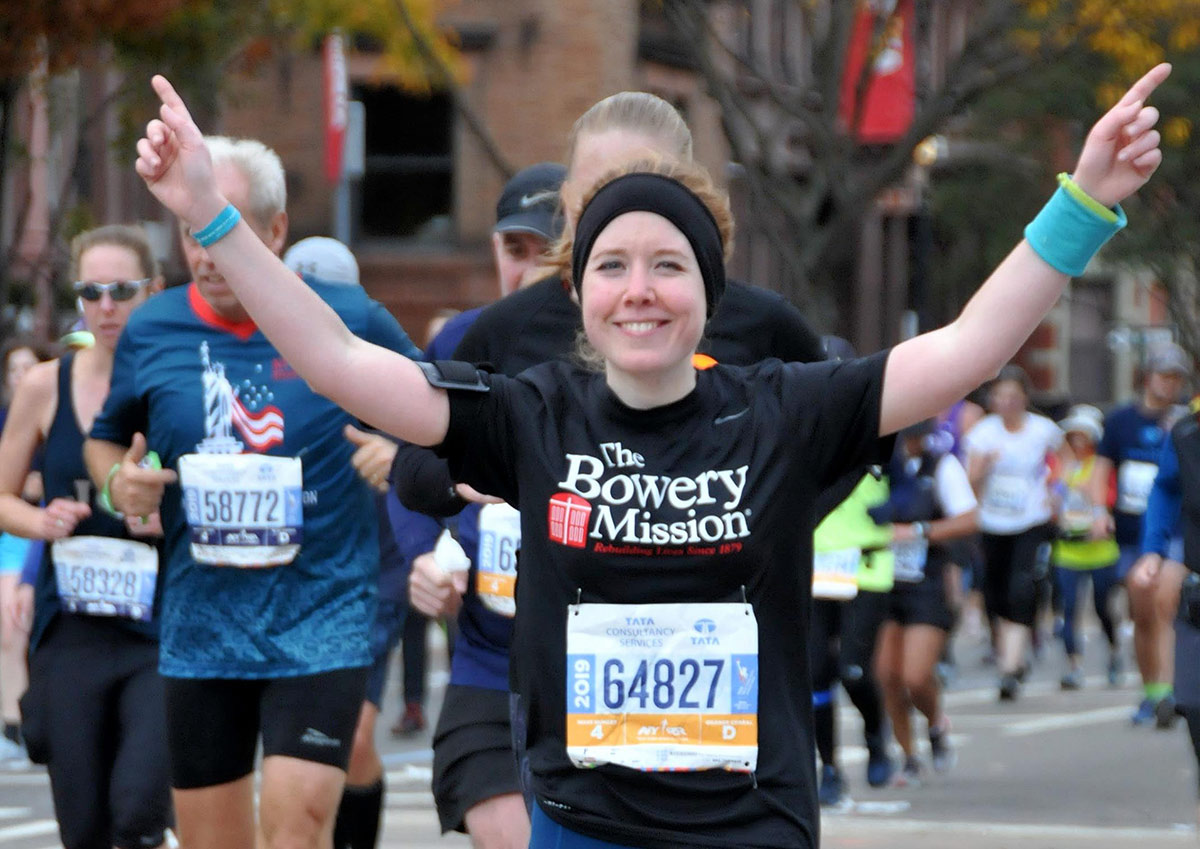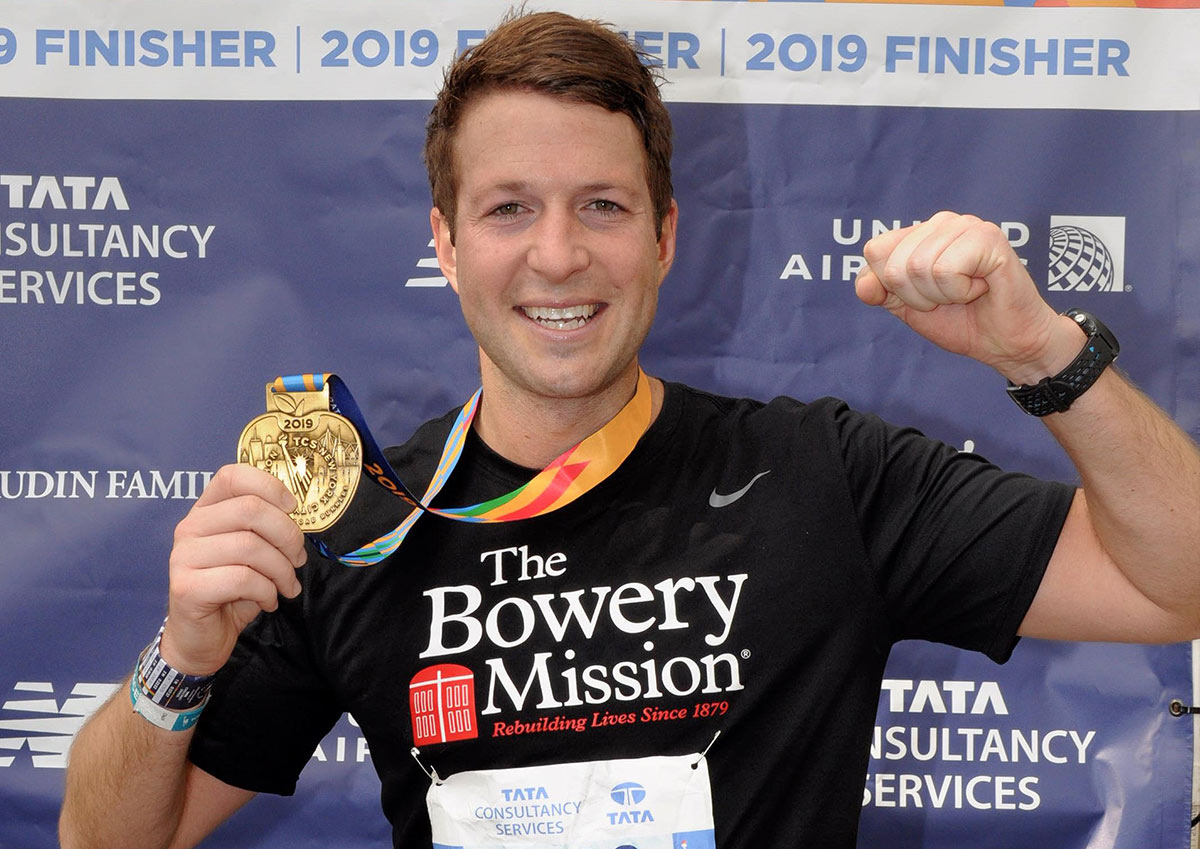 Get on your feet so that you can help people in New York City experiencing homelessness and poverty to get back on theirs...
Since the 1870s, The Bowery Mission has served New Yorkers experiencing homelessness, hunger and other crises. Each meal and every service is an invitation to residential and community programs that help clients make progress towards individual goals such as regaining sobriety, reconnecting with family and faith, and preparing for work and independent living. To empower children to thrive and succeed, we also offer year-round opportunities for enrichment for youth.
During this special 50th running of the TCS New York City Marathon, you can accomplish a personal goal while empowering our neighbors with what they need for true life change. If you are already registered for the marathon and would like to use your run as an opportunity to fundraise, consider joining Team Bowery Mission!
Start Your Online Fundraiser
You can also support Team Bowery Mission 2021 by clicking above!
---
Meet Members of #TeamBoweryMission 2021
Hear from some of our runners on why they chose to run this year's TCS New York City Marathon in support of The Bowery Mission.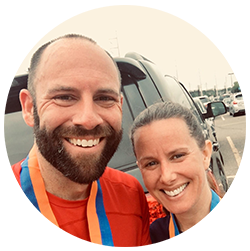 Matt Allen
I was introduced to The Bowery Mission by my friend, Jan Nagel. He always spoke about how the Mission made a real impact on the lives of the people it touched. He likened it to the "hands and feet of Christ" to the communities it served. I can think of no better way to honor his memory than by taking part in that purpose and by reaching out to others who would like to do so as well. More lives are served as more people are ready to serve them. Running the TCS New York City Marathon is one way I can share that message. I love the idea that I can run and help others at the same time!
Alain Bernard
I run because I believe that we all can do something, even something small, for the sisters and brothers around us who are homeless. You can show up once a year and serve meals. You can show up everyday and be a mentor. Something I can do is run. I may not be a professional runner, but I can run like other people can paint or draw or make music. I want to use that ability to raise awareness for this issue.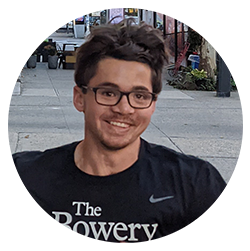 Donald Boller
Running a marathon has been a life's dream. Running the TCS New York City Marathon as a fundraiser for The Bowery Mission makes it far better. I am thrilled at this opportunity!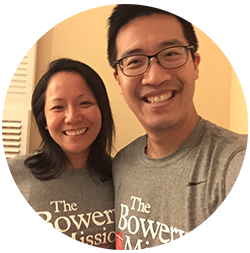 Chris & Phoebe Cheng
We have served with The Bowery Mission and "Don't Walk By" while we were previously doing our post-graduate studies in NYC. We have a heart for local missions and want to support The Bowery Mission this year as we look to complete our lifelong goal of running our first marathon in NYC!
Jeff Corelli
The Bowery Mission has had a real and present impact in my life since moving to NYC in 2012. It has been a visible force for good among my church and community, leading me to serve when I can. Despite the challenges of the pandemic, I am (we are) incredibly blessed to have basic amenities and luxuries that are but a dream to those less fortunate, and interpersonal relationships and deep connection with others are essential to human flourishing. The Bowery Mission seeks to bridge these gaps and realizes homelessness is not just a lack of homes, but a much deeper, relational, emotional and spiritual challenge that has to be solved together. I am honored to run in support of this great cause.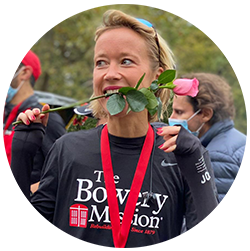 Marie de Foucaud
"The best way to not feel hopeless is to get up and do something. Don't wait for good things to happen to you. If you go out and make some good things happen, you will fill the world with hope, you will fill yourself with hope." I love this quote from Barack Obama because I want to dream, but I also want to help make the dreams a reality. I just feel super lucky that I've met this organization. In my life living in New York City for the past five and a half years, The Bowery Mission has been a real thread. And everything related to The Bowery Mission have been some of the highlights of my life. My life is so busy with work and four kids that I can't spread too much around. I've tried to focus on the Mission, and it's been incredibly rewarding. It has meant a lot to me and my kids. Each time we come, we feel that we are the main ones to benefit from the experience.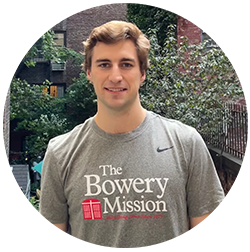 Stanton Leavitt
I am excited to support The Bowery Mission because of its clear purpose, direct engagement and constant service of those in our backyard here in Manhattan.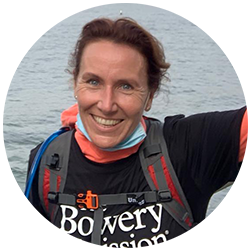 Agathe Louvet
I like that running can have a sense of purpose. I love making good use of my own energy to run for causes that are dear to me. I believe tremendously in the healing power of feeling good in your body. I feel empowered when I run, and we feel empowered as a group because there is that energy we share toward the same goal, of helping others. I run for The Bowery Mission because they take care of the person I crossed this morning in the street. We say in French, "la boucle est bouclée." It's similar to the idea of a "virtuous cycle," or paying it forward. Running for The Bowery Mission makes me enjoy running even more, because my energy is going back to the source where I first took the energy from: the city and its people. I see it as circular. It's also always been a priority for me to teach my kids to learn [to give back and serve] as early as possible.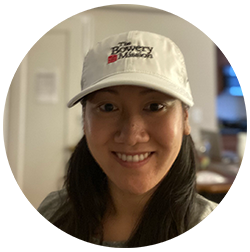 Amanda Wong
I have volunteered with and donated to The Bowery Mission so I am familiar with the programs they run and how much they help people facing homelessness and individuals/families in need in New York City.
Support #TeamBoweryMission
---
Contact Us
Though charity runner registration has already ended, we are accepting names for consideration for future Team Bowery Mission spots in the TCS New York City Marathon.

If you have any questions (for 2021 or future years) or would like more information, please email [email protected]