At The Bowery Mission, we value trauma-informed care. But what exactly is trauma? And how does it relate to the experience of homelessness?
Trauma is a physical and psychological response to extraordinarily stressful events and experiences. When a person has experienced trauma, they have experienced something so distressing that it has overwhelmed their body and brain's ability to cope.
We all experience difficult things in life. But with trauma, difficult or harmful experiences continue to negatively affect a person's well-being and ability to function in everyday life.
Trauma and homelessness
Homelessness is connected with trauma in a number of ways. First, a person who is facing homelessness has often experienced a series of traumatic events prior to the trauma of homelessness.
For some, this trauma may include childhood abuse, neglect or household dysfunction. For others, these traumatic experiences may include more recent crises and losses, including the death of a loved one, divorce, abuse or intimate partner violence, job loss, financial hardship, eviction or mental health crisis.
Yet no matter if a person experienced trauma earlier in life or more recently, it is important to understand that homelessness is not as simple as being "without housing." People who are experiencing homelessness have often lost a sense of home, community, stability or safety.
Secondly, the experience of homelessness — not knowing where one is going to sleep, what you are going to eat or where you can go for help — is often traumatic in and of itself. It also puts you at risk of further trauma, because you are now in a situation where you're more likely to experience danger.
The impact of trauma
Traumatic experiences deeply challenge a person's fundamental belief that the world is a safe place and that people can be trusted. Because of this, people who have undergone trauma may feel unsafe in new environments or have difficulty in relationships.
Many people who have experienced trauma have come to expect control, manipulation or harm from others instead of kindness or goodness. People may also believe that a better future is simply not possible — anything once hoped for is out of reach.
Trauma can also make it more difficult to regulate emotions and behaviors. This means that, at certain times, a person may feel tense, jumpy, anxious, overwhelmed or on high alert, while at other times, a person may feel numb, disconnected, withdrawn or "shut down." This response has its own logic — logic influenced by the experiences of harm that have come before, or even the expectation of further harm to come.
Trauma-informed care
At The Bowery Mission, trauma-informed care starts with simply understanding that our guests have experienced a high degree of trauma and traumatic events. We want to acknowledge the impact of these experiences, respond with sensitivity and compassion and be a place where anyone in crisis can regain a sense of confidence and security in the world.
Because we know that our guests may be coming from unstable or unsafe environments, we go to great lengths to create spaces that are calm, safe and predictable. Even when choosing materials and colors for our physical spaces, we make choices based on what would be most soothing and comfortable for our guests. Across its campuses, The Bowery Mission has incorporated principles of trauma-informed design to promote healing and alleviate feelings of tension and stress.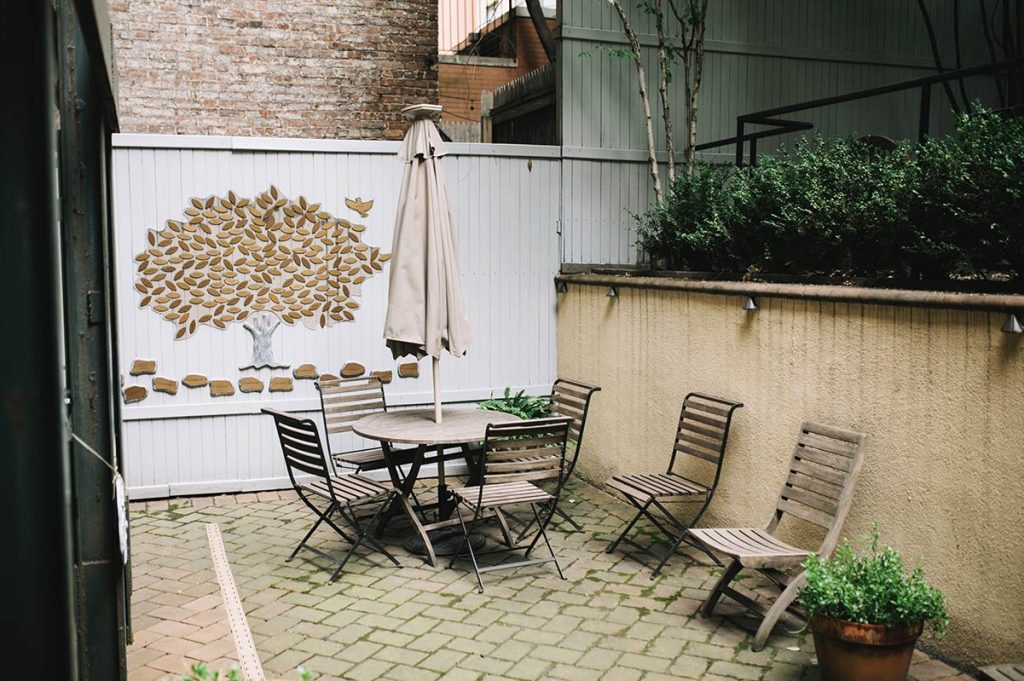 At The Bowery Mission's overnight shelter, we were delighted to finish a full renovation of our community dining room in partnership with RGI Home. New furnishings, lighting, flooring and wall coverings make the space even more inviting and hospitable for our guests. See more from our Tribeca Campus:
The Bowery Mission also takes significant measures to help each guest feel emotionally safe. From the minute that people walk through our doors, our goal is for each person to feel seen, heard and treated with respect. Our staff are committed to greeting guests with warmth and kindness, getting to know each person by name and creating opportunities to hear individual needs, stories and experiences.
When people share their needs, desires and goals, we show we care by being present and offering whatever we can to help. If someone asks us for support with basic needs, we connect them to food, clothing, medical care, overnight shelter or showers. If someone expresses their desire to achieve independent living, our social workers are there to walk alongside and collaborate on an individualized plan to support goals for housing, recovery, employment and more.
Yet while The Bowery Mission is always ready to help, we also understand that embracing hope again and overcoming trauma can be a very daunting and painful process, and we respect what a person is and isn't ready to do. Our staff is also available simply to be a listening ear and talk through any fears getting in the way of taking a next step toward healing and recovery.
Most of all, we want each person to know that there is help, that no one is alone and that hope and healing is possible.
Your support is vital
Together, we can better meet the needs of our neighbors across New York City who are experiencing hunger and homelessness. Give today to support our trauma-informed programs for New Yorkers in crisis.