For International Women's Day, we are reflecting on the amazing impact of the women in our lives
Every day at The Bowery Mission, we have the privilege of walking with women overcoming adversity of all kinds. Many come to us from traumatic situations, such as homelessness, abuse, addiction, exploitation and loss. And during this pandemic, we are mindful of women who have unique challenges caused by stay-at-home orders because of abusive or harmful living situations.
Because of friends like you, women in need are able to access emergency services and find refuge, such as nourishing meals, clean clothing and safe shelter. Each service is an invitation to longer-term programs that help clients make progress towards individual goals. More than 80 women find hope and healing at our women's centers each year, embracing their God-given identity and embarking on life-long independence.
"We provide both holistic and individualized care to meet each client where they are, first supporting her emotional and physical recovery needs so that she can then focus on employment or housing goals. Our homes are designed specifically to offer a sense of safety and welcome in a trauma-informed environment."
— Kristy Fils-Aime, Associate Director of Clinical Services
Despite the challenging circumstances over the past year, including job loss and other temporary setbacks for some of our clients, The Bowery Mission community remains resilient. We are encouraged by the rising percentages of women and men exiting our programs with jobs, many in new industries. More clients are also successfully securing housing — another critical step in the journey to independence.
We celebrate these milestone achievements, as well as everyday successes and acts of compassion. Our clients have rallied together to form a sense of community and supported each other in meaningful ways with their particular skills. For example, women have helped each other set up Zoom accounts for their virtual appointments or interviews. They are cooking meals for one another. And they have the opportunity to do that in a loving, caring community at a time where there is such isolation.
On International Women's Day and throughout the month of March for Women's History Month, join us as we honor the women who have come through our Red Doors and reclaimed their lives from crisis, as well as our female volunteers and staff who help make this a reality! Keep reading and you will:
Meet Tara, a graduate from our Residential Programs who has found faith and independence.
Meet Mary Bell, a recently retired staff member for over 25 years at The Bowery Mission who has impacted the lives of so many clients.
Hear program updates shared at last month's Inspiring Hope: Winter Benefit event.
Meet Tara
When Tara lost her mother, she felt like she had nothing to live for. She was a regular volunteer at the Mission, and decided to join the Residential Program to learn how to live again. Tara shares her story:
"I lost my confidence when my mother passed away. I was taking care of her. She was pretty much my world and when she died, that was it. I was afraid of everything. I had no job. I had nowhere safe to live. I did not want to live anymore. I just didn't.
"I was working at the Tribeca Campus as a volunteer. The director of the Tribeca Campus prayed over me and she said, 'We are going to have to call for an ambulance to take you to the hospital.' And I said, 'Okay,' because there was nothing else to do.
"They kept me in the hospital for 10 days. At the end of the 10 days, I had a piece of paper in my pocket. It was for The Bowery Mission and I called the number. And Mary Bell answered the phone and I said, 'I need a place to stay.' And she said, 'Come stay with us.'
"And so I came here and they fed me and clothed me. They gave me shelter. They gave me love. They taught me how to pray. They taught me how to have a relationship with Jesus. They taught me the Bible. We learned how to polish our resumes. We learned how to write elevator pitches. We learned how to present ourselves.
"I felt that empowerment. I learned how to understand that my problems were not bigger than God. If The Bowery Mission did not exist, I would not be here." — Tara
"I graduated from The Bowery Mission Residential Program. I am happy. I am successful. I'm an office manager at a physical therapy office. When patients come to the front desk, it's always a conversation. And the Bowery taught me how to be self-sufficient and how to live my life in the best possible way. The Bowery Mission still feels like home. It still feels like a place I'm welcome. It feels like a place I belong. You guys need me, I'm here, because when I needed you, you were here."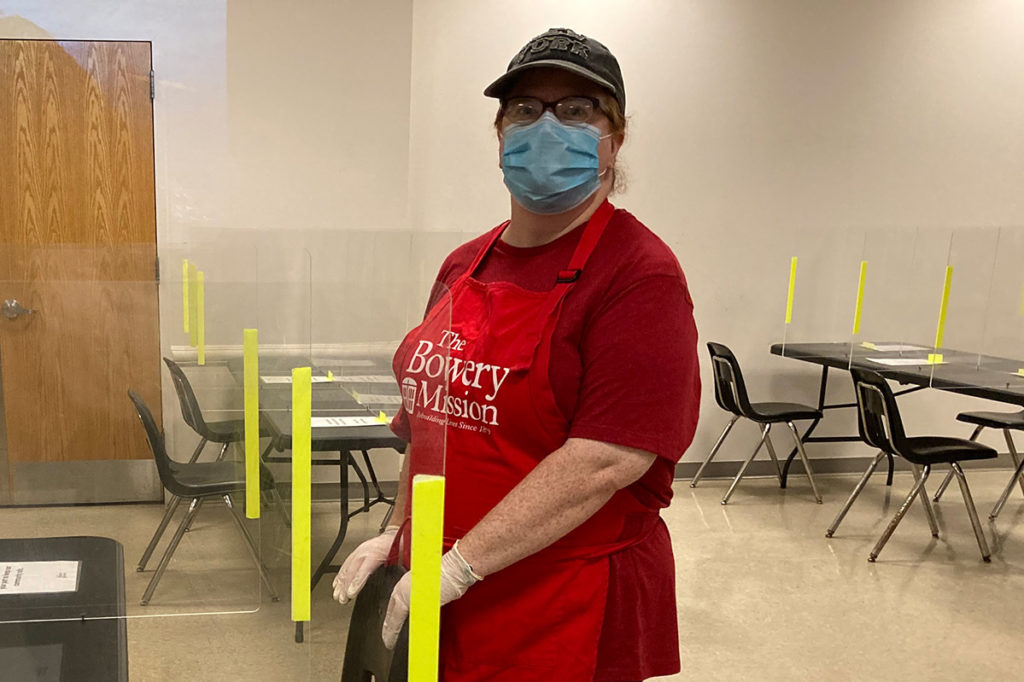 Now, Tara continues to faithfully volunteer (including helping with meal services) at the exact place where her journey began — and she has been one of The Bowery Mission's most faithful volunteers through COVID-19. She is conscious of the fact that so many people have been experiencing heightened levels of loss and isolation. For her, the power of volunteering is connection. "To have an interaction, a connection with people, in normal circumstances would still matter. But now the need for that connection is even more pronounced."
Meet Mary Bell
We give thanks for Mary Bell's 25 years of grace-filled leadership! As Tara shares above, her life-changing journey with us was partly made possible by our colleague, Mary Bell, who recently retired. She has been a light for so many clients over the years.
A lifelong New Yorker, Mary Bell has demonstrated true compassion for women in crisis in our city. She first came to The Bowery Mission in 1996 and immediately served in our women's programs as an Administrative Assistant. She quickly expanded her role, interacting with both clients and supporters of the Mission. In 2005, she began leading efforts to help women find and join our programs so that they can overcome homelessness and other hardships.
Most recently, Mary Bell served as a Client Advocate and as an onsite Chaplain. She built strong trusting relationships with women, offering one-on-one encouragement, support and accountability as they worked to achieve their goals. She provided spiritual counseling, walking alongside women as they fostered and strengthened their relationship with God and others.
We are so grateful for Mary Bell and how she humbly served our community. At The Bowery Mission, she leaves an inspiring legacy of commitment and dedication to seeing lives transformed!
"When I think of you, Ms. Mary Bell, I think about the word LOVE. I think about that acronym: to Listen, Observe, Value and Embrace. You listen, you observe with your soul, you value everyone because you see them as created in the image of God and you embrace with your whole heart."
— Asa Scott, Associate Director of Clinical Services
Updates about our programs for women
Recently at our Inspiring Hope: Winter Benefit, our Associate Director of Clinical Services, Kristy Fils-Aime, joined longtime supporters and friends of The Bowery Mission, Katie Couric and Jeannie Gaffigan. They discussed how the Mission is still a beacon of hope for so many women. Watch the replay of this event and hear how The Bowery Mission has been able to continuously provide hope and dignity in a safe, nurturing and empowering environment — even during the pandemic. Plus, hear from our friends Katie Couric and Jeannie Gaffigan about why they support our programs. Highlights include:
Thank you!
Your gifts help our neighbors in need find critical resources, and receive both holistic and individualized care on their journey to independence. Thank you for celebrating with us their achievements in emotional, spiritual, physical and financial recovery. This life transformation is possible because of friends like you!