2022 Annual Valentine Gala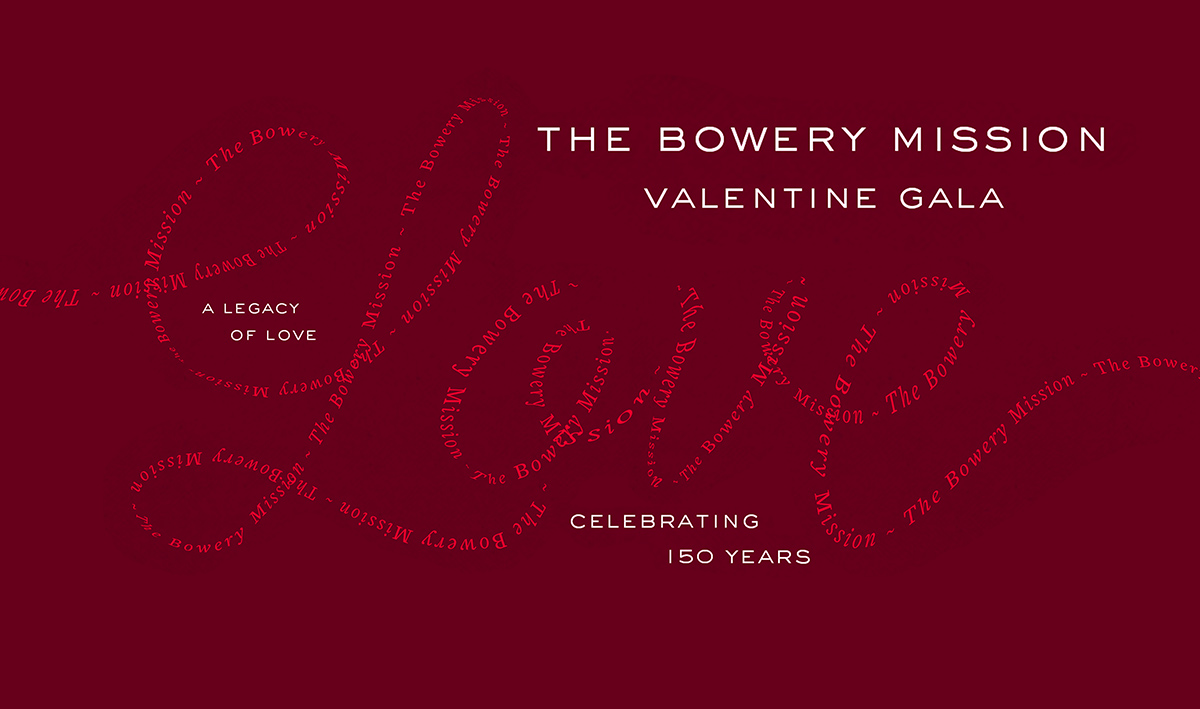 Thank you for a successful evening!
On Tuesday evening, February 15, The Bowery Mission hosted its 23rd Annual Valentine Gala. At our signature fundraising event, we were inspired by the generosity and service of our honoree, Steve Brooks, Partner at J.F. Lehman & Company, a champion for vulnerable New Yorkers at The Bowery Mission during one of the most challenging moments in our history. We are grateful for such a partner and friend who cares so deeply for The Bowery Mission community.

With the help of over 375 supporters who gathered at The Plaza, we raised more than $1.7 million dollars of critical funds to care for neighbors experiencing homelessness and poverty. Guests had the opportunity to gather with friends and meet new ones, sharing an inspiring and elegant evening of dinner and dancing as we celebrated the impact of The Bowery Mission's work in New York City.
"The promise at The Bowery Mission is this: You can be a part of that transformation. And you may just find yourself transformed in the process."
–James Winans, CEO
---
Photo Gallery
Photo credit: 2022 Albert Cheung Photography
---
Douglas's Story
During the evening, we celebrated Douglas, who has received renewed hope and a fresh start through The Bowery Mission. After experiencing homelessness for 20 years, Douglas didn't want to live anymore. Thankfully, he sought emergency shelter at the Mission and, after bonding with our staff, he decided to join the Residential Program for men to make long-lasting changes to his life.
"God just changed me. And he did it while I was at
The Bowery Mission."
–Douglas, Gala Attendee and Program Graduate
---
HONORING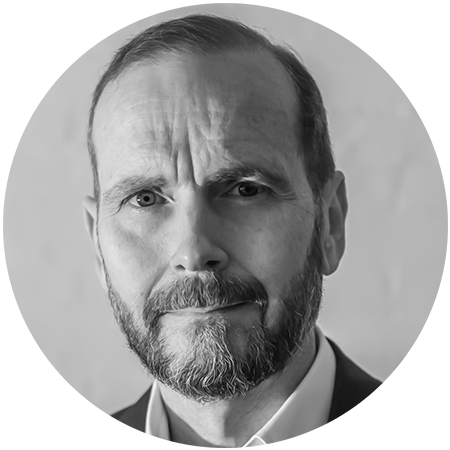 Stephen L. Brooks
Partner, J.F. Lehman & Company
Steve has been a dedicated and frequent frontline presence alongside our professional staff throughout the past two exceptionally challenging years in New York City. He has served our guests with consistency and compassion weekly throughout the pandemic (including Thanksgiving and Christmas Days) at reception in our Tribeca campus as well as regularly working alongside teams from J.F. Lehman and other volunteers in our dining halls and kitchens throughout this extraordinary season. We are grateful for Steve's (and his partners' and colleagues') devotion of time and resources to the Mission when those were most significantly needed — his commitment and care are greatly appreciated by our frontline staff and guests alike.

Steve is a Partner with J.F. Lehman & Company (JFLCO), a private equity firm based in New York focused on the global aerospace, defense, maritime and environmental services markets. Read More

Steve joined JFLCO in 1998 and is responsible for overseeing all aspects of the firm's activities, including the acquisition, oversight and disposition of portfolio investments as well as the firm's sourcing and business development activities.

He serves on the boards of many of JFLCO's investments including currently serving as the Chairman of AGI Holdings, CTS Engines and Trillium Engineering; as well as serving as a director of Global Marine Group and Code Mettle. Steve previously served as Chairman of BEI Precision Systems and Space Company, Doss Aviation and ACR Electronics in addition to serving on the boards of Racal Instruments, Atlantic Inertial Systems, Racal Acoustics, IMIA Group Holdings and Ravn Alaska Airlines. Steve started his financial services career as an investment banker focused on mergers and acquisitions.

A native of Australia, Steve graduated summa cum laude from Southern Methodist University where he earned a B.B.A. in finance with a minor in English.
---
Honorary Chair
Alain Bernard
Founder, Abbey Road Advisory
Host
Errol Louis
Political Anchor, Spectrum News NY1 &
Host, "Inside City Hall"
Date:
Tuesday, February 15, 2022
Location:
The Plaza
58th Street and Fifth Avenue
New York, New York
Time:
6:30 p.m. Reception
7:30 p.m. Dinner, Program & Dancing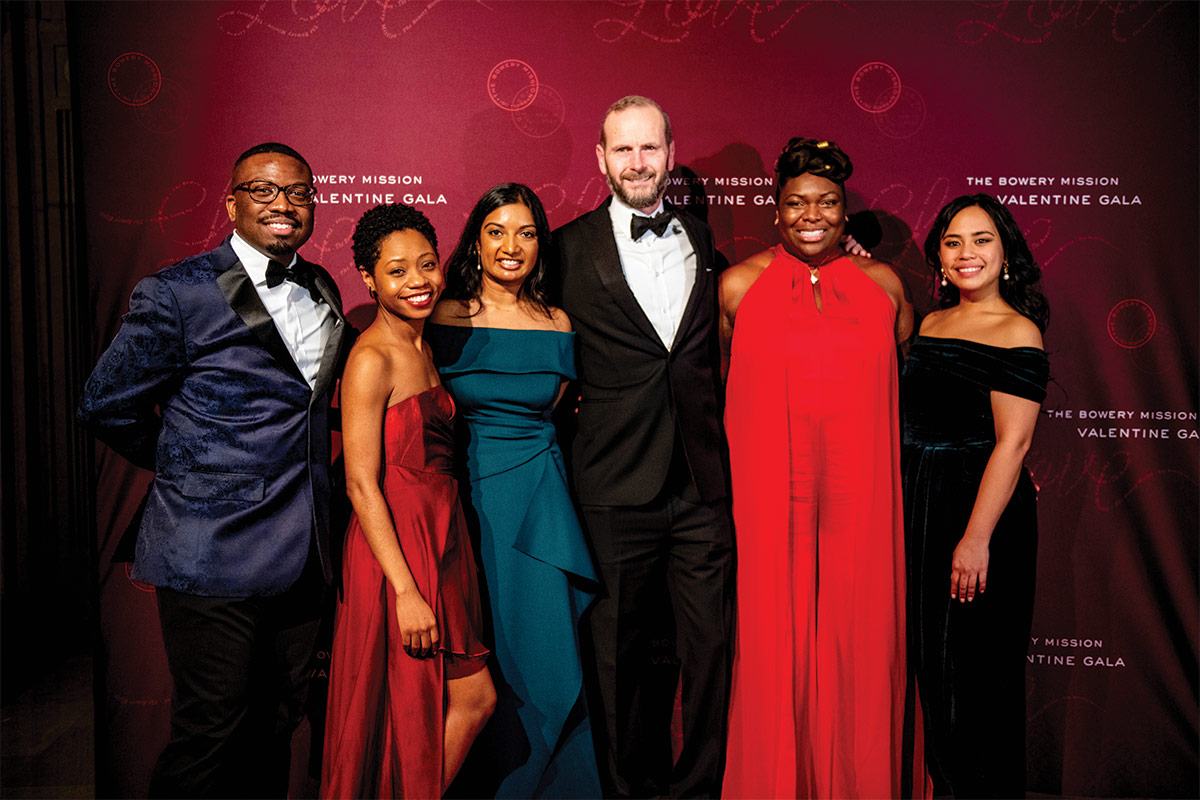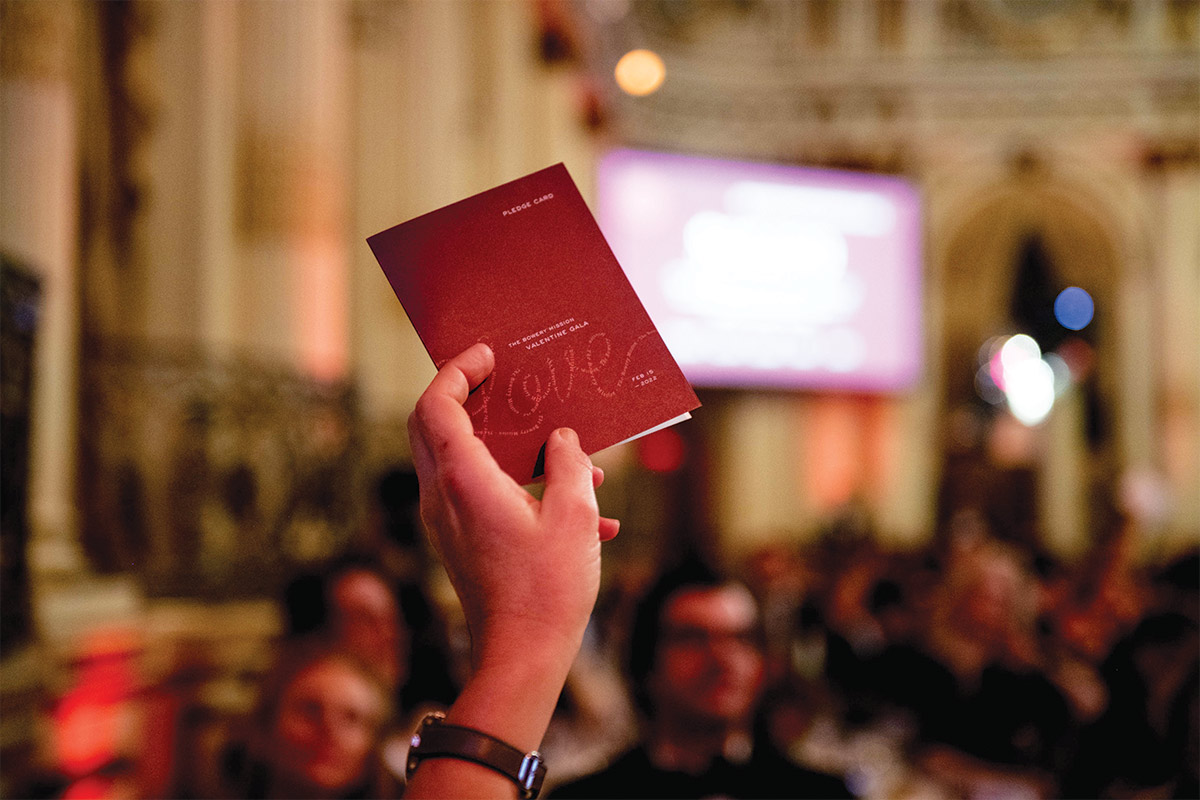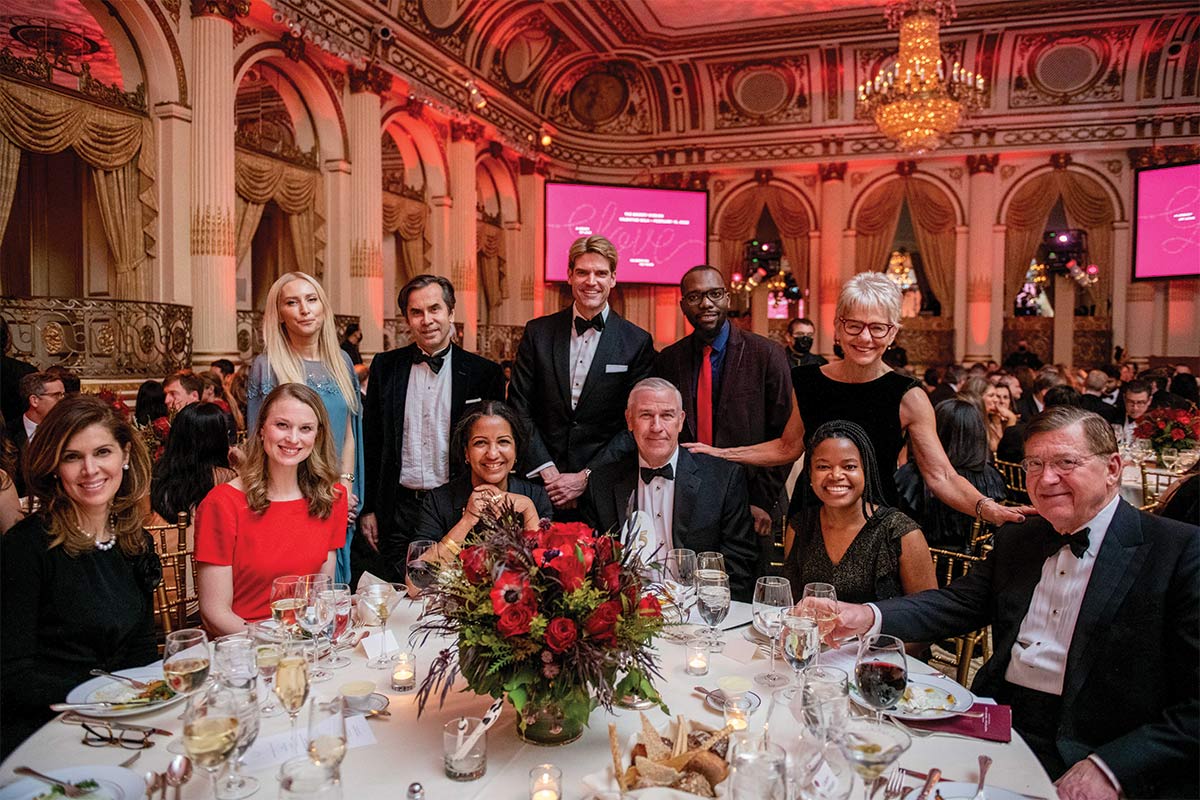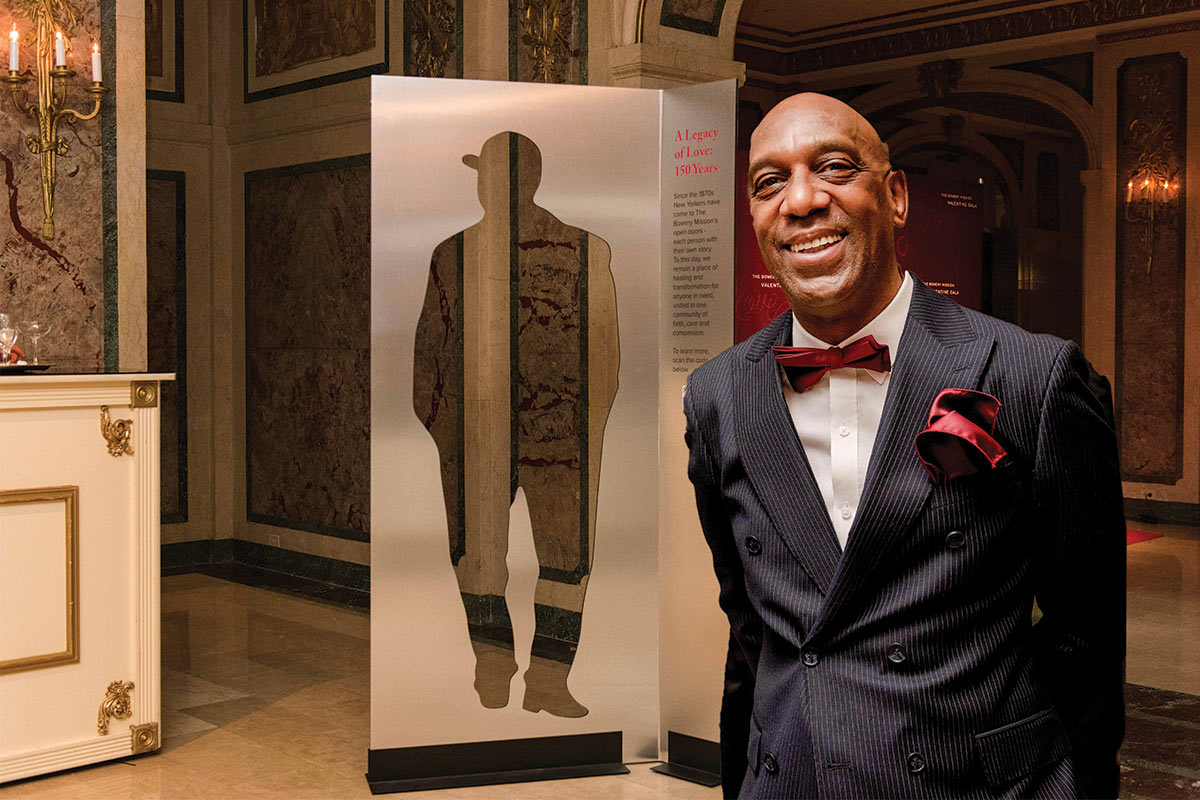 ---
Benefit Committee
Phyllis & Michael Bayer
Sara & Jack Broderick
Jessica & Bryan Cho
Dudley & Nonie Diebold
Summer & John Ellis
DG & Gini Elmore
The Gaffigan Family Foundation
John & Susan Goetz
Lewis Headden
Lauren & Richie Horowitz
Rob & Jamie Knauss
Beth F. J. & Scott G. Stephenson
Blakely & John Stinebaugh
Luke & Diandra Tubergen
Charles & Marianne Veth
Laura & Jason Woodard
---

---
---
Abbey Road Advisory
Baker & Hostetler LLP
Blank Rome LLP
CBAM Partners
CPI
Crédit Agricole Corporate and Investment Bank
ENTACT, LLC
Fairmont Consulting Group LLC
Integrated Global Services
Lone Star Disposal
Marsh, Mercer & Oliver Wyman
narda-MITEQ
NorthStar Group Services, Inc.
Raines International
Siemens Financial Services, Inc.
SS&C Technologies
Trillium Engineering
Waste Control Specialists, LLC
Withum Smith+Brown, PC
---
The Impact
The Annual Valentine Gala raises funds for The Bowery Mission's essential meal, shelter and residential programs, which have served New Yorkers experiencing homelessness and hunger every day since the 1870s. Each meal and night of shelter serves as an invitation to further life-transforming care experienced within a loving community of support. Even amidst the challenges of the pandemic, our guests and clients continue to grow in confidence and self-esteem, reconnect with family, deepen personal relationships and secure vocational and housing needs. The Bowery Mission also offers year-round opportunities for enrichment through Mont Lawn City Camp, culminating in summer camp for hundreds of children in the Poconos Region of Pennsylvania.
In 2022, The Bowery Mission is celebrating 150 years of mission work to our neighbors experiencing homelessness and hunger in New York City – a legacy of loving well. We have remained a place that offers a helping hand through deep faith, a caring community and life transforming services. Learn more about the history of our mission work.
Contact Us
For more information about this or any other events, please contact [email protected].