Summer at Mont Lawn Camp
Mont Lawn Camp 2022 — Together Again!
Mont Lawn Camp 2022 is here — and this year's theme is Together Again! After so much time apart, we invite your children to join us in celebration of God's love and the joy of being reunited. Last year, we had a great time at camp with the whole family. Now, we are excited to announce the return of our week-long summer camp experience for kids and teens, ages 7-15.

This summer, campers will once again enjoy their favorite activities like boating, swimming, rockwall climbing, sports, arts and crafts, "Little Chefs," chapels and s'mores around the campfire.

The 2022 season opens Monday, June 27, and closes Saturday, August 13. Parents may register their children and/or teens for one of six sessions. Campers will join us at Mont Lawn Camp each Monday and return the following Saturday morning. For questions, please email [email protected] or call (646) 362-3142. Space is limited so sign up now. See you this summer!
Please note: This year, we are offering one Family Camp Weekend, June 24 – June 26. To be eligible, families must participate in year-round programming through Mont Lawn City Camp.
Tenga en cuenta: este año, ofrecemos un fin de semana de campamento familiar, del 24 al 26 de junio. Para ser elegible, las familias deben participar en la programación durante todo el año a través de Mont Lawn City Camp.
Mont Lawn Camp 2022
COVID-19 Health & Safety Guidelines
Mont Lawn Camp 2022 COVID-19 Health & Safety Guidelines
Health Screening
Negative test result from a COVID-19 PCR test conducted no more than 48 hours from the start of camp is required to participate.
COVID questionnaire must be completed each day, including valid temperature check.
Face Coverings & Physical Distancing
In broad terms, our face covering policy will reflect the current face covering policy of the NYC Department of Education. At this time, face coverings are optional. Anyone who chooses to wear a face covering may continue to do so. Face coverings will also be made available upon request.
Symptoms, Isolation & Quarantine
Immediately report any cold/flu or COVID-related symptoms to Program Director and/ or lead staff and remain in your room/dorm until otherwise directed.
Immediately report any exposure to someone with a confirmed or suspected case of COVID-19. Program Director and/ or lead staff and remain in your room/dorm until otherwise directed.
Cleaning & Sanitization
Hand sanitizer must be used before entering any activity area or building and upon leaving.
All activity areas and associated objects will be sanitized prior to, and following, each person's use.
Sanitize and clean high touch surfaces touched by individuals with COVID-related symptoms.
Since 1894, Mont Lawn Camp has been a child's prize ticket for adventure, refreshment and unforgettable experiences in the Poconos Region of Pennsylvania. Each summer, children enjoy a variety of growth inspiring activities under the guidance of caring adults who are committed to making a difference in young lives. The summer camp program is designed to empower children to build the confidence and character they need to grow into thriving adults. We do this by surrounding children with nurturing adults and providing a number of diverse activities.
Why Your Child Should Come to
Mont Lawn Camp
Mont Lawn Camp is 200 acres full of fun. As each child explores and enjoys new adventures, they are surrounded by caring adults helping and encouraging them to accomplish their goals. At Mont Lawn Camp, our program is designed to inspire confidence and courage for every child that participates. We motivate our kids to understand more about their strengths and abilities by instilling positive morals and values through the staff and carefully prepared activities.
---
Our Staff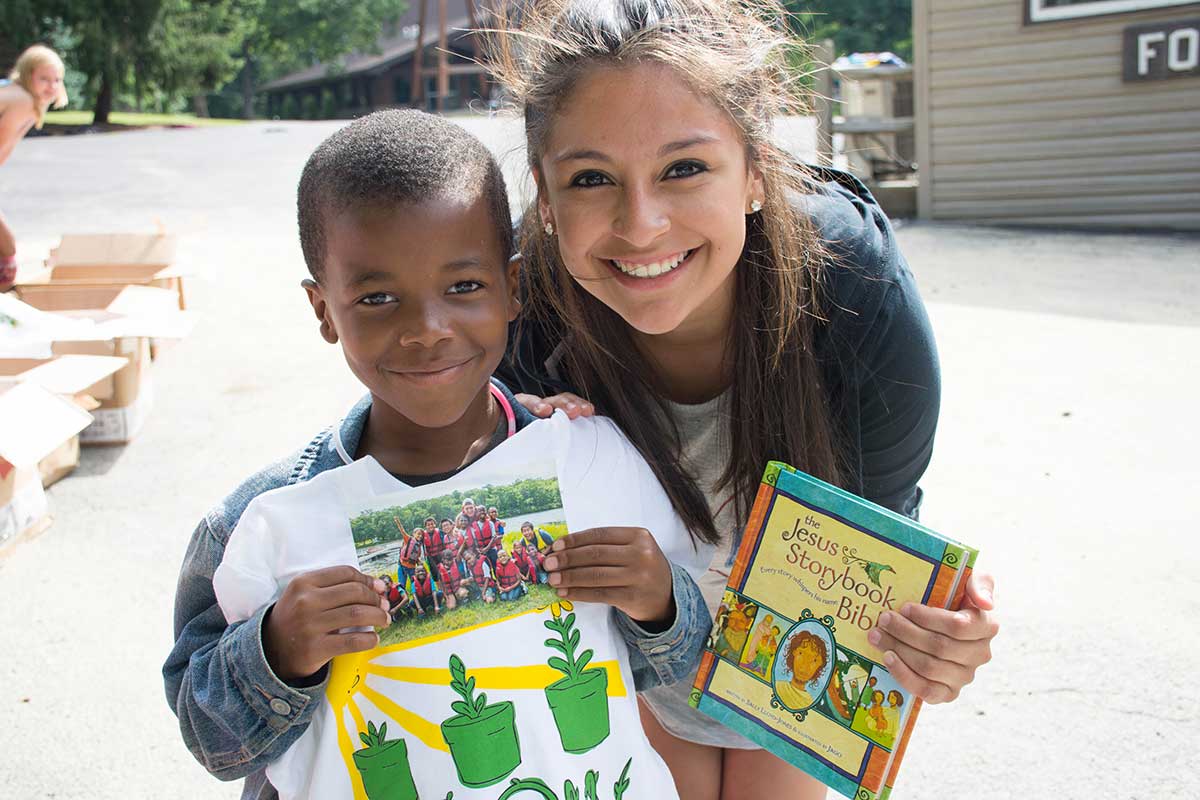 We believe that each child is a gift from God. The Camp Director and entire staff have a commitment to enrich the lives of our children. Our staff members are carefully chosen for their abilities and dedication. Many are planning careers in teaching, social services or education. Some are full-time school teachers who have dedicated their entire summer to work with our children. All staff participate in an intensive orientation and training program prior to the arrival of the campers.
We have a 1-to-4 counselor-to-camper ratio. As an accredited member of the American Camping Association, we maintain the highest standards of health and safety. Children are always under adult supervision. No child is ever alone with one staff member. A registered nurse lives on the property and the on-property health center is available to campers 24 hours a day. Excellent medical care is nearby. Parents are notified in case of an emergency.
---
Activities
Hiking
Camp Fires
Swimming
Gym Activities
Rock-wall climbing
Chapel
Arts and Crafts
"Little Chefs"
Other Socially Distanced Activities
---
Register for Mont Lawn Camp 2022
Follow Us
SEE UPDATES AND STAY CONNECTED WITH @MONTLAWNCAMP.