Summer at Mont Lawn Camp
Learn more about our 2020 summer program and start your enrollment to attend Mont Lawn Camp now!
Aprenda más sobre nuestro programa de verano 2020. ¡Para asistir Mont Lawn Camp, inscribirse ahora!
Enroll Today / Inscribirse Ahora
Since 1894, Mont Lawn Camp has been a child's prize ticket for adventure, refreshment and unforgettable experiences in Pennsylvania's Pocono region. Each summer, over 700 children enjoy a variety of growth inspiring activities under the guidance of caring adults who are committed to making a difference in young lives. The summer camp program is designed to empower children to build the confidence and character they need to grow into thriving adults. We do this by surrounding children with nurturing adults and providing a number of diverse activities.
Why Your Child Should Come to
Mont Lawn Camp
Mont Lawn Camp is 200 acres full of fun. As each child explores and enjoys new adventures, they are surrounded by caring adults helping and encouraging them to accomplish their goals. At Mont Lawn Camp, our program is designed to inspire confidence and courage for every child that participates. We motivate our kids to understand more about their strengths and abilities by instilling positive morals and values through the staff and carefully prepared activities.
---
Our Staff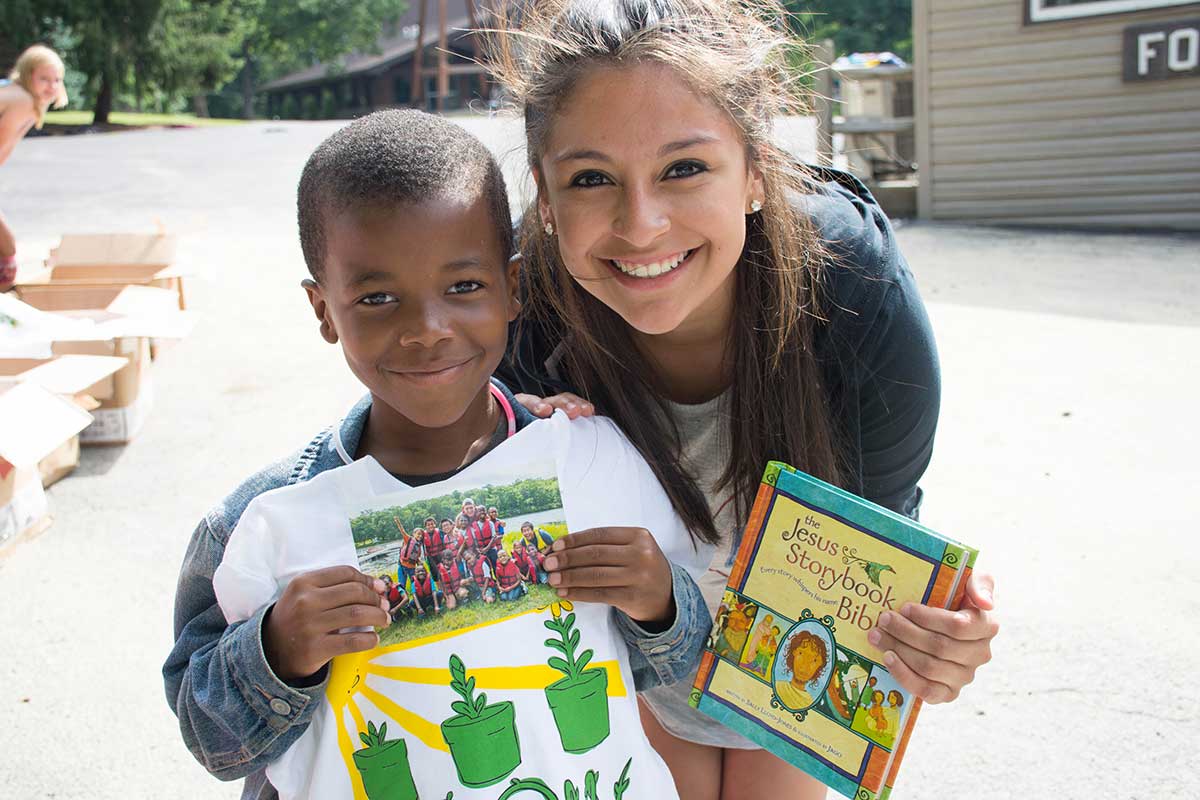 We believe that each child is a gift from God. The Camp Director and entire staff have a commitment to enrich the lives of our children. Our staff members are carefully chosen for their abilities and dedication. Many are planning careers in teaching, social services or education. Some are full-time school teachers who have dedicated their entire summer to work with our children. All staff participate in an intensive orientation and training program prior to the arrival of the campers.
We have a 1-to-4 counselor-to-camper ratio. As an accredited member of the American Camping Association, we maintain the highest standards of health and safety. Children are always under adult supervision. No child is ever alone with one staff member. A registered nurse lives on the property and the on-property health center is available to campers 24 hours a day. Excellent medical care is nearby. Parents are notified in case of an emergency.
---
Activities
Hiking
Camping
Canoeing
Swimming
Gym Activities
Rock-wall climbing
Adventure Games
Challenge Course
Chapel Program
Little Chefs
Team building
Much More!
---
2020 Camp Sessions
Each child attends Mont Lawn Camp for one session/week, some of which are grouped by age and area.
Cada niño/a asiste a Mont Lawn Camp por una sesión/semana, algunas sesiónes de las cuales están agrupadas por edad y área.
Sessions 1-7
(Ages 6-13)
Session 1
(Philadelphia Community)
June 22 - 27
Session 2
June 29 - July 4
Session 3
July 6 - July 11
Session 4
July 13 - July 18
Session 5
(East Harlem Community)
July 20 - July 25
Session 6
(South Bronx Community)
July 27 - Aug 1
Session 7
Aug 3 - Aug 8
Teen Hill
(Ages 14-16)
Teen Hill Boys 1
June 29 - July 8
Teen Hill Boys 2
July 20 - July 29
Teen Hill Girls 1
July 9 - July 18
Teen Hill Girls 2
July 30 - Aug 8
Leaders
in Training (LIT)
(Age 16 - Pending Interview)
June 29 - July 18
Counselors in Training (CIT)
(Age 17 - Pending Interview)
July 20 - Aug 8
Join us at Mont Lawn Camp
Sign up online or, for more information, please contact 646-362-3142 ext. 185.