In response to the homeless epidemic surging in New York City, ultrarunner Todd Aydelotte completed a solo, 82-mile ultrarun to highlight "24 Hours in the Life of The Bowery Mission," one of the oldest and most dynamic organizations serving neighbors in need.
This historic run on Thursday and Friday, May 16–17, 2019 blended 82 miles with hands-on mission work as Todd Aydelotte traced the complete footprint of The Bowery Mission in the New York City metro area. Todd stopped to work in homeless shelters, provided food and clothing to those experiencing poverty, met with men and women recovering from addiction and crisis, and inspired children who are overcoming the odds.
Running to bring awareness to the need
There are more than 60,000 homeless residents living in New York City's municipal shelters, including more than 20,000 children, and thousands more on the streets, in subways, parks and private shelters.
"Our City is currently facing the greatest homeless epidemic since the Great Depression," said Todd Aydelotte. "This run is designed to raise awareness of the plight of our neediest people — and to rally everyone around The Bowery Mission and hope for the future. Since the 1870s, The Bowery Mission has been on the front lines of poverty and homelessness, helping to feed, clothe and care for those who are struggling to make ends meet. And their impact stretches from the Bowery to Harlem to the Bronx and Newark, and points far afield."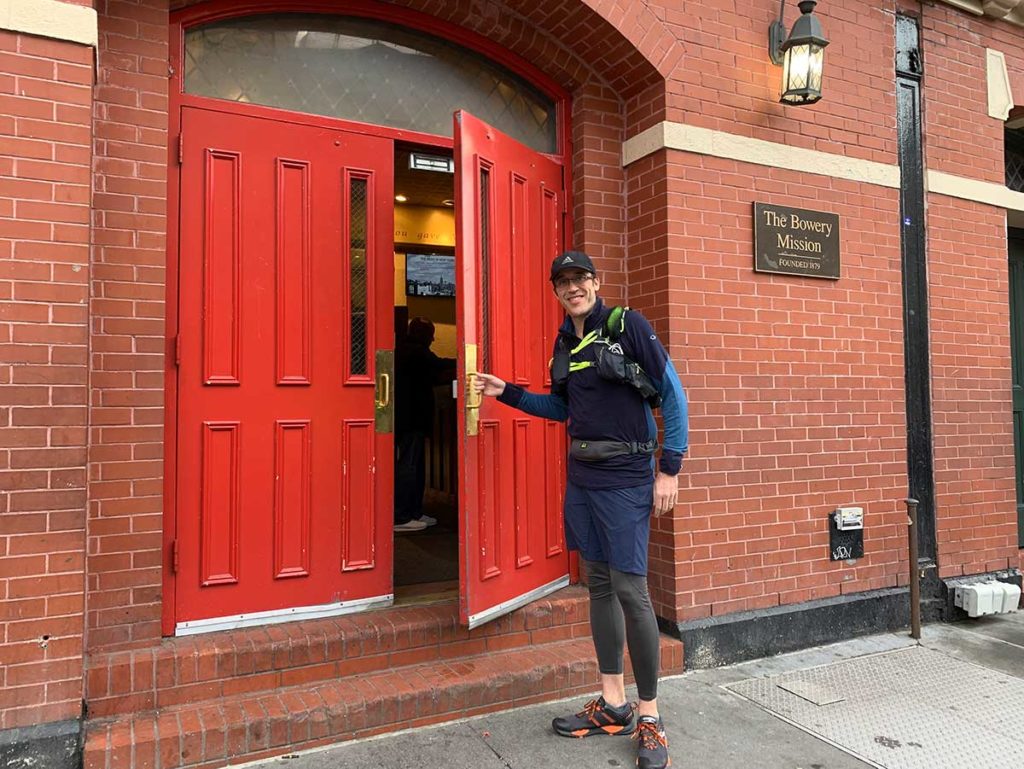 82 miles. 8 campuses. 1 cause.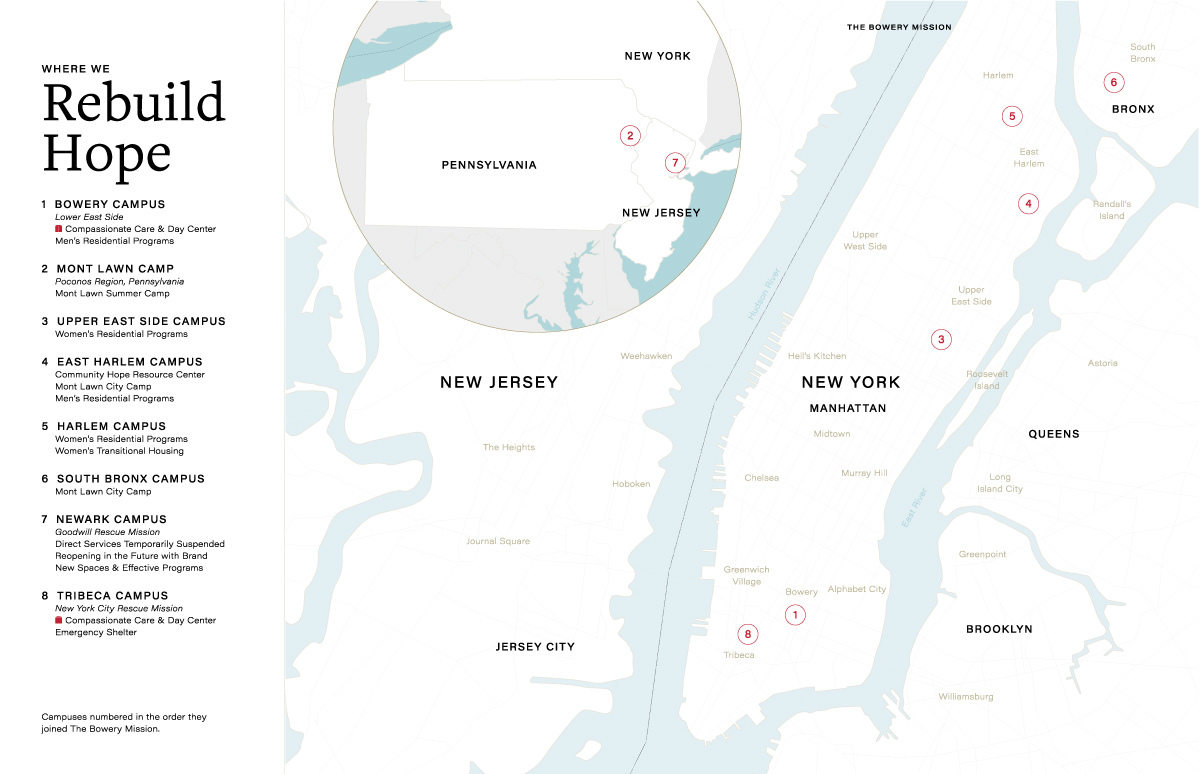 After a prayer of blessing at dawn in The Bowery Mission's historic chapel at 227 Bowery on the Lower East Side of Manhattan, Todd embarked on over 24 hours of running and hands-on service to The Bowery Mission.
Stop 1: Bowery Campus to Provide Food for the Hungry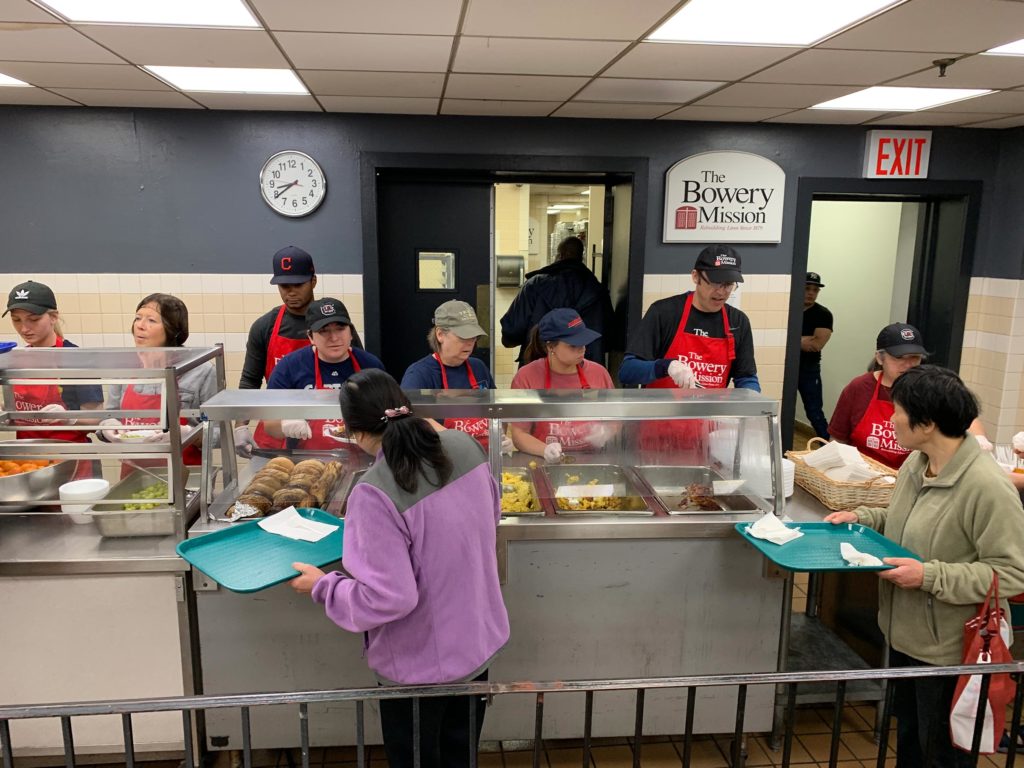 Stop 2: Tribeca Campus to Connect with Staff and Guests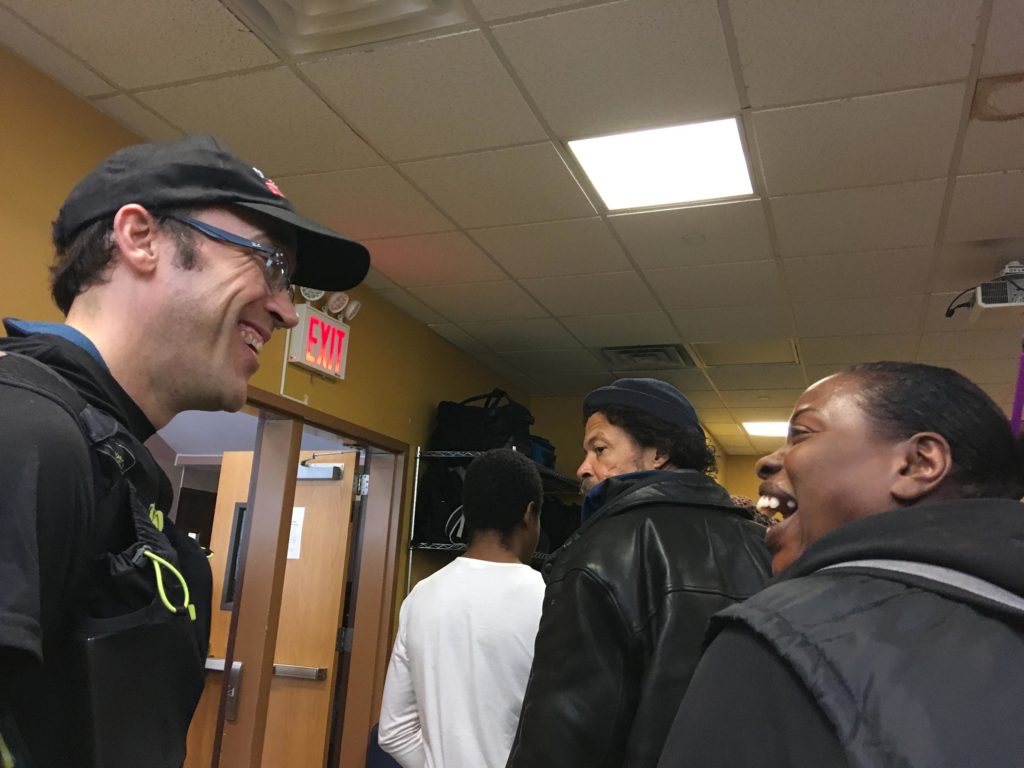 Pit Stop at Administrative Headquarters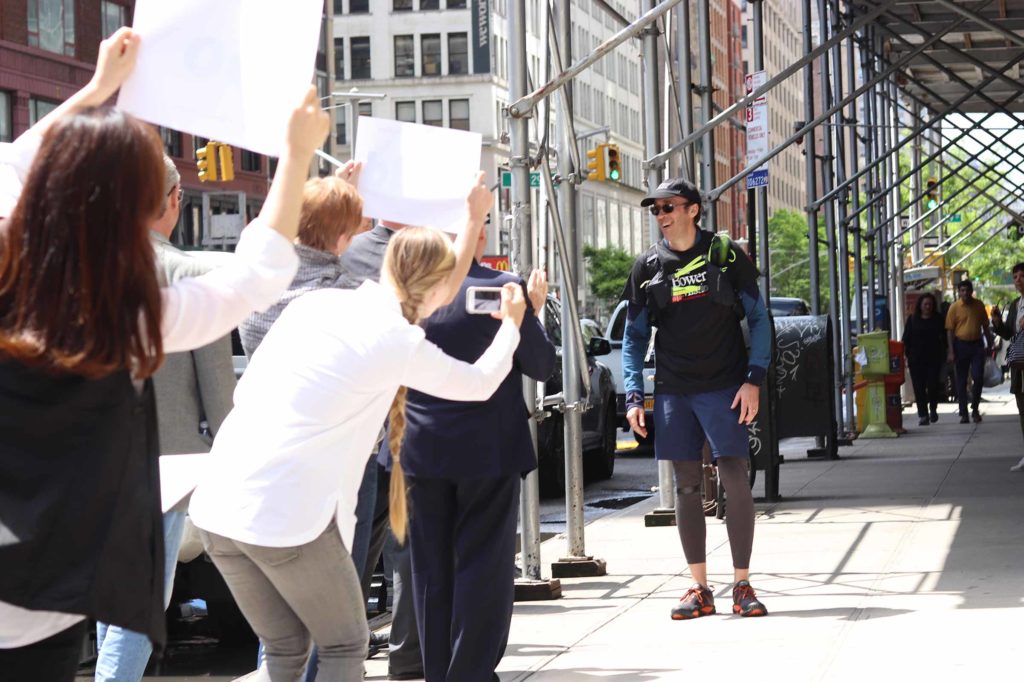 Stop 4: Upper East Side Campus to Meet with Women Recovering from Crisis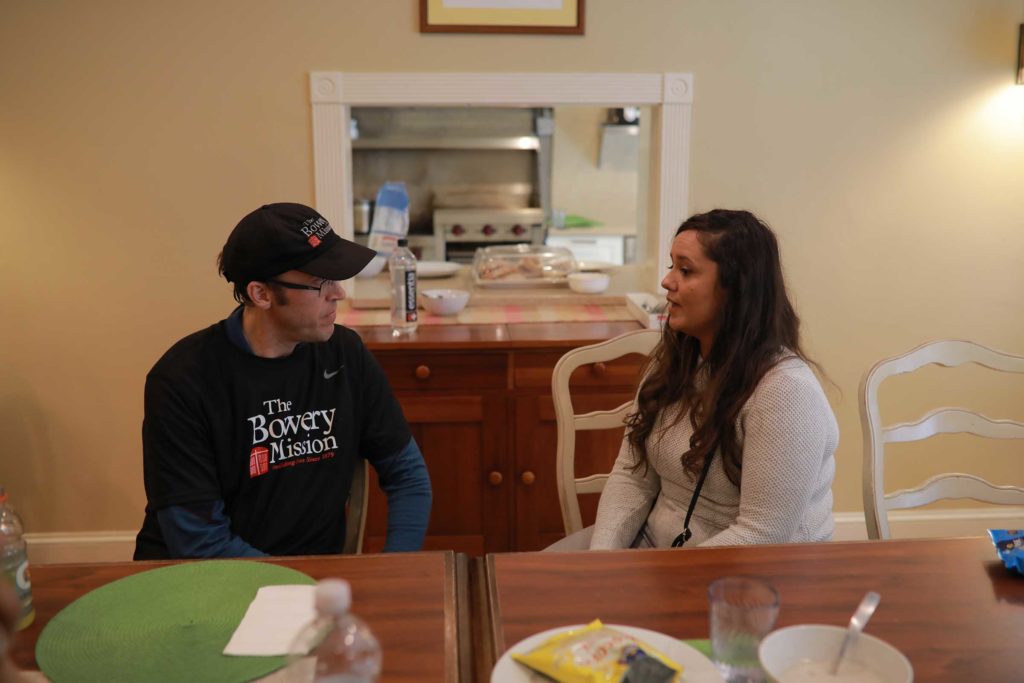 Stop 5: East Harlem Campus to Meet Men Whose Lives Have Been Transformed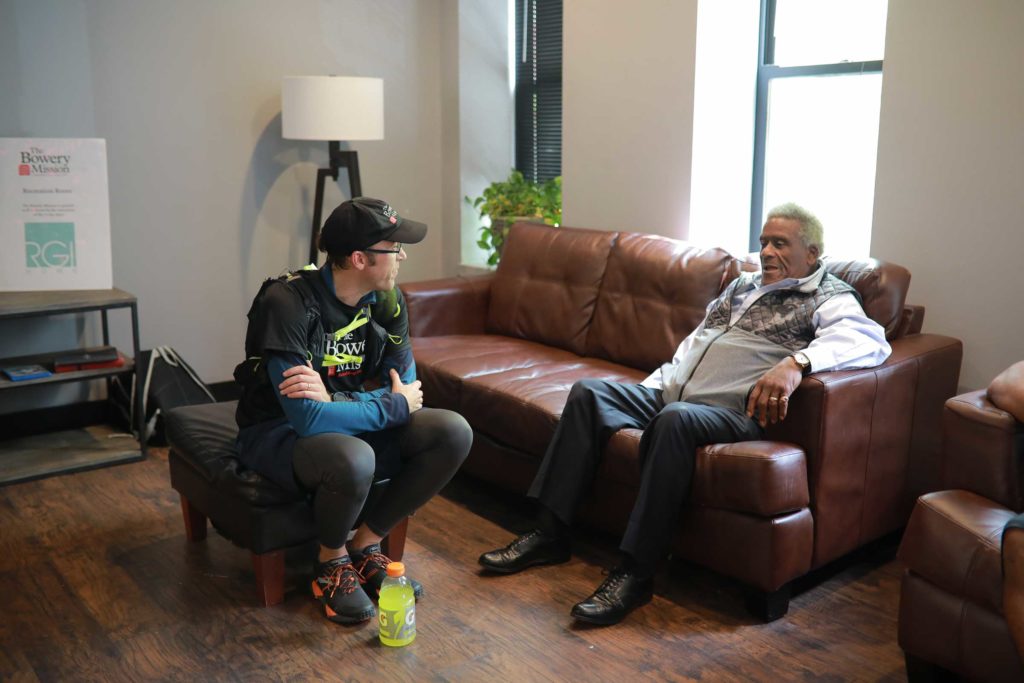 Stop 6: South Bronx Campus to Run with Mont Lawn City Campers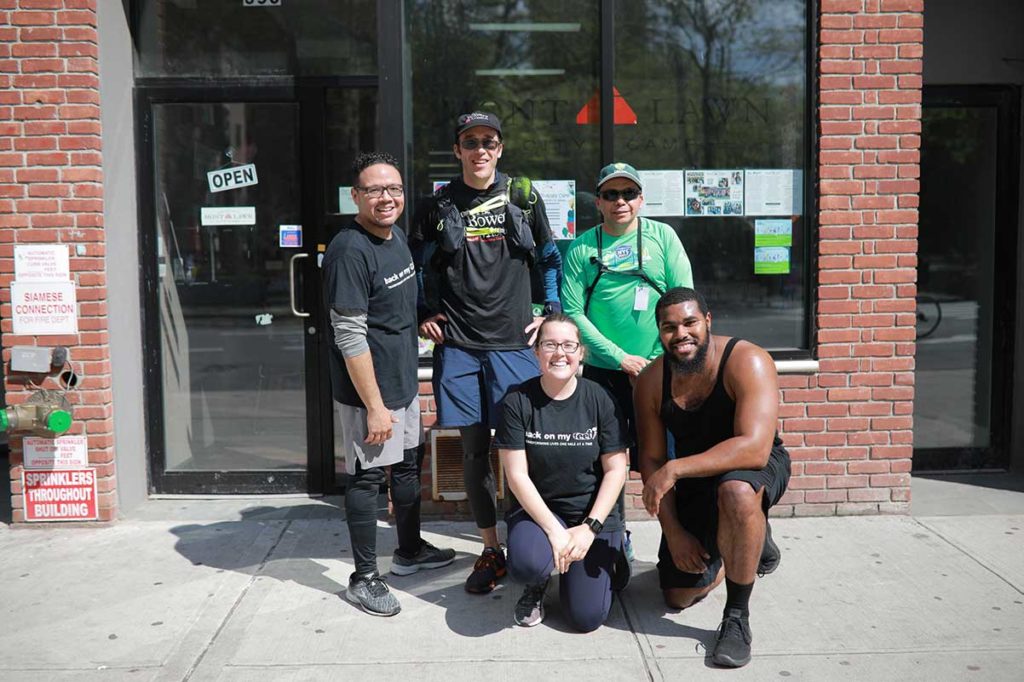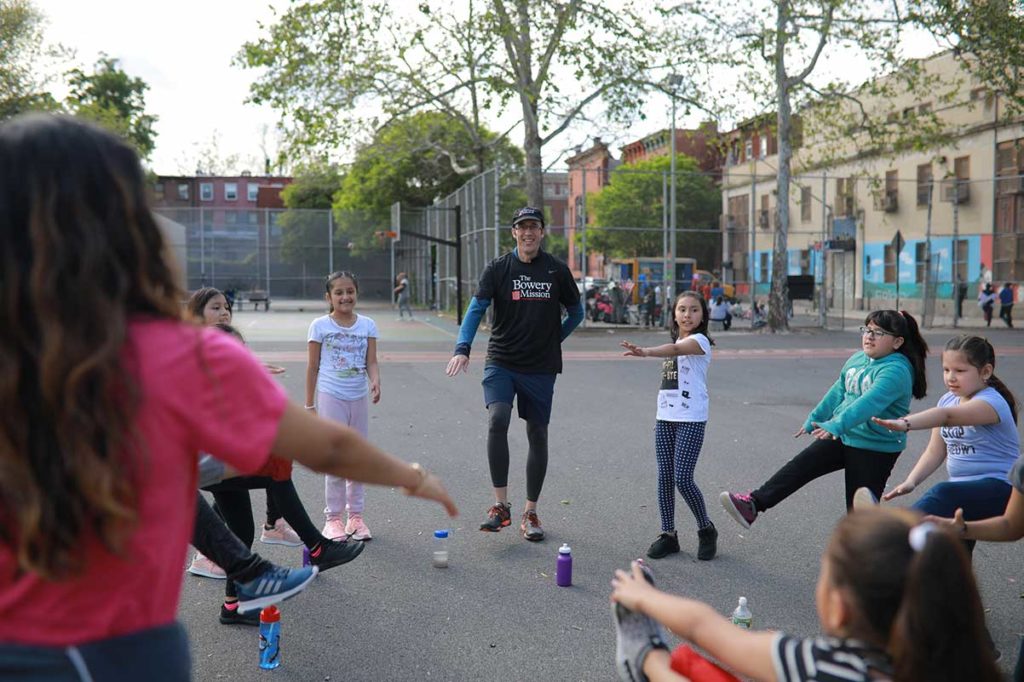 Stop 7: Women's Center in Harlem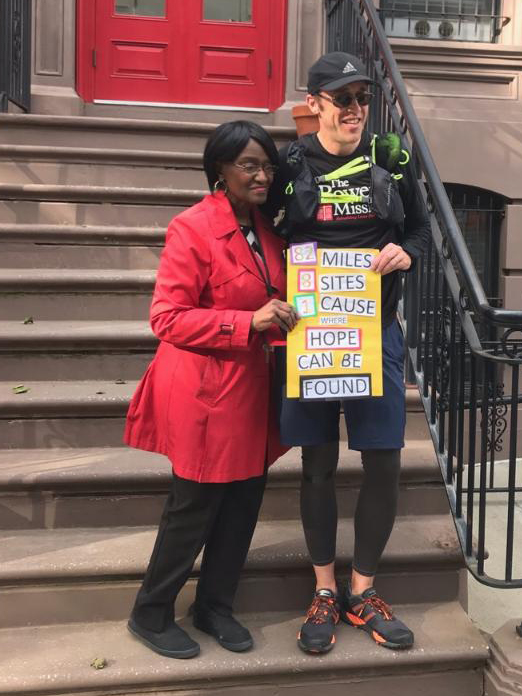 Stop 8: Newark Campus to Meet Overnight Staff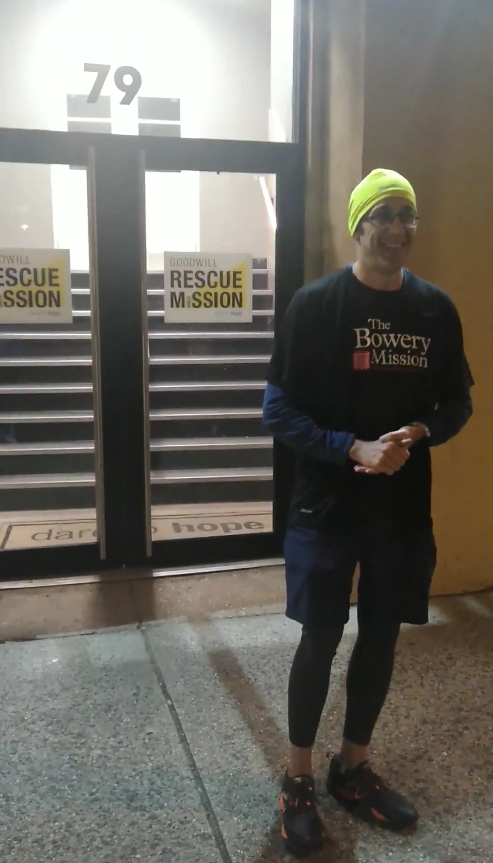 Back to the Beginning: Bowery Campus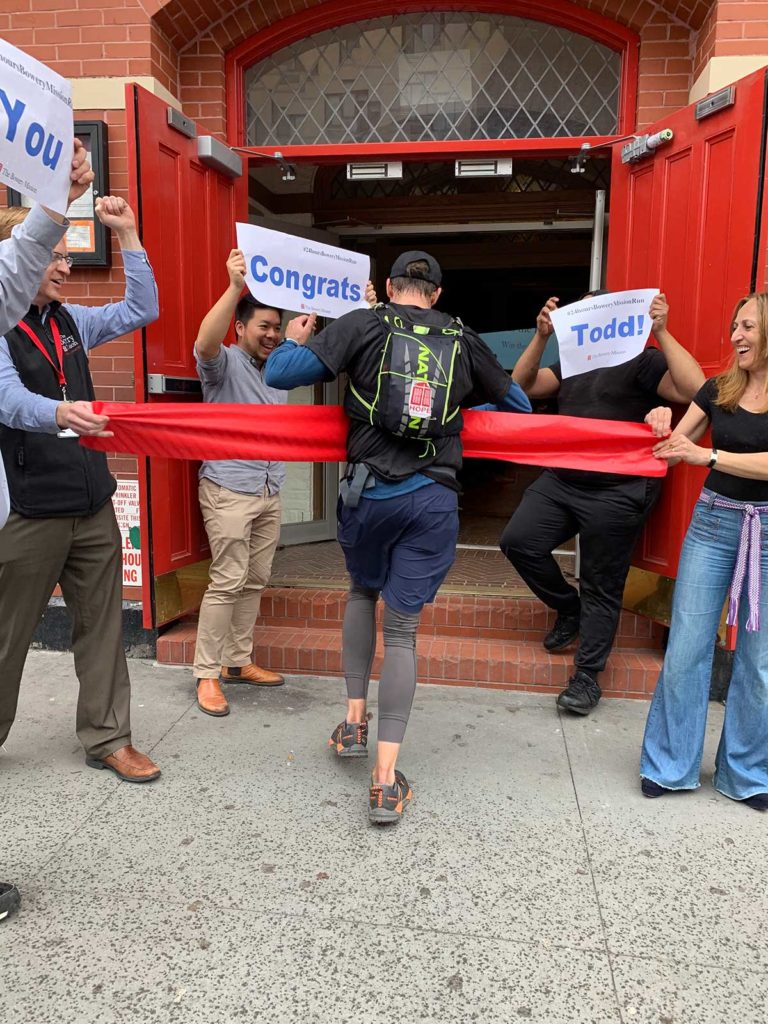 Q&A with Todd Aydelotte Post-Ultrarun
1) What was the best part of the ultrarun?
Without question, the greatest part of this run was participating in The Bowery Mission's incredible work at each one of its campuses, throughout New York City and Newark. To do God's work, while running, was a truly transformational process. The men and women who work for this incredible organization greeted me at every stop. They cheered me on, shared their stories and prayed with me. Those prayers carried me through 80+ miles, and they turned this run into a powerful spiritual journey.
2) What was the most challenging?
At these distances, I have to consume between 200–300 calories per hour, while running. And if I don't do that properly, everything falls apart. It can be incredibly challenging to pull this off, and I had mixed results on this run. At around mile 60, while returning from New Jersey and crossing back over the George Washington Bridge, my legs seized up. I could barely walk and it all happened so quickly. For an endurance athlete, this is generally a sign of dehydration or a nutrient debt. I've been in this situation before, so I knew how to handle it. I knew that sitting down or stopping for a rest would only make the situation worse. So I pushed forward, walking through serious leg and hip pain while re-hydrating and eating for the next 8 miles. Then, quite suddenly, my legs opened again and I was able to get running, allowing me to finish in top form.
3) What surprised you?
I felt like every single person who works for The Bowery Mission, or is served by them, was there to cheer me on. It was so incredibly moving for me, and my entire family. From the very beginning, this run was always designed to shine a light on the greatest crisis of homelessness to hit New York City since the Great Depression. I wanted to sound a clarion call that The Bowery Mission is here to help, and is transforming lives all over, and around, this great City. I'll never forget the feeling of running down the sidewalk by The Bowery Mission's Administrative Headquarters. Up ahead of me was a crowd of people on the sidewalk — it was David Jones, the CEO, and everyone who works alongside him. They were all cheering and holding signs for me. And of course, they prayed with me there on the sidewalk, which was just incredible. All night long those prayers rang in my ears, and echoed in my heart.

A second big surprise came at the halfway point, at mile 40, when I arrived at The Bowery Mission's Newark Campus: Goodwill Rescue Mission. It was 12:45am and I was in pretty rough shape. But when I got in, I was greeted so warmly by Bill, who was on staff overnight. He gave me water and prayed with me there, and it was so incredibly moving. From there, I knew I was going to complete the distance, and so I turned around and headed out back into the night, back to New York City.
4) Did you really run the entire way?
No, definitely not. I had an 8 mile stretch where my legs were totally locked up. And then there was Fort Lee! There are so many steep hills on the way to and from the George Washington Bridge. If you're not a professional ultrarunner, you have to be very strategic about hills at these distances. So I walked up the really steep ones to save my strength.
5) Did you sleep at all?
No, I did not sleep. However, on this particular run, being tired was not an issue for me. I think this had to do with my preparation. In the week prior to the run, I barely trained at all, and focused instead on getting to sleep every night before 9 PM. I had between 8–10 hrs of sleep every day, for nearly a week. It's the first time I've ever done that for an ultra distance, and it made a tremendous difference.
About The Bowery Mission:
The Bowery Mission has served New Yorkers experiencing homelessness and hunger since the 1870s. Each year, the Mission provides more than 558,000 hot meals, 140,000 nights of shelter, 100,000 articles of clothing and 2,400 onsite medical and optometry exams. Each meal and every service is an invitation to residential and community programs that help clients make progress toward a transformed life of faith, community, sobriety, sustainable income and independent living. To empower children to thrive and succeed, The Bowery Mission also offers year-round opportunities for enrichment through City Camp, culminating in summer camp for more than 700 children in the Poconos Region of Pennsylvania.
In order to effectively combat the epidemic of homelessness affecting nearly 70,000 people in New York City and to meet the needs of our neighbors across the New York metro area, New York City Rescue Mission and Goodwill Rescue Mission (Newark) have joined forces with The Bowery Mission. Leveraging more than 400 years of combined service, three historic organizations have become one to reimagine the fight against poverty and homelessness.
About Todd Aydelotte:
When not working as a Managing Director at Allison+Partners, Todd Aydelotte is an endurance athlete and NYC's only 'historical ultrarunner', meaning he often runs in excess of 26.2 miles to trace important historical events in New York City. In recent years, he has completed an array of challenging historical ultraruns, including: A 74-mile run to trace the history of Nikola Tesla in NYC and Long Island; a 43-mile run to trace the history of slavery across five boroughs; a 64-mile run to trace the life of PT Barnum in NYC and CT; a 49-mile run to trace the life of Teddy Roosevelt in NYC and Northern Long Island; and a 44-mile run to trace the life of Walt Whitman. Todd's running has been covered by Runner's World and news outlets throughout New York City. Todd tracks and reports on his historical ultrarunning via his Instagram site, @toddaydelotte.