On behalf of the Board of Directors for The Bowery Mission, I hope this message finds you safe and well. Back in December, we embarked on a leadership transition to continue our legacy that spans a century and a half. So much has changed in our world since then — globally, locally and even right here within our Red Doors. But through your support, the Mission has kept those doors open and stayed the course to provide life transforming care for neighbors in need.
Today, we are excited to announce that we have concluded our search and have appointed James Winans as The Bowery Mission's new President & CEO. It is a pleasure to promote from within a person who is exactly the right leader for the Mission in this critical moment and the season to come.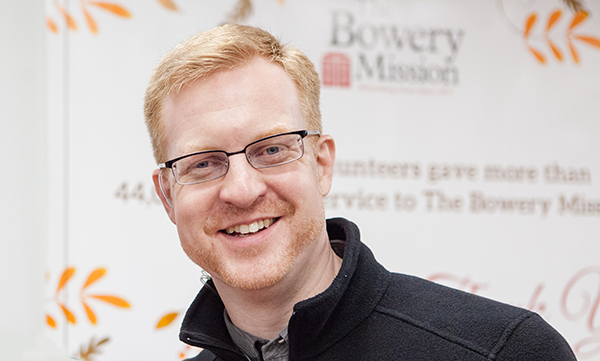 James has a long track record of faithful and humble leadership at The Bowery Mission, starting over 20 years ago when he served as a program intern. Over the years as a volunteer and staff member (including Director of Development and then as Chief Development Officer) he has led teams; fostered partnerships with donors, partners and volunteers; and built bridges to the community. Most recently, he has served as Interim CEO, leading our emergency response to COVID-19.
We agree with our fellow board member and Chair of the CEO Search Committee, Hank Higdon, when he says that "James is incredibly experienced at bringing people together — staff, volunteers, clients, guests, donors and board members, alike. As a leader, he helps people connect with each other and our shared vision, purpose and calling of seeing people freed from homelessness and poverty with a transformed life."
Back in 1999 as a reluctant intern at The Bowery Mission, James had hoped for a different summer internship. But working alongside our staff (some of whom were formerly homeless or incarcerated) and learning their stories, his faith in God grew, and he learned the dignity of hard work and the value of caring for others. He has built on this and many other experiences here to faithfully serve our team and, even more, neighbors in their most critical times of need.
As President & CEO, James will continue to lead The Bowery Mission's emergency response to COVID-19 so that we can proactively provide critical care to thousands of vulnerable New Yorkers. He will also oversee our ongoing work across New York, New Jersey and Pennsylvania by leading a team of more than 150 professionals — as well as thousands of dedicated volunteers who serve with us every year.
Please join us in welcoming James as our new President & CEO. The Bowery Mission is grateful to you for your prayers and ongoing support. We look forward to building upon the long legacy of love and commitment to serving our city.
Sincerely,
Dwight Jacobsen
Chair
The Bowery Mission Board of Directors