For New Yorkers who really need new clothes, but can't afford to buy them, it can be hard to find the perfect outfit. Maybe you find something that fits, but it doesn't really keep you warm and dry. Or maybe you find something that keeps you warm, but you're embarrassed by how it looks.
Julie Ramaine, Ambassador at The Bowery Mission's historic flagship campus, is passionate about meeting people's clothing needs with excellence. Under her management, The Bowery Mission's shower and clothing program has grown to operate five days a week. It has also implemented a highly personal model of care.
We caught up with Julie to learn more about how the program works.
This clothing room operates differently from other clothing rooms. How?
Each order is a custom order. When people come in, they are given a form where they can select the items and sizes they need. We use this to put together a full outfit that is clean, comfortable and tailored to their needs. We don't just want people to receive clothing they need. We also want them to receive clothing they actually love.
So the program is as much about people as it is clothes.
Absolutely. Life on the streets can leave you feeling completely stripped of personhood. Partnering with someone to ensure they leave our clothing room with a great outfit is just a small way to validate their humanity. A hot shower and a new pair of clothes can restore an enormous sense of dignity and confidence.
What are some of our most-requested items?
Underwear! Our top needs in general are new underwear, t-shirts, sweatpants, sweatshirts, hoodies and jeans from size medium to 3X. We need these staples year-round to run a consistent program.
You have a very relational approach. Can you tell us about that?
You don't always have a ton of time for conversations, but the program can be a really key touchpoint. It's one of many ways I've been able to build deep friendships over the years. People will catch me up on what's happening in their lives. Sometimes, I'm able to refer them to other services they need, like housing or benefits or detox.
Julie consults with a guest, Wilfredo, about available options for his wedding suit. Wilfredo was married in his new suit from The Bowery Mission in December 2022.
What else is key to the program's success?
Consistency is everything. It's how we build trust with our community. Most of the people we serve come to us through word of mouth. We want to be remembered as a place that does everything we can to help people live lives of dignity and flourishing. And I absolutely couldn't do this by myself. Having individual and corporate volunteers jump in to serve on a regular basis has been crucial to this program's operation five days a week. Without them, we could never provide the same level of care or consistency.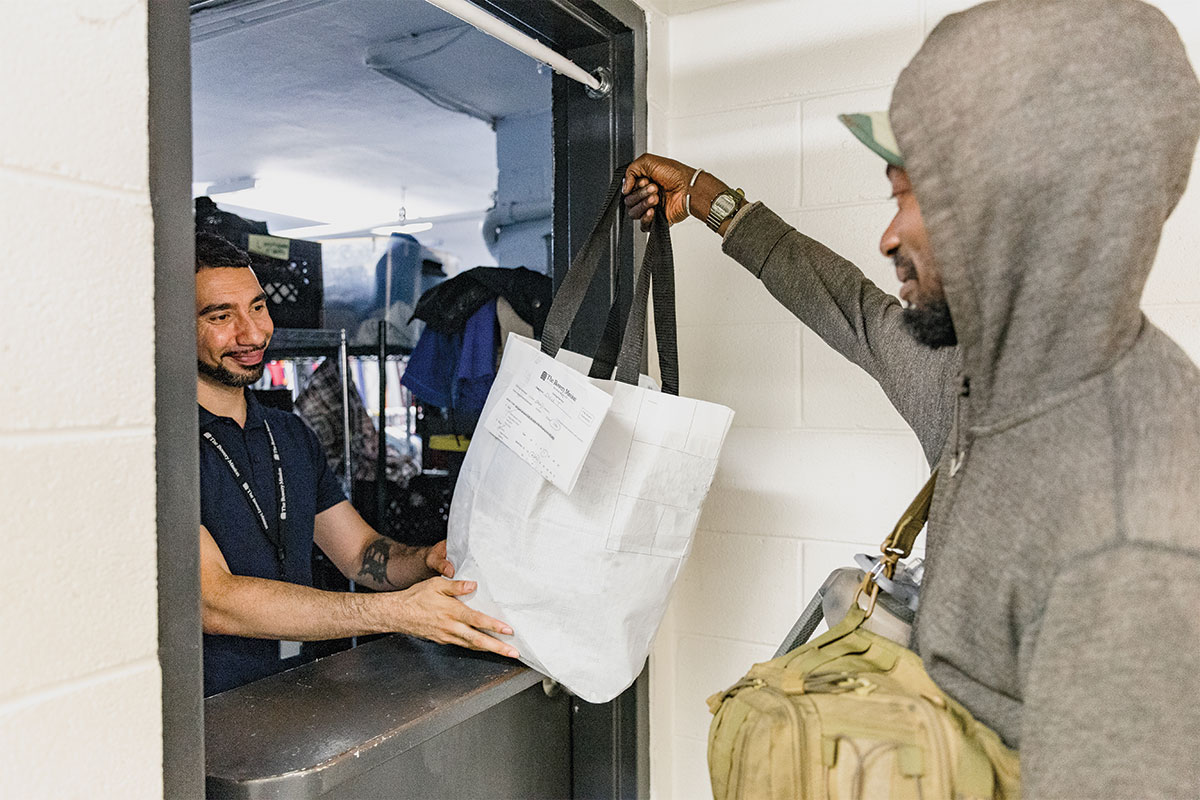 Support our shower & clothing program
Donate goods
Host a giving drive to collect critical items to support this program. Learn about current needs and more at bowery.org/donategoods.
Volunteer
Join in the work by volunteering to sort, organize and distribute donated clothing. Learn more and sign up at bowery.org/volunteer.