Through this time of uncertainty, we resolve to stay open to serve some of the most vulnerable people in our city: neighbors experiencing homelessness, poverty and other crises. Thanks to the compassionate and courageous support of volunteers, partners and donors, we continue to serve people coming for meals and shelter — especially as other options close.
Learn how you can get involved today to help meet the critical need.
1) Pray with us
We believe in the power of prayer and of community coming together. Join us in praying for the safety and health of everyone in our Bowery Mission family and their loved ones, and the care of our vulnerable neighbors who are experiencing homelessness or other crises.
2) Support financially
Your gift will help us serve New Yorkers in need. Your generosity can help us with unexpected costs as we continue to package meals to-go, clean our shelter and residential spaces, employ additional front-line staff and provide extra technical support for staff and clients. Make a gift​​ to help meet new needs during this crisis. ​​Thank you for standing with the Mission as we stand with neighbors in need.
3) Volunteer
Caring and courageous volunteers generously offer their time, talents and treasure throughout the year — especially during this challenging season! They have lent their hands and hearts to encourage our community and thanks to them, life transformation is possible here.
"The Bowery Mission has gone above and beyond to protect our community, staff and volunteers. It's been a beautiful opportunity to see people come together at a time like this." — Tabatha, volunteer
Onsite volunteering
We ask everyone to follow the latest guidelines from city, state and national authorities, and remain home as much as possible. However, if you are healthy and able, you can provide assistance preparing and serving meals at our modified services, both "to-go" and "sit-down" styles.
Virtual volunteering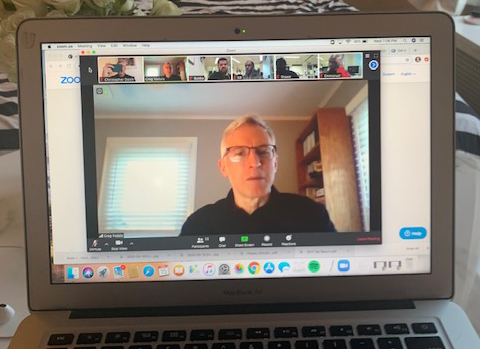 Our team is currently working on virtual opportunities to care for clients in our adult residential programs and children's programs. Through mentoring, tutoring and other activities, volunteers help provide meaningful connection and interaction while our clients shelter in place.
Current virtual volunteer opportunities have been filled, but please check back online for any openings. If you are interested in future availability, contact us at [email protected]
Join our team of courageous volunteers!
Learn more about volunteer safety measures, real-time opportunities and sign up: bowery.org/volunteer
"You should be exercising wisdom, but even if you are someone who can't go out, you can still be generous, either with your talents or your treasure. There are other ways to be generous, even if you can't give your time." — Angel, staff
4) Send needed supplies
In-kind donations are still a great source of help. We can only accept items that are needed for our COVID-19 response. Please see details — including the list of items and how to deliver them: bowery.org/donategoods. You can also give through our Amazon Smile Charity List.
(You can even support The Bowery Mission when you shop for your own needs. Select The Bowery Mission on Amazon Smile as your charity of choice.)
5) Spread the word
Even if you are sheltering in place, you can share your voice. Remind others how vulnerable those without a home are in this crisis — and the ways The Bowery Mission is responding. Share our @bowerymission social media posts, a video of the live Q&A we hosted with friend of the Mission, Jeannie Gaffigan, or our video showing The Bowery Mission's response to the coronavirus. You can also visit our media page for the latest mentions of The Bowery Mission in the news.
Use #mybowery and share your stories of why you care and support. You can also leave a word of encouragement for the people we serve, as well as our staff and volunteers!
"It's very nice to hear that The Bowery Mission is going above and beyond and still serving New Yorkers who need it most in the times of uncertainty. We New Yorkers have an endless amount of gratitude!" — Bowery Mission volunteer
6) Become a fundraising champion
Create an online fundraising page
Our online fundraising platform (bowery.org/fundraise) is a great tool for mobilizing your friends, family and co-workers to support our programs for neighbors in need during this crisis. It takes less than five minutes to set up your own fundraising page, and you can customize the content as you need or use the default information already provided for you. There are options for both individuals and teams. Another tool is Facebook Fundraisers, where you can select The Bowery Mission as your charity to support.
In addition, find photos and videos available for your sharing: bowery.org/downloads
Donate a portion of sales
Turn your love of baking, painting, building or creating into an opportunity to raise funds for The Bowery Mission! Individuals and teams can host a charity happy hour, game night or yoga class and donate the proceeds to The Bowery Mission. Companies and online retailers can also donate a percentage of sales to support our work.
To ensure consistency of promotion and representation of The Bowery Mission, please contact us with a description of your fundraiser and any proposed promotional/marketing references to The Bowery Mission (including web, social and in-store signage): [email protected] (for companies/teams) or [email protected] (for individual projects). We are happy to provide guidance as you plan your project to make a difference.
7) Refer someone in need
Tell anyone you may see in need of help that our Red Doors are still open. Reference bowery.org/get-help for all our current services and directions to our care.
We are grateful for friends like you who help us care for our city!