The Bowery Mission is familiar with helping neighbors through crisis. From the 1918 flu pandemic to the Great Depression to Hurricane Sandy, we've served our city's most vulnerable through hard seasons. Now during the current pandemic, and throughout our nearly 150 years of outreach, generous supporters, partners and volunteers have been committed to care for neighbors who have been overlooked or forgotten — those who don't have a home in which to shelter in place. Their courage and compassion have allowed The Bowery Mission to continue demonstrating God's love to New Yorkers during these unique times, by providing meals, hygiene, shelter and much needed care.
"In the midst of this virus, we all need love and compassion. We are here for our guests, no matter what, to provide prayer, support, joy and smiles."

– Julie, staff
Keeping neighbors nourished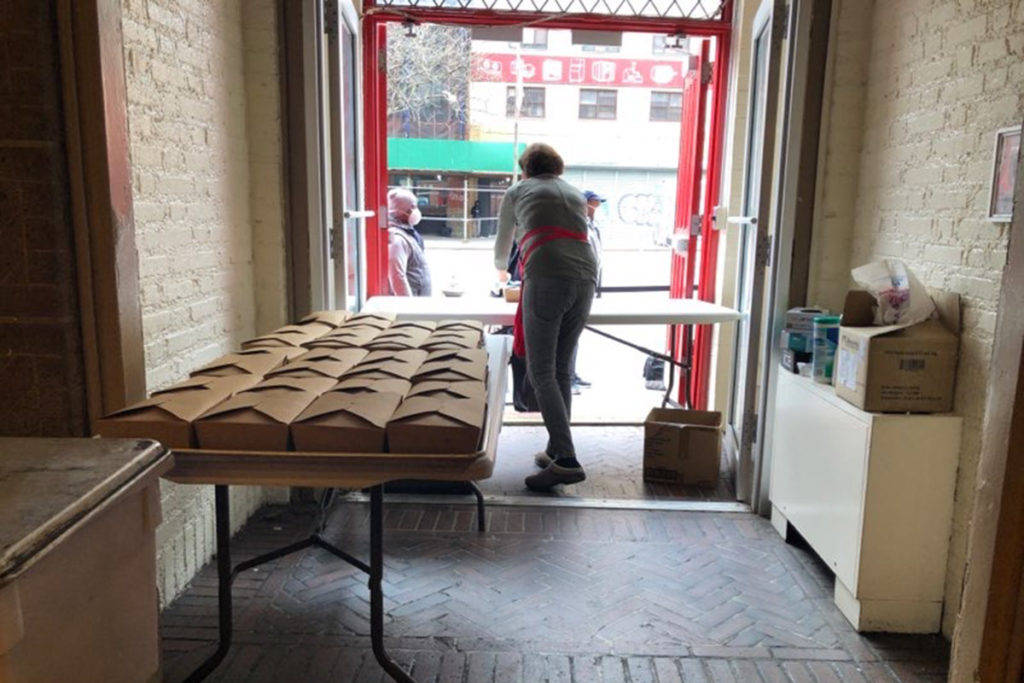 It is critically important for neighbors without a home or income to access life-sustaining meals. Healthy food boosts energy, nutrition and immunity. Since mid-March, to ensure health and safety, The Bowery Mission has modified meal service at our front-door campus on the Bowery, providing "to-go" meals outside our Red Doors for breakfast and lunch. We are serving an average of 1,100 meals each day across our five locations that remain open — for those without a home as well as many who are newly unemployed. Street permits and barricades were quickly secured to help manage lines and allow social distancing. Whenever it rains, tents are set up to keep our guests dry and healthy.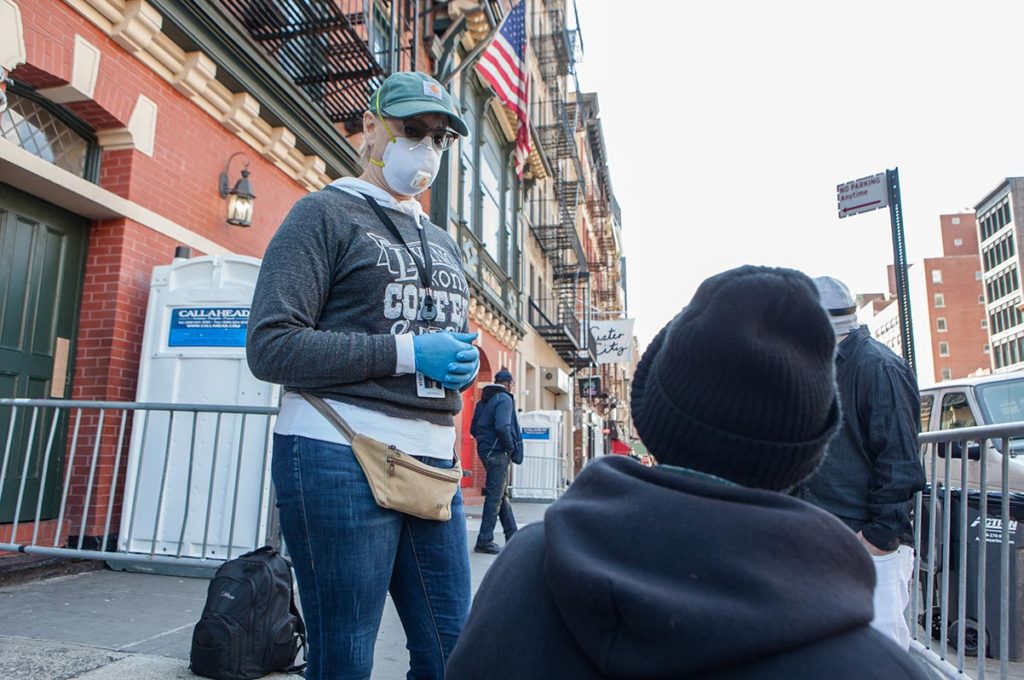 Our staff also take the opportunity to care for guests as they wait on line. They conduct health and safety screenings, provide education and also offer needs assessments. The Bowery Mission knows that these individuals may have needs that extend beyond just a meal.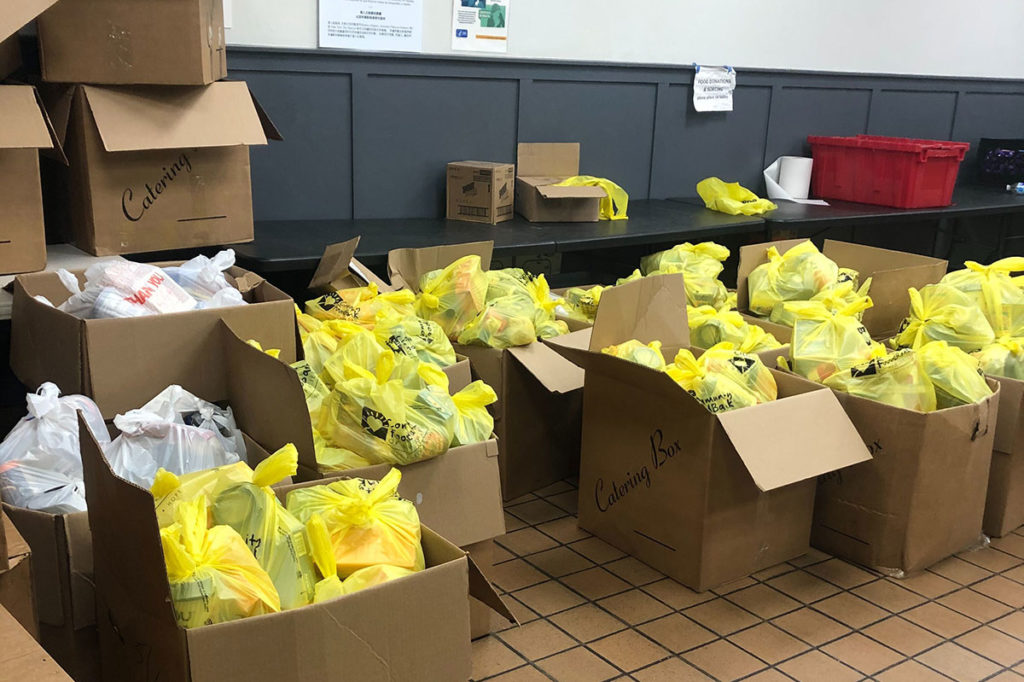 We continue to distribute food pantry bags as needed, which is a huge blessing for people newly unemployed and families with children home from school. Each bag contains an average of 8-10 pounds of food items like canned tuna, rice, pasta, beans, vegetables, fruit and other staples.
Sheltering the weary and providing for hygiene
For people struggling with homelessness, the directive to "stay at home" is a challenge. Thanks to generous supporters, we continue to offer residential and overnight emergency shelter programs for over 250 men and women each night.
We're continuously screening the people we serve to ensure health and safety. This includes reviewing a questionnaire with emergency shelter guests and monitoring their temperatures. The dormitory spaces have also been modified to allow for proper social distancing and isolation areas, and we are educating guests and clients to care for the well-being of all.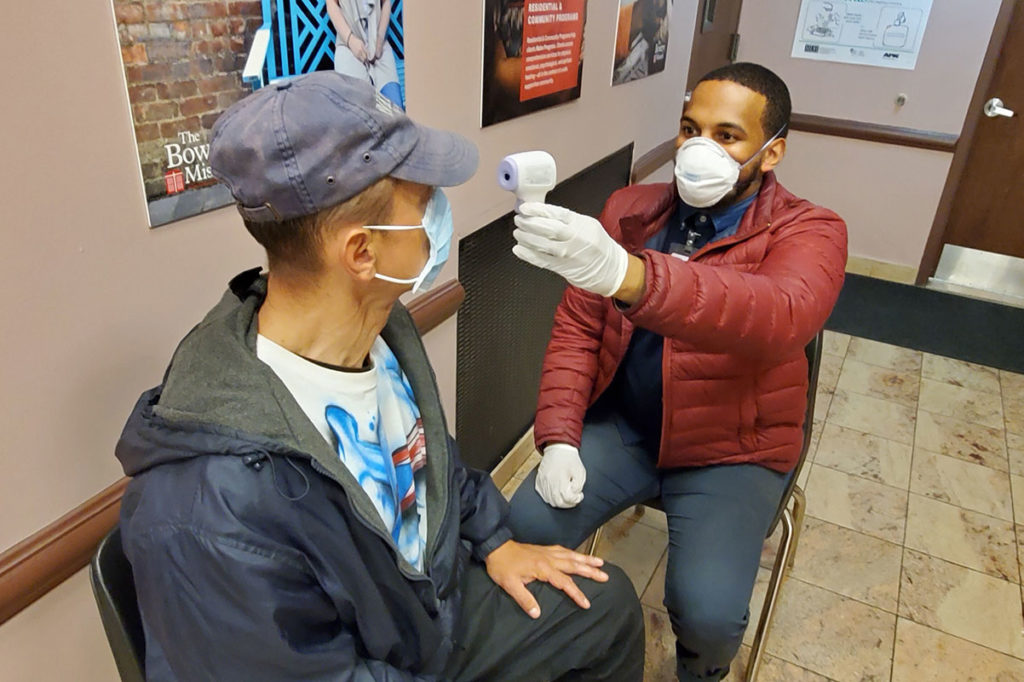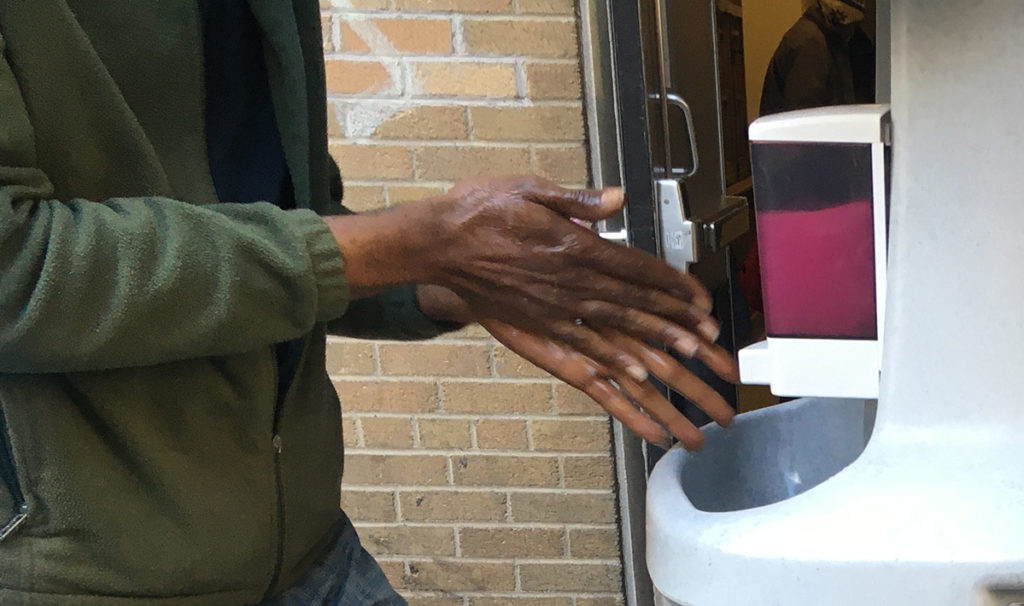 Frequent hand washing is another directive that can be challenging for neighbors in need. With much of our city closed, options to do so have been limited. But outside our Bowery and Tribeca campuses, guests are able to wash at mobile stations prior to receiving a meal or entering for overnight shelter.
At our Bowery campus, guests coming for meals have access to mobile restrooms and also have the opportunity to take showers during allotted time frames. Using our indoor facilities, as well as mobile shower vans through a new partnership with Showers of Blessings, 80-100 showers a week are provided here alone. Guests who otherwise wouldn't have good options for keeping clean are able to wash with hot water and soap, and get a clean set of clothes.
"Before coming to The Bowery Mission, I was sleeping in Canal Street Station. I smelled and prayed for help. God gave me this blessing when I least expected it."

– Benjamin, guest
Maintaining connections online
Clients in The Bowery Mission's residential program are largely sheltering in place and receiving online counseling, classes and support toward independent living. It's also been important to help men and women in our programs maintain consistency in their progress toward healing and wholeness. Isolation can be a dangerous place for neighbors already dealing with trauma, addiction, mental illness and social marginalization.
To care for clients on their journey, we've set up virtual classrooms and tele-counseling programs. These measures have encouraged community, routine and a sense of structure, which are important for clients to feel safe, valued and loved.
"I feel at peace, safe and loved here. My heart breaks for those who don't have the safety of The Bowery Mission."

– Natalia, residential program client
With the stay-at-home order in New York City, our Mont Lawn City Camp programs are providing children with critical "face-to-face" interaction (virtually of course!), as well as activities to engage in that are positive and build new skills. Over 75 children and youth have participated in online mentoring and/or classes since the COVID-19 crisis began.
We want to provide our kids a sense of normalcy, community and connection in a safe online environment, especially at this time of heightened stress. Our Mont Lawn City Camp is also maintaining supportive contact with over 100 families, nearly all of whom are facing economic challenges brought on by the pandemic and an estimated 75% of whom are currently experiencing new unemployment. We have a Mont Lawn City Camp Relief Fund for practical care, and our staff helps assess needs and provide referrals. Thanks to our team, supporters and dedicated volunteer mentors, we can remain committed to our kids, their families and their overall success.
Providing for spiritual needs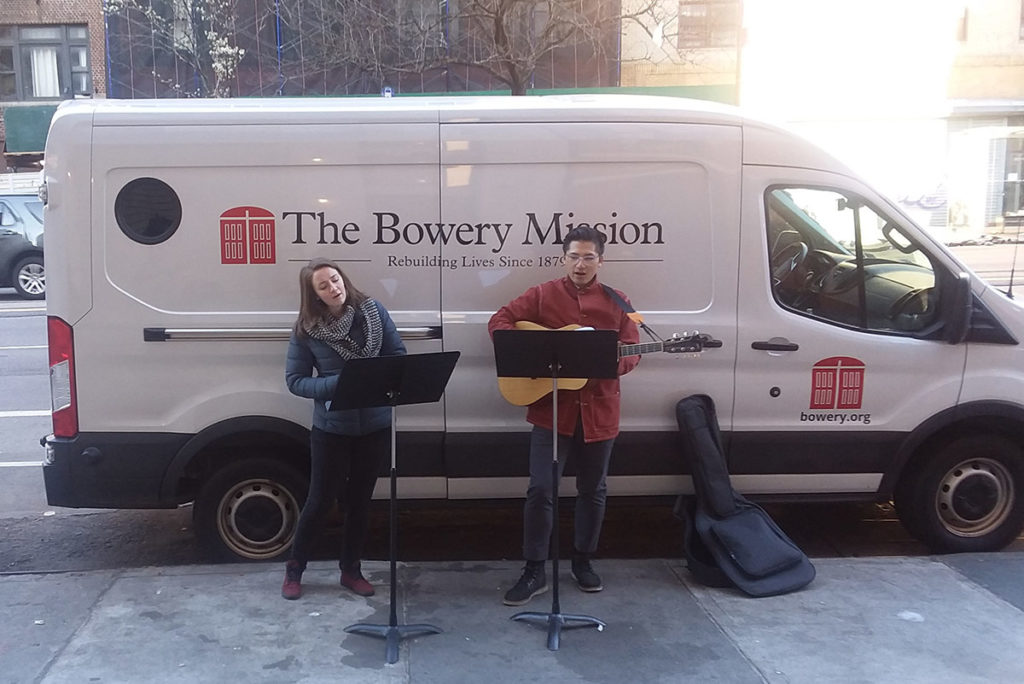 Our goal during this difficult time is to always serve with God's love and compassion. Before the COVID-19 crisis, we had daily chapel services before each mealtime at our Bowery and Tribeca campuses, so that our guests could be fed both in body and spirit. While we can't meet the way we used to, our creative staff has adapted in order to continue providing this spiritual care. From time-to-time, we host a "sidewalk chapel", filled with music and hope while guests are waiting to receive a meal to-go or to enter for emergency shelter.
At our residential program campuses, Bible studies and classes continue with modification for social distancing. Our prayer is that these offerings will provide encouragement, lifting spirits while essential services are provided.
"I was feeling really stressed out, I was worrying a lot… but once I heard the singing and the guitar, I was feeling a soothing of my soul, my body and my mind – everything – my heart was full."

– Andres, guest
Meeting new and emerging needs
The COVID-19 health crisis has dramatically impacted The Bowery Mission's allocation of expenses. Spending has shifted heavily towards emergency-related needs, including:
Food costs, due to donated food supply chain disruptions
Meal packaging costs due to changing to a "to-go" model of meal service
Additional front-line staff, including temporary contract workers due to lower availability of volunteers
Increased sanitation costs to support new protocols for daily cleaning and disinfecting, which ensure the ongoing safety and hygiene of our staff, clients and guests
Technology costs to support remote work and services for staff, and virtual learning needs for clients
Economic hardships continue to impact our neighbors, friends, family and those in our communities. Make a gift​​ to help meet new needs during this crisis. ​​Thank you for standing with the Mission as we stand with neighbors in need.