To our community:
As The Bowery Mission cares for an increasing number of our most vulnerable neighbors during the coronavirus (COVID-19) emergency, we remain committed to the health, safety and well-being of all. Our neighbors who are experiencing homelessness don't have the option to "stay at home" to avoid risk to themselves or others — so we are reliant on friends like you who choose to give generously.
We are closely monitoring the coronavirus (COVID-19), as well as proactively seeking and following the latest guidance from the Centers for Disease Control & Prevention (CDC) and the NYC Department of Health & Mental Hygiene (DOHMH) and other community partners. And we are thankful for our supporters who help make it possible to continue our work.
We continue to offer essential residential, shelter and meal programs, as well as other services. Our response balances the consideration that our guests and clients are highly vulnerable to many challenges. Organizations like ours have a duty to care and not prematurely suspend potentially life-saving services. We are seeing new faces, with new worries — people who are desperately in need of the food, shelter and hope offered at The Bowery Mission. People in need continue to be welcomed at our locations and can reference our website for program changes.
As The Bowery Mission cares for our most vulnerable neighbors in the face of the coronavirus (COVID-19) and other illnesses, our staff and volunteers continue to offer these essential services:
Breakfast (8:00am) and lunch (1:00pm) meals at the Bowery campus — These meals are served outdoors, to-go. It is critically important that people without a home or a job have access to life-sustaining meals to boost energy, nutrition and immunity during this time. A hand-washing station is available to each guest.
Showers and clothing — We have begun to offer this service again, on a very limited, modified basis at the Bowery campus. Personal hygiene is critically important at this time, and yet people without a home have few good options right now for keeping clean.
Overnight shelter at the Tribeca campus — We continue to welcome nearly 125 people each night who otherwise do not have a home. Each guest is able to rest overnight, shower, and eat dinner and breakfast. We conduct ongoing verbal and visual health screenings, modify sleeping arrangements, and provide for isolation areas and social distancing to the extent allowed by our space.
Residential programs for men and women — We continue to offer residential programs for nearly 125 men and women at four other locations. Residents are largely sheltering in place as they continue with counseling, classes and a journey toward independent living.
Support for children and families — Mont Lawn staff and volunteers continue to connect with children and families virtually to provide support in an uncertain time.
The following services are temporarily suspended:
Day Center and Community Hope Resource Center activities for adults
In-person afterschool activities and mentoring for children (Mont Lawn City Camp)
All activities in the Poconos region of Pennsylvania (Mont Lawn Camp & Retreat Center)
Through this time of uncertainty, we resolve to stay open to serve one of the most vulnerable populations in our city. Thank you for your compassionate support, which helps us serve the increasing numbers of people coming for meals and shelter as other options close.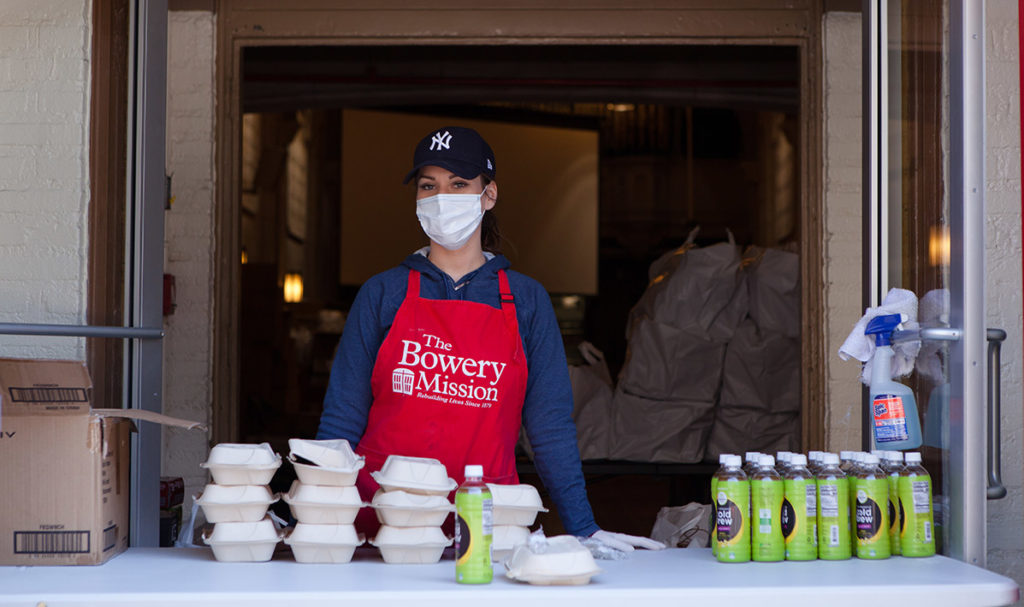 How can you get involved during this challenging time?
Pray with us — For the safety and health of everyone in our Bowery Mission family and their loved ones, and the care of our vulnerable neighbors who are experiencing homelessness or other crises.
Support financially — Your gift will help us serve our vulnerable neighbors. Your generosity can help us with unexpected costs of supplies as we package meals to-go and clean our shelter and residential spaces. Make a gift​​ to help meet new needs during this crisis. 
Volunteer — We ask everyone to follow the latest guidelines from city, state and national authorities, and remain home as much as possible. However, if you are healthy and able, we need help packaging and distributing meals. Learn more about volunteer safety measures and sign up at bowery.org/volunteer.
Send needed supplies — See details of specific supplies needed at bowery.org/donategoods.
Spread the word — Remind others how vulnerable people without a home are in this crisis — and the ways The Bowery Mission is responding. Share our @bowerymission social media posts, our conversation with The View's Meghan McCain, or our video showing The Bowery Mission's response to the coronavirus. You can also share this featured coverage from the Hope Cast podcast or visit our media page for the latest mentions of The Bowery Mission in the news.
With a history going back to the 1870s, The Bowery Mission is reminded how needs increased during the 1918 flu pandemic, the Great Depression, Hurricane Sandy, and so many challenging times. The Bowery Mission demonstrated God's love to New Yorkers then, and we resolve to do the same now, with your help.
As so many stay at home, thank you for remembering people who do not have a home. The Bowery Mission continues to stand with these vulnerable neighbors. Thank you for standing with The Bowery Mission.
We will continue to monitor the situation and share updates as they come.

Gratefully,
James Winans
President & CEO
Updated from original post published on March 13, 2020.