Read about our guests' hearts of gratitude…because of you!
All of us know firsthand how difficult this season of crisis has been…and it's been especially hard for our unhoused neighbors.
Time and again, we are encouraged and inspired by the gratitude our guests express when they have a safe place to rest or a healthy meal to eat — gifts made possible by friends like you! As we prepare for the busiest season of the year, their spirit of thankfulness gives us hope to keep serving, keep loving and keep giving.
With your help, we will serve 65,000 meals to guests who have nowhere else to go this Thanksgiving season. And your compassion will hold our Red Doors open for anyone in need.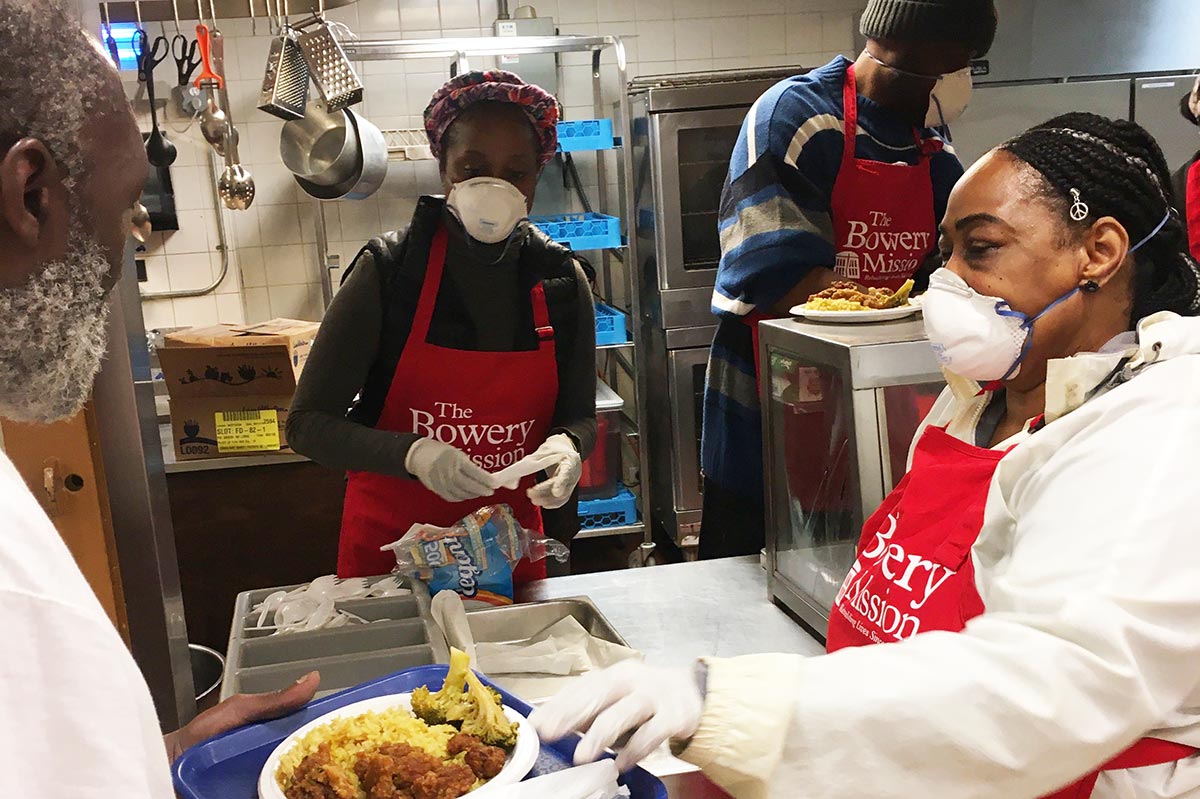 As you'll read from Christopher, Dishongo and Nick, the generosity of friends like you truly matter and encourage guests to keep hope alive even in times of great uncertainty.
"I feel safe here. I feel God here."
Christopher
When Christopher lost his father a year and a half ago, it wrecked him. He lost his job and tried to survive on the streets. "Each day on the streets is a chance. You don't know what you'll encounter." Christopher says. Your generosity during this time of crisis has shown Christopher that people truly care. "Every day here brings relief. Thank you."
"You didn't turn me away."
Dishongo
Dishongo was working in retail before the pandemic. When his store had to close, he was laid off. So he turned to The Bowery Mission for help. "The Mission is making sure we're fed and have showers and clean beds," Dishongo shares. "I would like to personally say thank you to all the donors from the bottom of my heart. You are giving me hope and faith to move forward."
"Thank you. God bless you."
Nick
Nick worked for a social services organization before his location closed. Just after leaving, he was robbed of his phone and all the cash he had. With no money, Nick went three days without eating, until he came to The Bowery Mission. In addition to a filling meal, Nick is grateful to meet with a social worker and access helpful resources.
More stories of gratitude
We are inspired by the people in our community and the life transformation they are experiencing at The Bowery Mission. Follow @bowerymission to get updates and see more stories of hope and gratitude.
Every day, The Bowery Mission serves over a thousand meals to neighbors in need, and any one of these meals can lead to a new life. Your generous compassion will keep our Red Doors open to provide meals and other critical care. Thank you!