Despite the cancelled New York City marathon, Bowery Mission supporters hit the streets for a half-marathon and raised over $110,000 to support neighbors experiencing homelessness.
While New Yorkers and the world have faced shutdowns and cancellations, efforts to support New York's most vulnerable population cannot be cancelled. At a time when traditional fundraising galas and gatherings are prohibited, a group of friends have come together to organize a half-marathon to raise money for The Bowery Mission.
On Sunday, November 1, 2020, Alain Bernard, President & CEO of Richemont North America, Marie de Foucaud and Agathe Louvet, joined 22 friends. Before the run, some members of the group volunteered for the breakfast meal service. They helped prepare and distribute to-go meals to guests of The Bowery Mission. Afterwards, the team hit the streets. They organized this run across Manhattan and blew past their original $50,000 goal to raise an amazing $110,000 (and counting) to support The Bowery Mission's efforts to help people experiencing homelessness and poverty during the COVID-19 pandemic.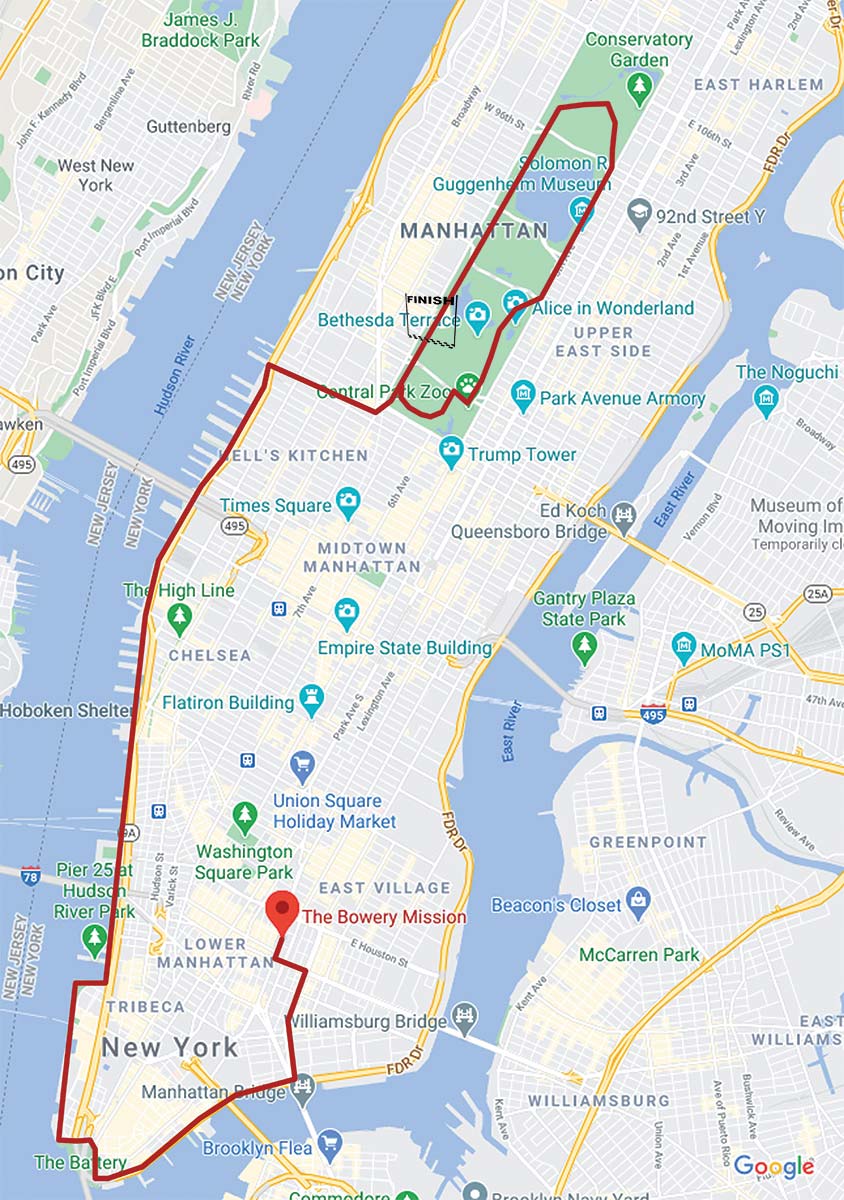 The group originally planned to run on the same date with The Bowery Mission's charity team to raise funds in the TCS New York City Marathon. However, the race was understandably cancelled due to the COVID-19 pandemic. The trio did not give up. They knew they still wanted to support The Bowery Mission and neighbors in need.
Alain shares, "The idea of forming a group of friends to go and run for The Bowery Mission came naturally. We wanted to take charge of our running and fundraising even though the NYC marathon was cancelled. The 25 runners enthusiastically and immediately gathered to serve others and have fun along the way."
The other captains of the team shared about the collective inspiration. Marie says, "Running is just a way to raise awareness about the needs of The Bowery Mission, and then to raise money — we are so excited about the amount." And Agathe noted, "Our spirit was always to run for a purpose. How do you create opportunities in this new world? This is one example."
"We are incredibly grateful for our long friendships with partners like Alain, Marie and Agathe — and for their determination and creativity in the face of the initial setback. They know the critical needs that The Bowery Mission meets, using the donations raised during the marathon. The funds raised by the team of 25 runners will allow us to continue to provide services to men and women experiencing homelessness, including our neighbors displaced since the pandemic began." — James Winans, CEO
Lives are being changed in New York City every day thanks to friends like you. The Bowery Mission is grateful for faithful partners who come alongside us during these uncertain times. You make it possible to keep our Red Doors open to provide meals and other critical care. Donate to the Bowery Running Friends campaign or create your own fundraiser to help support neighbors in need.