He first came to The Bowery Mission in need but is now thankful to serve others.
For two years, Chef Wayne struggled to find full-time work and affordable housing. He didn't always have clear direction for where he wanted to go in life, and it led to a series of poor decisions. "I was really hard-headed," he says.
In 2014, while staying at a nearby shelter, he started coming to The Bowery Mission for food and clothing. He didn't know much about the Mission then, but as time went on he learned more about what it had to offer. "That was the point where I realized, I have to let go and let God in," Chef Wayne says. "I need to listen to what people have to teach me about how to live." That year, he signed up for the Mission's Residential Program for men.
A fresh start at the Mission
From his earliest years, Chef Wayne had always loved cooking. He learned by watching his mom cook, even helping her out at Thanksgiving. After entering The Bowery Mission's program for men, he discovered his opportunity to develop that passion. "It was at the Mission that I really started to get into the kitchen," Chef Wayne says. "As a client, I began to see how my skills could be applied in a real way."
When he graduated from the Residential Program in October 2014, he started working at The Bowery Mission full time. Today, Chef Wayne is our Food Service Supervisor! He is thankful to be able to serve men and women he can often relate to.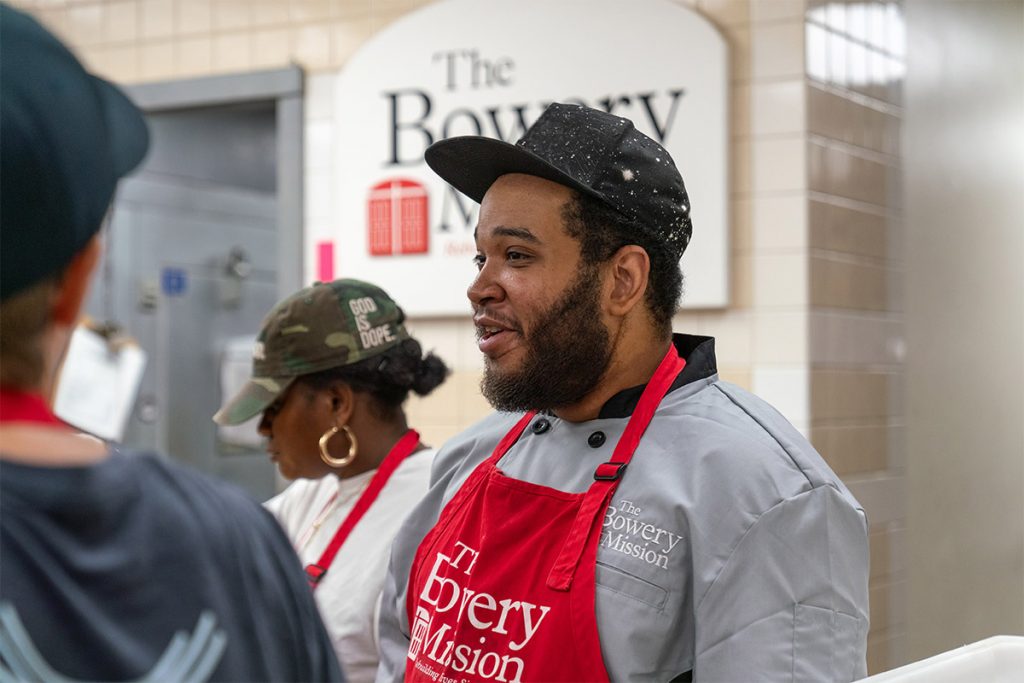 "Because I've been in that place, I understand feeling kind of forgotten by everybody. That keeps me motivated. I know I'm doing something that God has in store for me: to help other people." — Chef Wayne
A meal makes a big difference
It's the first step. When a basic need like a meal is met, that helps people realize The Bowery Mission is a place where they can find help with other needs — whether it's safe shelter, job training or recovery from trauma, illness or addiction.
"It seems simple to others, but a hot meal, a good meal, goes a long way, especially when you're frustrated about various things in your life," Chef Wayne says. "Meals have a tendency to not only fill your stomach, but also to fill your heart and your soul." Those meals helped him take that first step toward a changed life.
"Since I came to the Mission, I've seen how much I've changed … how much God has worked through me and other people — just through cooking food and serving!" — Chef Wayne
You can help others find a fresh start and true hope
Your generous support will help more people like Chef Wayne find a fresh start — and it often starts with a meal and the hope that comes from knowing someone cares. Thank you for your compassion!