Michael came back to New York City at the worst possible time, but he found hope and help here at The Bowery Mission.
Michael was born in New York City but spent his childhood in the Dominican Republic. At an early age, he developed a passion for medical work and helping people. As a young man, he worked as a translator for medical teams from humanitarian organizations, including after the 2010 Haiti earthquake. Seeing firsthand the need for medical care "left a lasting impression on me," Michael says. "My ultimate goal became to study medicine and then come back to serve people in need."
His savings — and hope — were running out
It was February 2020 when he moved back to New York City — just before the pandemic hit. He had saved money with the plan to get a job to pay his way through medical school.
But no matter how many resumes he sent, Michael couldn't find a job — any job. "As time went on, my savings slowly disappeared," he says. By November, his money was gone. Michael had no choice but to start looking for a shelter. He found The Bowery Mission. "Initially, I felt scared. I knew this was going to be a challenge."
Soon after meeting with someone on our clinical staff team, Michael was able to join our short-term men's Residential Program. He had concerns about what life might be like living at a shelter. But at The Bowery Mission, he was amazed and grateful to have a comfortable bed, nourishing food and the support and encouragement he needed to move forward.
"Every staff member I met with was extremely supportive of my ambition," he says. His fellow residents were also a big help — some even volunteered to participate in Michael's clinical practices. "The other gentlemen I met here….they are all really great people who are just in unfortunate circumstances, which by no means define them."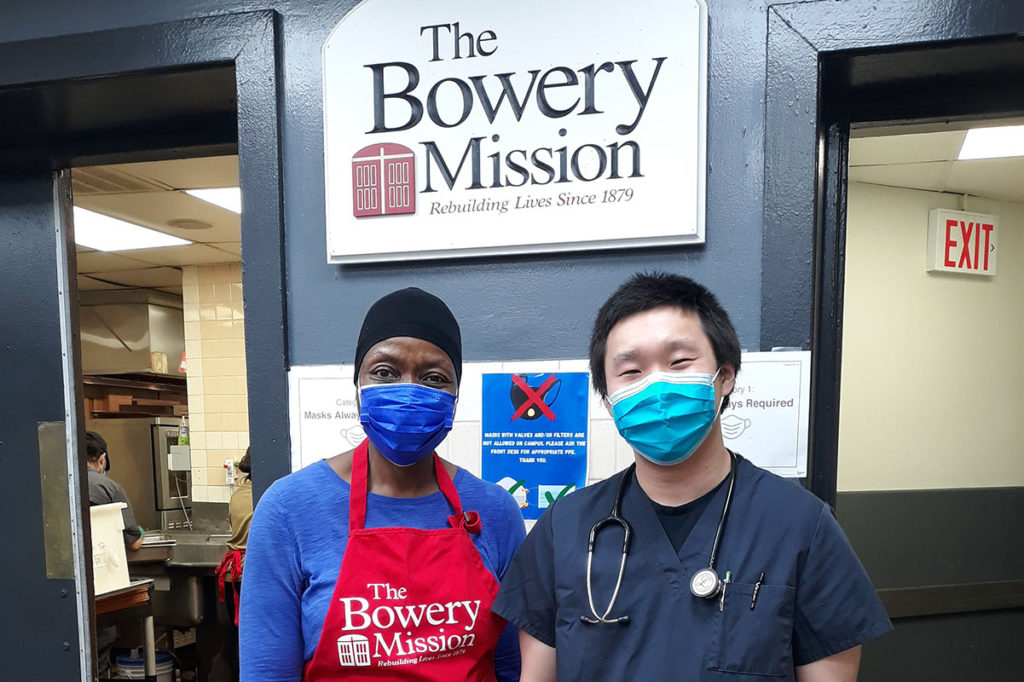 Earlier this year, one of our volunteers, Gloria, shared about Michael: "We had a great conversation. He's pursuing a career in the medical field. I let him know that we had something in common in that area. Now, every time I serve, I get the opportunity to talk with him. Recently, he shared that he passed his midterms!"
Taking the next step to pursue his dream
In January 2021, with the guidance and encouragement of our staff, Michael enrolled at a local college to become a medical assistant. He also began networking for a job and got one at a gastrointestinal and internal medicine practice. In May, he moved into his own apartment. He loves working as a medical assistant. "I don't treat my job as work anymore. It's literally something I enjoy. I'm getting hands-on medical training every day."
Michael is grateful for his time here at the Mission. He says the best word to describe it is fulfilling. From his own experience, Michael shares words of advice to help others:
"Never give in, no matter how bad the circumstance. When you're challenged and you're struggling, that's where your true colors show. And if you never give in…that's a testament to your character." — Michael
Michael is still working toward his dream of a career in medical care and humanitarian work. He says, "Nobody succeeds alone. In the end, it's kind of like a never ending circle….The help keeps moving forward. The Bowery Mission helped me; now it's my turn to help others."
You can help others find a fresh start and true hope
Your support helps give people like Michael the opportunity to start fresh and pursue their dreams. Thank you for being part of the chain of generosity that makes the life-changing work of The Bowery Mission possible!