Such an important time of the year at
The Bowery

Mission

Thanksgiving is my favorite day of the year at The Bowery Mission — this will be my 17th one here. It's my favorite because I get to work side-by-side with so many dedicated staff members and volunteers to serve our community. On a day that focuses on family, our gathering here at the Mission becomes a family for our neighbors in need — and this is only possible with your help.

I believe this year's celebration will take on even greater meaning as we reflect on how things have changed from last year at this time. I think many New Yorkers are feeling grateful for surviving this difficult season, for coming through on the other side and for the opportunity to reconnect, renew activities and restore relationships.

Because it's our busiest time of the year, we've been working hard to be ready for each person who comes to our Red Doors in need. We will warmly welcome people back into our community to sit down and enjoy a special holiday meal with festive decorations, music and, of course, turkey, stuffing, pumpkin pie and more favorites.

At The Bowery Mission, we often say "it all begins with a meal." For someone who is struggling, that plate of holiday favorites will not only fill their stomach, it will fill their heart and soul. And when that happens, our neighbors in need experience hope. And hope can lead them to seek help for the other challenges they are facing — whether it's safe shelter, job training or recovery from trauma, illness or addiction.
What will Thanksgiving look like this year?
The Bowery Mission is marking its 142nd Thanksgiving Day Celebration in the midst of a continuing pandemic that has ravaged our city. Despite these challenges, we will still rise up to continue our annual tradition of gathering together as New York neighbors, with delicious warm meals and shared compassion — all thanks to friends like you. It can be life-changing: a holiday meal can be the first step to a better, brighter future. See what is in store this Thanksgiving.
Carlos found critical care at The Bowery Mission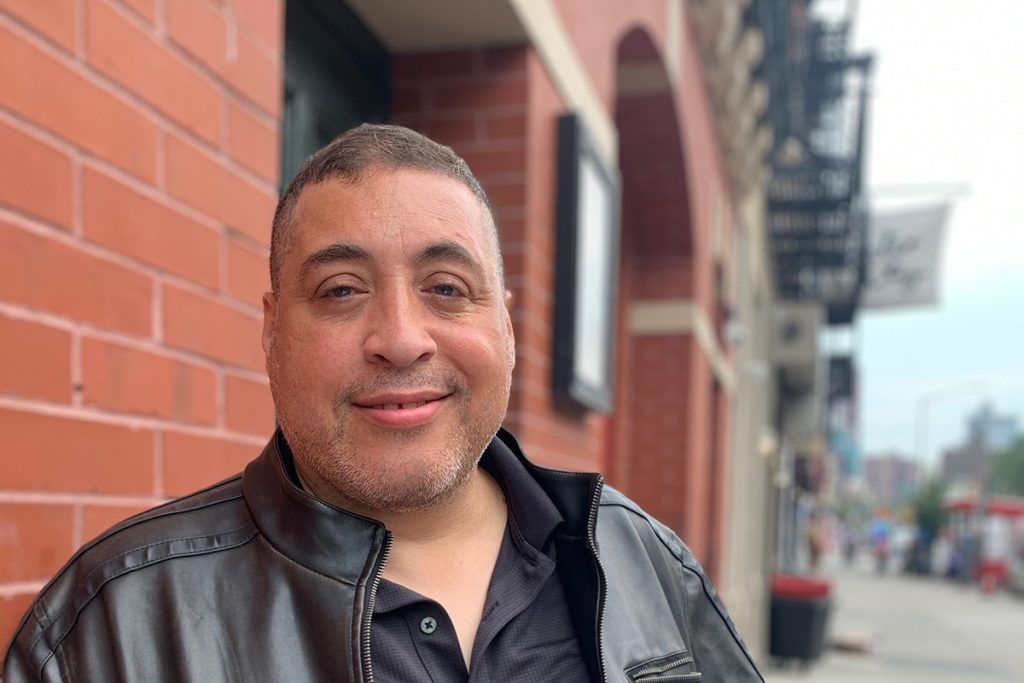 Carlos came to The Bowery Mission just after Thanksgiving last year. He had a successful career on Wall Street until he was hit with significant hardships. While hungry, homeless and feeling very isolated, he found critical care inside our Red Doors. Because of friends like you, Carlos not only found nourishing meals and safe shelter, he found the support and encouragement of a loving community. That's the kind of difference you make through your giving. See Carlos' story of hope.
Can I ask you to pray with us during this special season?
For each man, woman and child we will serve this Thanksgiving, that we can meet their immediate needs — starting with a nourishing meal. When someone sits down to enjoy a meal here at the Mission, they can discover a whole new world opening up.
For people who need more, that the holiday meal served with care and compassion will be the first step to a changed life — whether they need safe shelter, job training or recovery from trauma, illness or addiction.
For our staff and volunteers during this busy time, as they work hard to serve our community.
Every person we serve has a name and a story. That's why we pay close attention to the details to make sure everything we do on Thanksgiving shows the highest level of care and consideration. Weeks in advance, we begin working to prepare a traditional meal. Everything is home-cooked, prepared with love.
"The meals are very nutritious. They're very helpful … I'm just thankful for the Mission being here and supporting me for my journey." — Francisco, guest
"Seeing them happy and having that special meal … that is what Thanksgiving Day is all about here at The Bowery Mission." — Chef Susan, staff member
"Your support matters, because you have people who are less fortunate than others. For people who don't have the means to get food on their own, it's good to have places like this they can rely on …" — Julian, client
None of this is possible without you. When you give, pray, donate supplies and volunteer, you'll set the stage for lives to be changed. I thank God for you and your heart for people here in our city who are in need. Together, we can offer meals, hope and more this Thanksgiving.
With gratitude,
James Winans, CEO
"I thank my God every time I remember you. In all my prayers for all of you, I always pray with joy." — Philippians 1:3-4 (NIV)
Looking for ways to give back this Thanksgiving?
Donate
Every day, The Bowery Mission serves hundreds of meals to neighbors in need, and any one of these meals can lead to a new life. Your generous compassion will keep our Red Doors open to provide meals and other critical care.
Volunteer
Due to social distancing and safety regulations in New York City in response to COVID-19, we will not open Thanksgiving Week volunteer opportunities to the public. But we invite you to join us on other available days! Lend a hand and join us in sharing God's love to neighbors facing homelessness and hunger: help is especially needed at our Tribeca Campus meal services and Bowery Campus clothing room. Learn more and register.
Start a fundraiser
Employers, teams and community groups can join together and multiply their impact in support of The Bowery Mission and the people we serve. Get ideas and next steps for corporate fundraising initiatives.