From grief and incarceration to serving God as the head chef here at The Bowery Mission
Raffaele grew up in a loving Italian family where, he says, "holidays were filled with food and love." But life took a tough turn when he was 18. Both of his parents were struggling with health problems.
"When my dad had a stroke, I had to become the man of the house," he remembers. "I tried my hand at boxing matches, but the prize money wouldn't make ends meet. So I began working for extended family in illegal activities."
Shaken by tragedy and spiraling into despair
Once, when Raffaele decided not to follow orders, he ended up in the hospital. At that point, he wanted out. Most of his friends had either been killed or were in prison for life.
In 2008, he and his high school sweetheart had a baby. But at just a few months old, she was diagnosed with leukemia. Despite treatment, his daughter died at two years old. Her death pushed Raffaele and his girlfriend over the edge. "We didn't know how to deal with the grief, so we turned to drugs," Raffaele says. He got addicted to heroin and nearly overdosed. His girlfriend did overdose.
"Not long after, my mistakes caught up with me, and I went to prison. I openly blamed God for everything. That's when someone told to me to read the book of Job. After everything he lost, Job never cursed God. His story changed my heart."
God's Word changed his life
Raffaele read the Bible every day, and he was a different person after being released from prison. Shortly after he left prison, a local pastor brought him to The Bowery Mission. "It was a safe, welcoming place to heal from my past — things I've done wrong and things done wrong to me," he remembers.
Soon after, he was working in our kitchen cooking five days a week. "Since I've always loved to cook, after graduating from The Bowery Mission's program, I worked my way up at a high-profile restaurant in Manhattan, from dishwasher to sous chef," Raffaele says. But his heart wasn't in it.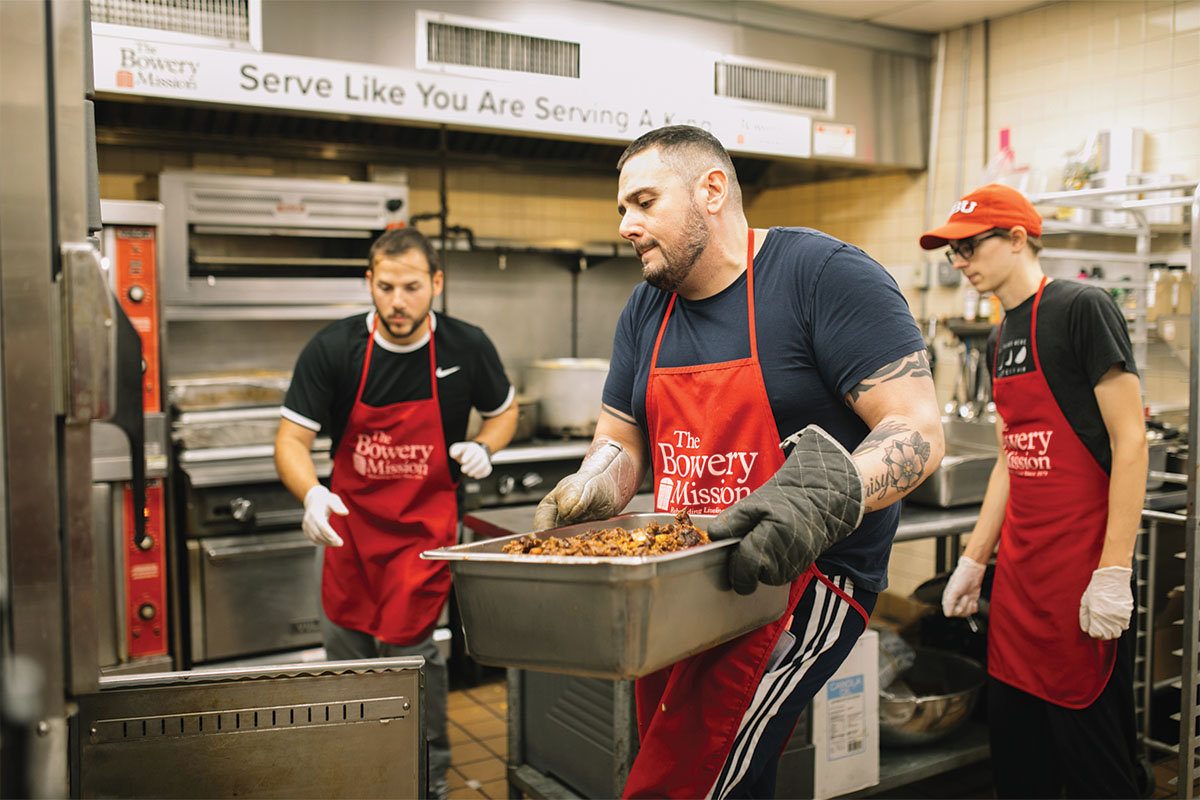 Called back to serve
"When the opportunity came to serve at the Mission, I knew God was calling me here. I know what it is to be hungry. I know what it is like to go through hard times," Raffaele says. "That's why Thanksgiving at The Bowery Mission is more than a plate of food….I'm seeing how much this one day can affect someone's life. I always took it for granted when I had it. So this is why we all push ourselves so hard during this time of year. It's because we want to be there for the community and whoever needs help."
Raffaele shares more about what motivates The Bowery Mission's team to connect to guests in need:
"Without God, we wouldn't be able to do what we do here. It's God who gives us the strength to keep on pushing and provide for the community….On Thanksgiving Day, we usually have a tent where the team prays for people or for guests to just talk to somebody. Sometimes, people just need to talk. And a lot of times, people don't give [others] a chance. But just talking to someone could put a smile on their face, showing that you care."
"Today, I am not only a chef at The Bowery Mission, I'm able to see others nourished with hope the same way I was just a few years ago. Nothing is more valuable than seeing a life transformed. I am living proof." — Chef Raffaele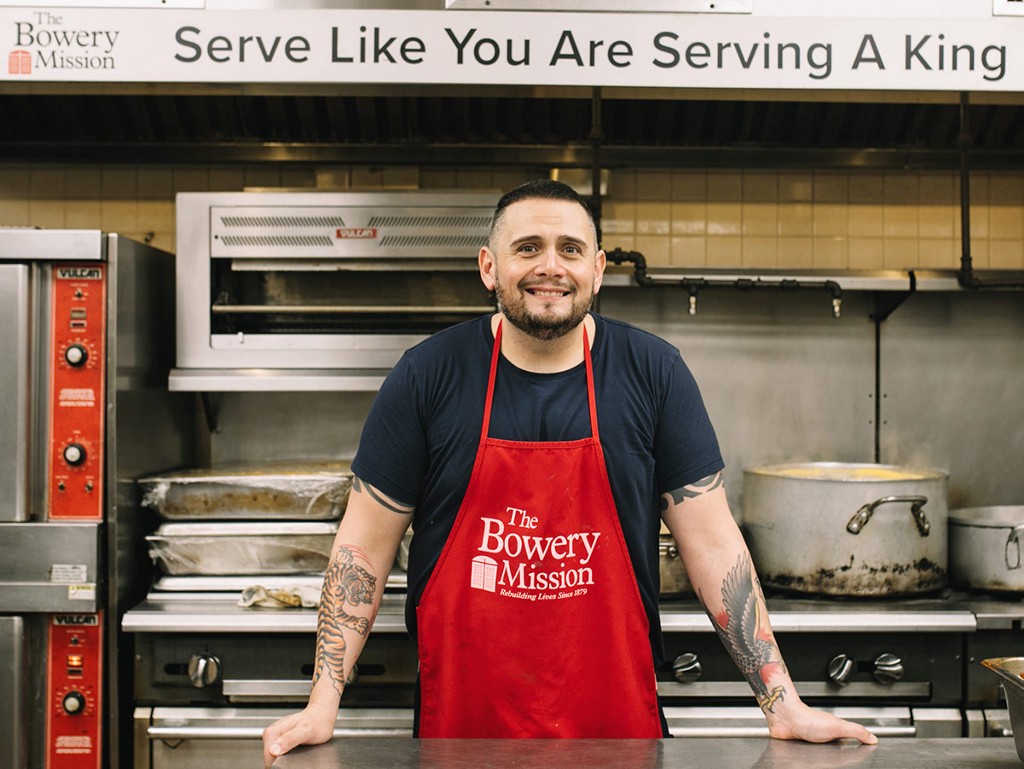 You can help others find a fresh start and

true hope
The compassionate support of friends like you brought true transformation to Raffaele. You can provide food and hope to more neighbors in need when you give today. You'll help make sure Raffaele and The Bowery Mission team have everything needed to care for people in crisis. Thank you!