At The Bowery Mission, we often say that volunteers are "the heart of the Mission." Beyond helping us serve up hot meals, sort through donations and keep our campuses tidy, our volunteers make The Bowery Mission a place where people experiencing hunger and homelessness feel at home.
No one does this better than Bob Milnes, who volunteers each week to play and sing live music for meal guests at our historic flagship campus. Every Tuesday during lunch, you can find Bob playing his heart out — whether it's jazz standards, pop hits or his own original songs — from the baby grand piano on the chapel stage.
Bob is semi-retired and spends most of his days playing gigs at senior centers, open mics and restaurants. A little over a year ago, he had popped in to drop off some winter coats for neighbors in need when he was struck by the Mission's strong sense of community.
"As soon as I came in here, I dug the vibe," he says. "I thought, 'something is going on here!'" Naturally, he asked if we had a piano. He's been playing weekly ever since.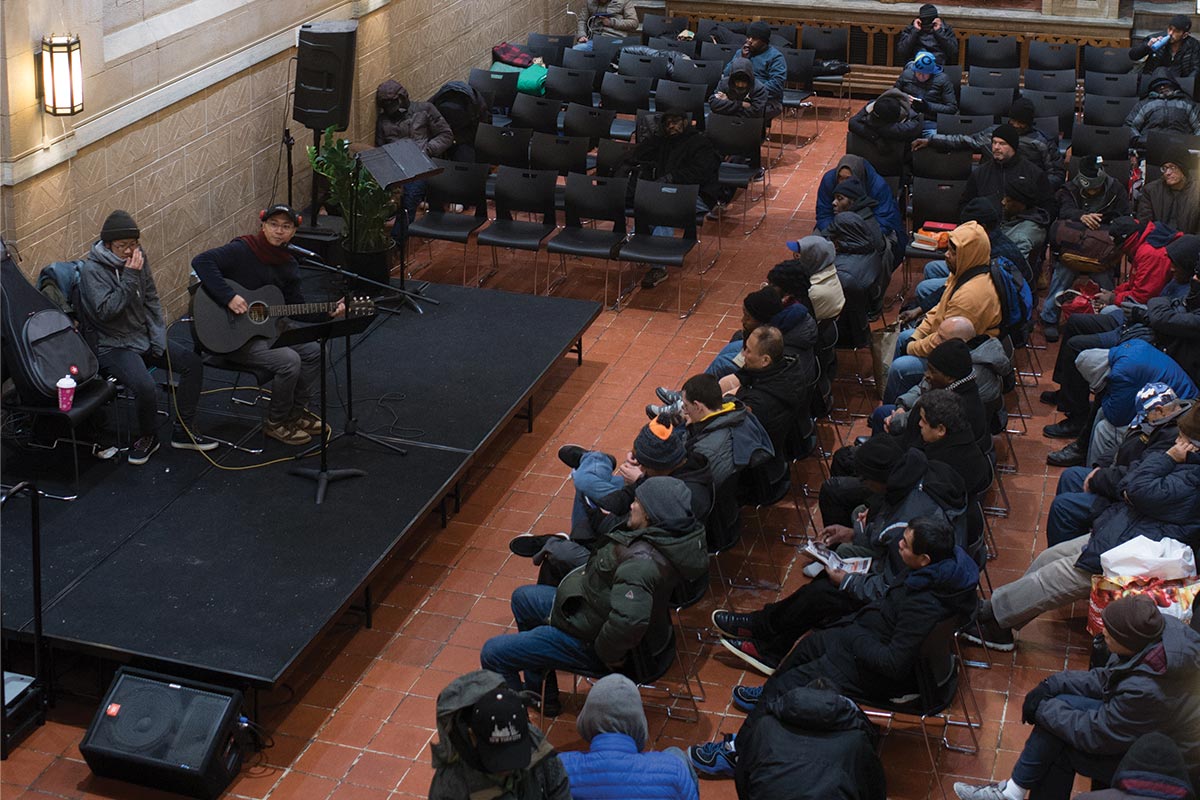 Music that connects
Homelessness often comes with feelings of being overwhelmed, stressed out, demoralized and depressed. When you have very few places to meet your most basic needs, it's rare to be invited into spaces of beauty, comfort and community.
When Bob plays the piano in our chapel, the spirit of the room changes. People begin to look up from their phones. Expressions of stress and worry relax into focused listening.
"It brings culture, it brings a sense of normalcy," says Julie Ramaine, Clinical Ambassador at The Bowery Mission. "His playing gives people a chance to step out of their own reality, even if it's just for a minute."
Every now and then, a community member will make a request or come up on stage and sing along. Once, Bob was playing a request for "Over the Rainbow" when he looked up and saw the man in tears. "Those kinds of moments are why I do it. I love the connection," Bob says. "Music has gotta be a conversation. It's gotta be an exchange."
Music that heals
Bob describes his love for music as an "obsession." When he's not performing, you can find him taking apart pianos or working out new tunes at his piano at home. "I drive my wife crazy sometimes," he says, chuckling.
As a kid, Bob would sit for hours noodling on the piano. After his father died while he was still young, music became both a place of solace and a saving grace — an outlet to keep him out of trouble. "Music is my anchor," he says. "In case of an emergency, get me to a piano because I have to express."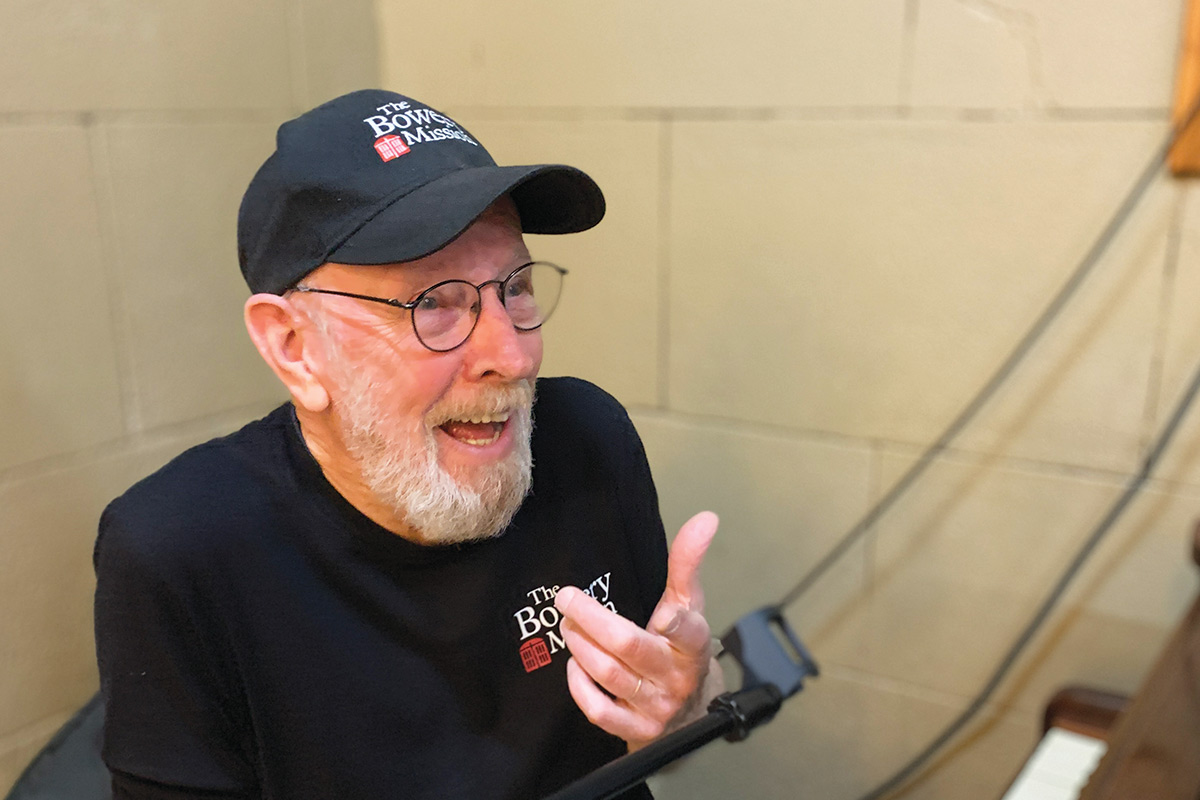 "People need music. It's the healing voice. When I play, I'm changing the environment here." — Bob Milnes, volunteer musician at The Bowery Mission
At the Mission, Bob channels his innate drive for making music into connecting with others, most of whom have experienced great loss or trauma in their own lives — whether in their past or tied to a more recent crisis of hunger or homelessness.
"Bob is willing to come into a place and allow his entire self to come alive," says Jason Storbakken, chaplain at The Bowery Mission. "There's no replacement for someone who can come in and play and sing from their heart like that. It just lifts people."
When asked about the most important quality of a volunteer, Bob is adamant: "Empathy! You've got to feel for others. It's about learning and openness." He continues: "Just being here is therapeutic. I'm 78 years old and this is what keeps me alive."
We are so grateful for Bob and his unique ability to bring healing and comfort to our community through music. Through the faithful support of friends of the Mission like Bob, we can provide an even more welcoming, hospitable place to overcome homelessness, hunger and other crises.
Our volunteers make The Bowery Mission a place where people experiencing hunger and homelessness feel at home. ❤️ No one does this better than Bob Milnes, who serves each week by playing live music for meal guests at our historic flagship campus! 🎹🎶#NationalVolunteerMonth pic.twitter.com/XEWEVnJvwX

— The Bowery Mission (@BoweryMission) April 20, 2023
Volunteer today
Our incredible volunteers use their talents and passions to serve our community at The Bowery Mission. Bob's story is just one example of the life-changing difference someone can make for people experiencing homelessness by sharing their gifts. Interested in getting involved? Learn more about volunteering.