Learn more about the men and women who have achieved great milestones this past year in their journeys towards independence.
At our recent Graduation ceremonies, we celebrated 52 men and women from our Residential Programs who have achieved great milestones in their journeys towards independent living! Because of friends like you, these graduates were able to encounter God's love and find caring community to address and overcome their personal challenges.
The Bowery Mission's staff joined the graduates, current program clients, alumni, and their family and friends, at socially distant gatherings in Manhattan at Trinity Baptist Church, a partner of the Mission. Two annual events were hosted — one each for the men's and women's programs — to mark the accomplishments, hear stories of perseverance and victory, and rejoice in Christ's powerful and transforming work in the graduates' lives over the past year.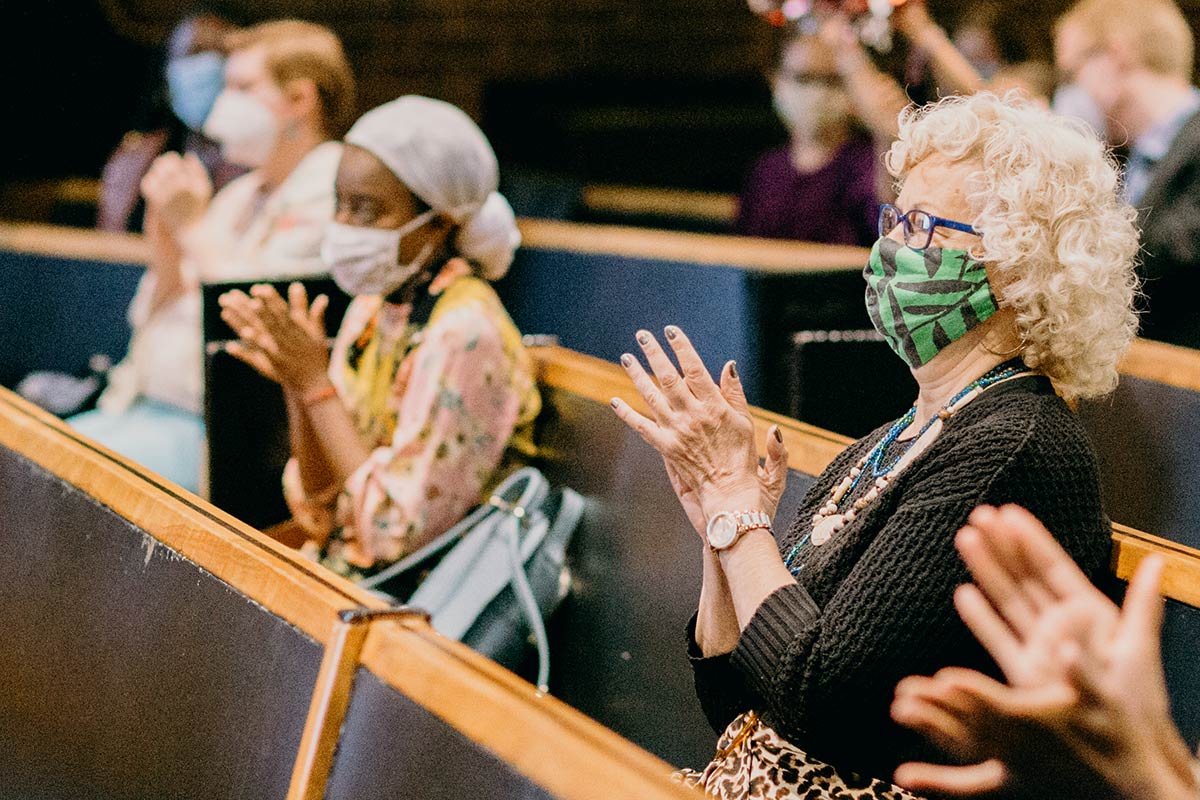 Did you know?
Each year, the Bowery Mission's faith-based Residential & Community Programs offer a safe, healthy and trauma-informed environment for hundreds of adults in crisis. Some seek healing from past traumas, like abuse, addiction or violence. Others are looking for meaningful work to build a career for the first time, or to rebuild a career after a period away. Most have few safe places to turn. Clients benefit from holistic and individualized care, including ongoing consultations with licensed social workers and counselors committed to equipping them with the tools and opportunities they need for life-long success.
Cheering for our graduates and their achievements!
Each graduate we celebrated had unique circumstances and experiences with homelessness, loss, addiction or other crises. Over the past year, they collaborated with our staff to develop individualized goals and action plans to make progress towards independence in spiritual formation, connection to community, physical and emotional wellness, sustainable income, secure housing and life skills.
We heard directly from graduates who shared about their struggles and how they overcame them during their time at The Bowery Mission. See Tracey and Paul's stories of hope below — made possible thanks to friends like you!
Meet Tracey
When COVID-19 hit, Tracey found herself in lockdown with someone who had become increasingly abusive. At The Bowery Mission, she was able to go to therapy and develop her self-esteem. She also grew confident in her abilities. Today, Tracey has found new meaning in life. She's working a new job at a nonprofit she loves and she's able to help other women coming out of domestic violence situations.
"Before coming to The Bowery Mission, I was struggling. I felt like my life had no more meaning to it. But today, I'm on a whole new mission that's so much more beautiful and so much clearer to me." — Tracey
Meet Paul
A people person with an outgoing personality, Paul was working at a bowling alley when COVID-19 hit. His living situation grew more complicated and he found himself homeless and sleeping in the subways. At The Bowery Mission, Paul was finally able to stop thinking about surviving day-to-day and focus on his plans and goals for the future. Two months into the program, he found a job where he could climb the ladder into a leadership role. Today one of his greatest joys is going to work where he can spend time with his team.
"Thanks to The Bowery Mission, I have a future. I have a purpose. I no longer have to live day-to-day. Now I can plan for my future and I have short- and long-term goals in life." — Paul
And for the first time during these annual celebrations, awards were presented to clients and graduates for various areas of achievement. All award recipients were nominated and chosen by staff and/or fellow program participants.
Fostering Community Award: For regularly displaying acts of kindness and service towards others, expressing words of encouragement, embodying a positive attitude and amicably resolving conflicts. The awardee is a current client and considered a peacemaker among peers.
Fearless Award: For personifying the acronym F.E.A.R.L.E.S.S — Formidable Everyday Action Resulting in Life Enriching Skills for Success. The awardee is a current client in the women's programs who shows that being consistent in the pursuit of one's goals is the recipe for success, especially when facing fears or challenges.
Courage Award: For personifying the acronym C.O.U.R.A.G.E — Consistent Optimism Under Relentless Adversity with a Grace-filled Energy. The awardee is a current client in the men's programs who stays the course with faith and determination.
Leadership Award: For exemplifying qualities of a leader including timeliness and ability to support community guidelines, and fostering a spirit of cooperation and community amongst peers. The awardees are all 2021 graduates who are leaders in communicating well with staff and whose overall disposition inspires others to successfully meet their goals. They have demonstrated grace under pressure, a positive attitude, as well as progression in their own journey toward independence.
We also congratulated our former colleague, Mary Bell, who recently retired after 25 years on staff. She has often been the one on the receiving end of the phone, welcoming women experiencing homelessness and hardship into our programs and walking alongside them on their journeys. Mary Bell has modeled grace, dignity and humility for everyone at The Bowery Mission.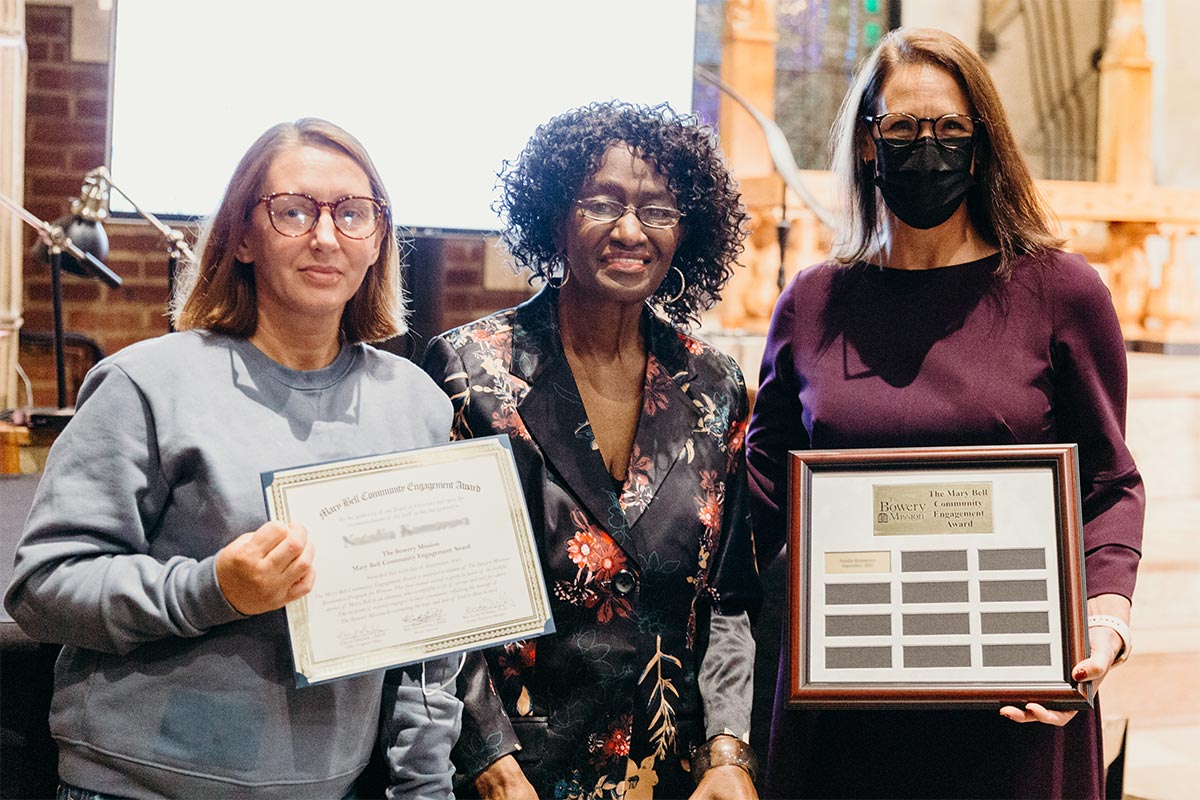 And in honor of her faithful service and leadership, we established the annual Mary Bell Alumni Community Engagement Award, given to an alumna who exemplifies a life of service and care for others. The recipient is actively engaged in her community, reflecting the message of The Bowery Mission by extending the hope and love of God to those in need.
Last but not least, we presented the first annual James Macklin Alumni Community Engagement Award in honor of our dear colleague and Director of Outreach. The recipient is an alumnus who exemplifies a life of service and care for others, is actively engaged in their community and reflects the message of The Bowery Mission by extending the hope and love of God to those in need.
Hope for the future
The men and women that we celebrated at Graduation have demonstrated resilience and determination to overcome their challenges, and are now moving forward to new lives of renewed hope. We congratulate them in their successful breakthroughs and accomplishments in their individual goals such as regaining sobriety, reconnecting with family and faith, and obtaining sustainable work and housing. We are humbled and honored to walk alongside them in their journeys toward independence!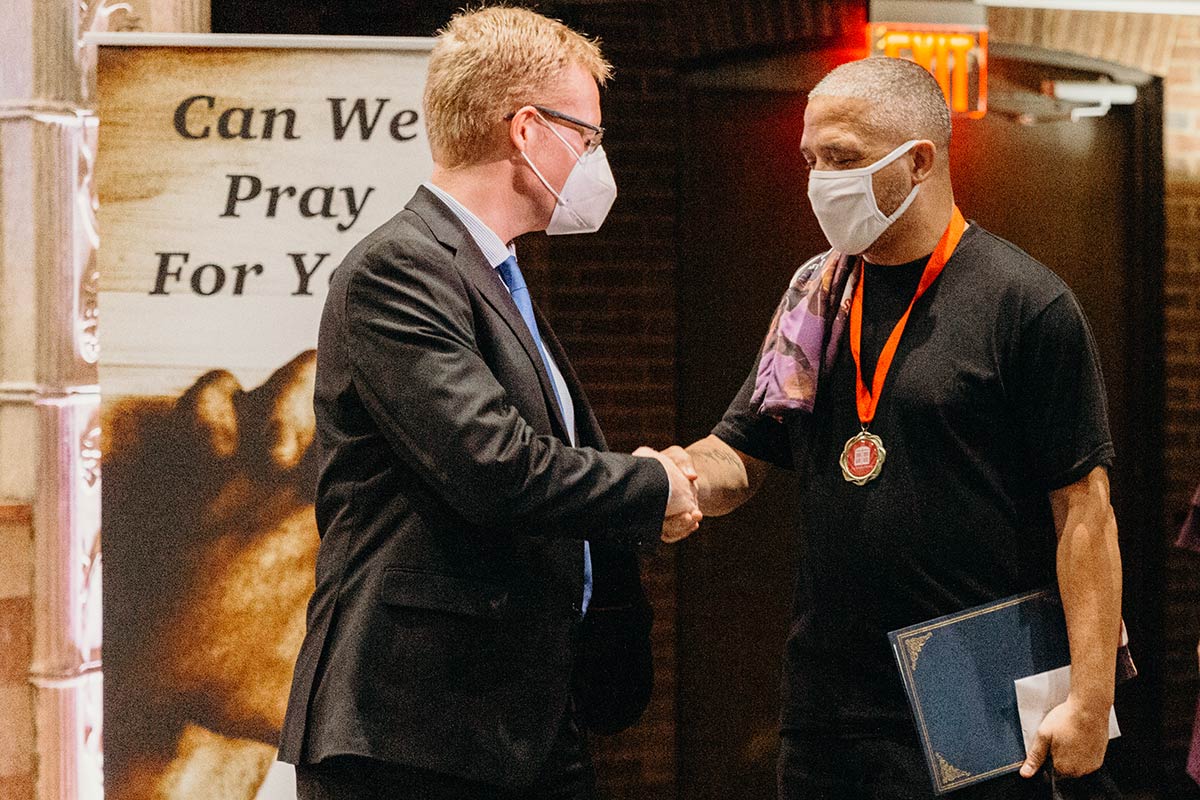 "You've come a long way and we are so proud of you. You are beginning a new season. There is still much ahead, but remember that you never need to walk alone." — James Winans, CEO
How you can get involved
This celebration of life transformation — made possible by friends like you — is not just what feels good, but is based on real, measurable results. Together, we see the fruit of God's work in neighbors who have come through our Red Doors seeking new life from struggles with homelessness, poverty and other crises.
Learn more about our four strategies to rebuild hope for neighbors in need, including our Residential & Community Programs, and the principles of care at their foundation. And to impact more lives in our city, please consider making a gift today.